George Andah Challenges Marketers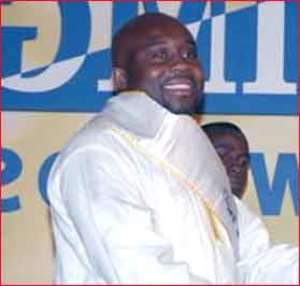 The Marketing Manager of MTN Ghana, George Andah, has called on marketing officers in the country to take particular interest in activities of their communities to help bring hope to the vulnerable in society.
"As marketers, we should be interested in what goes on around our immediate environment. We should not leave the welfare of such communities to the corporate affairs department of our organizations.
Marketers should be able to make an impact in the lives of people who need us most to leave a legacy for the next generation," he advised.
Mr. Andah was speaking at a programme dubbed, "An Evening with George Andah," which was organized by the Chartered Institute of Marketing Ghana (CIMG) in his honour at the Golden Tulip Hotel in Accra on Wednesday.
It formed part of a series of lectures outlined by CIMG to improve the marketing skills of its members and to bring professionalism into the marketing industry.
The event, which was on the theme, "How to stand out of the crowd," was attended by marketers and some marketing students.
Mr. Andah said, "Marketers should be able to brand themselves effectively in order to stand out. We must stand out for the right reasons by shining in our environments."
He further revealed that "we should respect competition and do the necessary things in order to stand out and must have a 'can do' spirit towards achieving mastery."
Mr. Andah said there should always be a conscious effort by marketers to add value to products.
 "We should always think outside the box to get the right attitude towards work and must set goals."
He also asked them to apply analytical skills to generate competent strategies to stimulate growth.
Josephine Okutu, President of CIMG, asked members to be serious about branding, insisting that "it is one of the best ways to move an organization forward.
She said CIMG is committed to promoting professionalism in the marketing industry, adding, "We would continue to orient our members to keep them on track."
By William Yaw Owusu