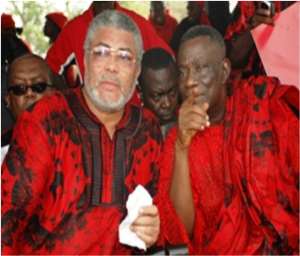 Fellow Ghanaians, there is an adage in the Akan language which I would want to transliterate as follows: "It is totally unwise to rush out from your bedroom to the streets to witness an event that is heading towards your house."
Somebody will rightly ask me why I am quoting this adage; the answer is straightforward: The hypocrisy and disunity of J. J. Rawlings have now been detected; all deep-thinking Ghanaians have seen that, this J. J. man is inherently egocentric, but pretends to be concerned about the welfare of what he terms the masses. This is hypocrisy at its peak and I strongly think that, the late Victor Owusu was right to describe people like Rawlings as inward-looking.
He is an experienced secret accomplice and yet he always portrays himself publicly as an innocent mullato; those who are in doubt should look into the circumstances which led to the abduction and murder of the three High Court judges and the retired army officer. When Amartey Kwe called him (J J) on the phone to give him the "mission accomplished report", he came out to make a speech to Ghanaians as if he did not know anything about that atrocity. Sources say that, he cajoled Amartey Kwe to exonerate Capt. Kojo Tsikata so that he Amartey Kwe could receive a lesser sentence. God have mercy!!!
Where is Victor Smith? The way he was booted out of office by a three-sentence telephone conversation reveals the kind of ungrateful personality this Scottish man is. Well, I personally do not have any sympathy for this old man, Victor Smith. It serves him right and good!!!
Hey Koku Anyidoho, watch out!!! Your days of good relationship with this J. J. tyrant are numbered.
How did WO1 Tetteh, who had been the bodyguard of J. J. for about eighteen years, die? Koku, if you do not know, ask J. J. for the details by prompting him to tell you a little about the secret tapes.
My fellow good citizens of Ghana, as soon as President John Evans Atta Mills decided to be of himself and act as a president and a PhD, he has now become the target of verbal attack from this Six-form dropout – J.J. Rawlings. I predicted this to happen and now "eno na eda ho no"
He (J J) is a symbol of dissensions and schisms, consequently nothing closer to peace can ever emanate from him. And just as the leopard can not change a single spot on its body, so is this Rawlings man.
Those of us who know a little about his infant life in Accra can recollect how he was fond of creating and engaging in unreasonable fights at the water-fetching pipe site.
If he is now attacking certain prominent figures in Ghana, I am not surprised at all, because anybody who has the instinctive negative value of fomenting troubles/wars can easily do so. Therefore, I strongly believe that those who have been publicly attacked verbally by this man and have decided to ignore him have taken a very good decision.
I wish to turn to the popular Akan adage again: "It is totally unwise to rush out from your bedroom to the streets to witness an event that is heading towards your house."
In my article entitled: "J. J. Rawlings Will Finally Fail" which was published on Thursday, May 15, 2003 I predicted that, nobody can start and end well with this J. J. Rawlings man, unless that person reduces himself/herself to the level of an "imbecile".
Some sycophants wrote back to challenge me on what I wrote. I am in the process of releasing my next article quite soon; however, to make that soon-coming article more meaningful to those who are in the camp of J. J. Rawlings for their daily bread and are ready to use all their efforts to taint what is black on their J. J. to appear white, I want Ghanaians to revisit that article which I wrote on May 15, 2003 so that those "imbeciles" will come to themselves.
J. J. RAWLINGS WILL FINALLY FAIL (published on 15/05/2003)
It is a well-known fact that, many organizations that were established out of coercion did not succeed, but collapsed in the long run. Again, any organization that is founded without proper planning and arrangement, but through intimidation to satisfy one's selfish ambition will crumble as a matter of natural sequence. The same goes with politics when people are coerced and given a bait to "cement" them to an unattractive organization.
God, being the Omniscience, allowed human beings the freedom of choice, however one faces the ultimate consequences of one's choice, whether good or bad. Where are the shadows of Joe Appiah, K. A. Gbedemah, Kwame Nyanteh etc? But Nkrumah and Busia will never die, hence CPP and UP; conversely, these two political parties will continue to dominate the Ghanaian arena of politics.
On June 4, 1979, Ghanaians heard the screaming voice on the radio of one J.J. Rawlings as having overthrown the then very unpopular military government. We later saw his personality as a bonny and lanky hungry-looking Flight Lieutenant. Many people began arguing about his citizenship because of his mulatto colour, however because he ascended to the political leadership illegally by the gun, this argument died down quietly. Ghanaians must beware of foreigners! The economic doom of Ghana and our present predicament stem from the fact that, we allowed this "foreigner" to put his buttocks on our royal and highly coveted and gold decorated presidential seat
It is highly pathetic, that no one has ever started and ended with Mr. Rawlings unless one condescends to the level of an imbecile. Analyzing the leadership background of Mr. Rawlings, he cannot succeed when God sends His holy angels from heaven to work with him. Based upon this, I wish to prophesize that, the relationship between Prof. Atta Mills and Mr. Rawlings would grow very bitter/sour blended with animosity; it is just a matter of time. Who ever dreamt, that the ideas of Dr. Obed Asamoah and Mr. Rawlings would some time to come be at disparity? Now it has happened. Who ever thought that in the last days, Dr. Kwasi Botchwey and Mr. Rawlings will back-face each other? It has happened. Who could have predicted that one-day Mr. Rawlings could manhandle and slap his father's age-mate? Mr. Arkaah? He was alleged to have done that. How come that his own close associate- WO1 Adjei Boadi who released him from jail at the niche of time has now become his archenemy? Nobody could have envisaged that our own countrymen Capt. Kojo Tsikata will one-day ran away from Mr. Rawlings. The "Siamese twin" brother of Mr. Rawlings, Capt. Akatapori had to be assisted to flee from him into exile.
From the on-going facts and a lot more, one can easily conclude that Mr. Rawlings can never start and end successfully with anybody. That is why I urge all the prophets of NDC to fast and pray very hard for the party else his natural flair for disunity will disintegrate the party. Mr. Rawlings will finally fail and when that happens, members of NDC are respectfully advised to comfortably feel free to join the CPP or the UP shadow- NPP. Hurray!!!
Source: Philip Akwasi Opoku
Development / Accra / Ghana / Africa / Modernghana.com