African viewpoint... Elizabeth Ohene writes on Old bones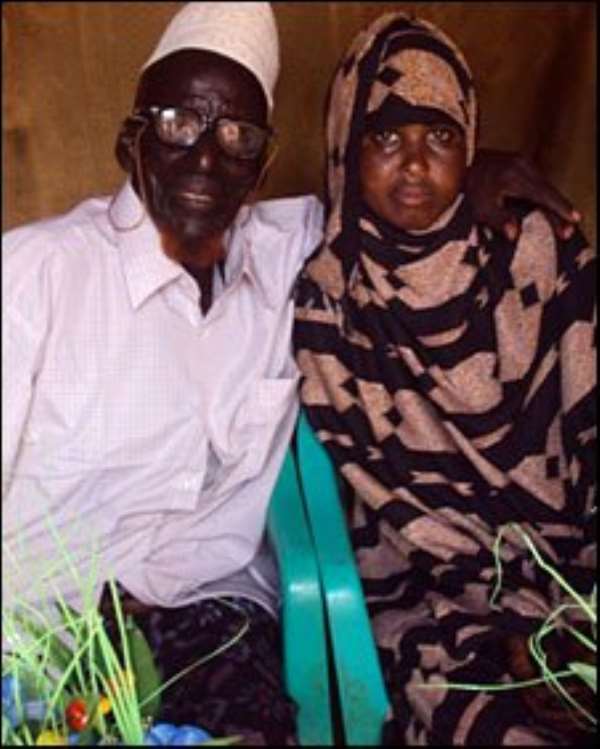 Ahmed Muhamed Dore, who says he is 112, married Safia Abdulleh, aged 17, in Somalia last month
A news item from Somalia recently made it into the headlines, which was not about Islamists and not about pirates.
According to the story, a Somali man aged 112 had taken a 17-year-old girl for his bride.
Now a story like that coming out of any country would be certain to make the headlines.
There are not many 112-year-olds in the world and the ones that there are would not normally be in a state to be taking brides of any age, never mind 17-year-old ones.
But something in my old bones tells me this story cannot be true.
I am afraid every time there is a story out of Africa that features figures or age, that story has to be taken with a large dose of salt.
Some very unkind people have said that African teams have tended to perform well in the age-sensitive football competitions, because, well, they cheat.
Nigeria-bashing?
To put it kindly, these people insinuate that our 17-year-olds are not really 17 and some of our players in the under-20 competition, are in fact, 19 going on 25.
I would not be Nigeria-bashing if I recount that a couple of weeks before the start of the Under-17 Fifa World Cup competition in Nigeria, the host nation threw out 15 of the youngsters that had been camped for the competition. They were over 17.
Last year an English football manager made a comment about a Nigerian player which would illustrate the point I am making: "The lad is 25, admittedly a Nigerian 25."
There is currently in Ghana, a living example of this situation in the person of one of our famous players who participated in the Under-20 football competition some 10 or more years ago and was given a contract by a European team.
After playing for three years, it became obvious that instead of reaching 23 and the height of his playing prowess, he looked and felt more like 33 and at the end of his playing career.
I once heard an Ethiopian athlete put it a touch delicately: "Age, or how old somebody is, we don't worry or care about."
My theory is there is not a deliberate attempt to cheat or lie about how old we are.
We simply do not believe in counting certain things, age in particular.
At the naming ceremony of my 27-year-old friend's first child, her mother, that is the baby's grandmother, told the assembled gathering that she was at least 100 years old.
I attended the funeral of the mother of a work colleague, who was at the time, 40 years old. We were told at the funeral that the old lady was 100 years old.
It is the practice in the public service in Ghana that a year or a few months before people are due to go on retirement, they swear an affidavit to the effect that the age they entered the service with was wrong and new information has been revealed.
Instead of approaching 60, which is the retirement age they say they are in fact, 52 years old and still have eight more years to serve.
If you counted some people's stated age, they would have started school, a clear two years before they were born.
It has been the law in Ghana since 1927 that all births and deaths should be registered.
The last time I checked, less than 40% of births were registered and as for deaths, less than 20% are registered.
The news out of Somalia might have put a smile on the faces of some or horrified others, but I wouldn't worry too much about it.
Age, or how old people are, is not something we in Africa worry about.