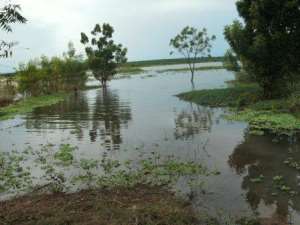 Farmers around the world, including those in Ghana, are reporting the seasons are changing – and experts warn the trend may be one of the most significant impacts of climate change for poor farmers.
As weather patterns become erratic, scientists suggest adoption of drought and flood resistant crops and diversification of income sources as protection for smallholder farmers from effects of climate change.
The Kyoto Protocol to prevent climate changes and global warming runs out in 2012, which calls for an urgent need for a new climate protocol to keep the process on the line.
Before the climate agreement need to be renewed, parties of the United Nations Framework Convention on Climate Change (UNFCCC) meet for the last time on government level at a conference in Copenhagen 2009.
But as the world seeks a new legally binding climate treaty, what can be done to support local farmers to adapt to changes to achieve food security?
The Ghanaian situation!
Extreme weather conditions result in decreased access to water, high disease risk and damage to agricultural land and crops.
The unexpected changes in weather patterns are already affecting crop production in Ghana. George Asamoah Amankwaah is a farmer at Derma in the Bono Ahafo Region. "Where I am farming now, I don't think we can earn as we earned last two years or last year. The bumper season for maize was not enough. The lean season is also not encouraging, so it's going to reduce the number of maize or the food that we send to the market" he says.
The poor are apparently vulnerable to climate change. So how does the Ghanaian farmer cope with severe floods, drought and other erratic temperature patterns?
Ashanti Regional Director of Food and Agriculture, George Badu Yeboah says "the technology of zero tillage and also conservative agriculture by not burning but allow the moisture level to retain in the soil and the vegetative land as well as application of farm-yard manure are some of the measures being taken".
He also says as the weather patterns get unreliable, scientists and researchers are coming out with short variety crops and short-field duration crops as alternatives for farmers.
Scientific interventions needed
Food security would worsen in the next decade if pragmatic measures are not taken to enhance soil productivity by minimizing the effects of changing weather patterns.
Soil Scientist, Dr. Kofi Budu Laryea of the University of Ghana has stated that the current farming practices, involving burning to clear the land, taking away of the top soil, do not encourage environmental sustainability but rather fuel climate change.
So, in the face of these imminent changes, what are scientists suggesting for farmers to do, in order for them to continue cultivating their crops?
Isaac Ansah is with the Crop Research Institute of the Council for Scientific and Industrial Research, involved in technology transfer to farmers. He says "scientists are putting up drought-resistant varieties, especially maize and other crops, so that the farmers can benefit from that. Farmers are also advised to go in for long seasons – seasons and crops which can meet specific periods – and then they don't just go in anytime, anywhere planting".
Mr. Ansah says farmers have to make sure the rains are well established and if they select, for instance, early maturing varieties, within that short period when it rains, they would get good yield and not lose out completely.
Environmentalists call for Education
The vulnerability of the agric sector to climate change cannot be over-emphasized but agric environmentalists believe farmers have a central role to play in mitigating the impact of erratic changes of the weather.
Samuel Owusu-Takyi of the Kumasi Institute of Tropical Agriculture suggests farmers are encouraged to embark on agro-forestry projects on their farms. He says "when you combine trees with crops or your animals… when you practice agro-forestry, you have better yields because your farm becomes an ecological or biodynamic zone in itself, absorbing carbon dioxide from the atmosphere and giving you the best of oxygen – this is the best way farmers can get better yields even in this alarming ecological changes".
Coordinating Director of Resource Link Foundation, Christopher Dapaah and Bernard Adotey who presides over a UNESCO Club at the Kwadaso Agric College say coping with climate change would require change of attitude to the environment. "Helping farmers understand that practices like bush burning, tree cutting without planting among others all affect their livelihoods and if we empower them with this knowledge it will help all of us", says Bernard.
The rescue
The Intergovernmental Panel on Climate Change has predicated that by 2050, climate change could cause potential crop yields from rain-fed agriculture to decline by 50 per cent in some African countries. This would result in soaring prices for inadequate food which would make most of people hungry.
According to a top British scientist, Professor Sir Gordon Conway, African communities, including Ghanaian peasant farmers, need to develop more resilient lifestyles and livelihoods in order to face unpredictable effects and extreme weather events.
Farmers like George want support in areas of accurate predication of the weather patterns and provision of irrigation facilities "to support farming activities and promote crop production".
It is however apparent that local farmers would need to be conscious about the effects of destroying vast forest areas if they are to be protected against severe floods, droughts and other extreme weather conditions, resulting from climate change.
Story by: Kofi Adu Domfeh
E-mail: [email protected]
Development / Accra / Ghana / Africa / Modernghana.com