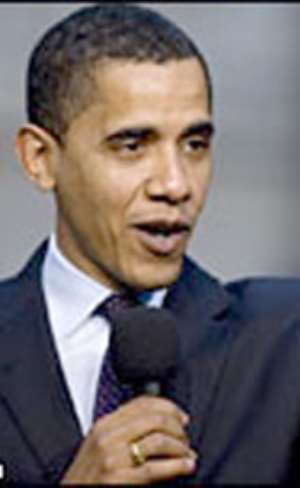 Barack Hussein Obama II born August 4, 1961 is the 44th and current President of the United States. The first African American to hold the office, Obama had previously been the junior United States Senator from Illinois, serving from January 2005 until November 2008, when he resigned after his election to the presidency.
Obama is a graduate of Columbia University and Harvard Law School, where he was the first African American president of the Harvard Law Review. He was a community organizer in Chicago before earning his law degree. He worked as a civil rights attorney in Chicago and also taught constitutional law at the University of Chicago Law School from 1992 to 2004.
Obama served three terms in the Illinois Senate from 1997 to 2004. Following an unsuccessful bid for a seat in the U.S. House of Representatives in 2000, Obama ran for United States Senate in 2004. His victory, from a crowded field, in the March 2004 Democratic primary raised his visibility. His prime-time televised keynote address at the Democratic National Convention in July 2004 made him a rising star nationally in the Democratic Party. He was elected to the U.S. Senate in November 2004 by the largest margin in Illinois history.
He began his run for the presidency in February 2007. After a close campaign in the 2008 Democratic Party presidential primaries against Hillary Rodham Clinton, he won his party's nomination, becoming the first major party African American candidate for president. In the 2008 general election, he defeated Republican candidate John McCain and was inaugurated as president on January 20, 2009.
Barack Obama was born at the Kapiolani Medical Center for Women & Children in Honolulu, Hawaii, United States, to Stanley Ann Dunham, an American of mainly English descent from Wichita, Kansas, and Barack Obama, Sr., a Luo from Nyang'oma Kogelo, Nyanza Province, Kenya. Obama's parents met in 1960 in a Russian language class at the University of Hawaii at MÇnoa, where his father was a foreign student on scholarship. The couple married on February 2, 1961, and Barack was born later that year. His parents separated when he was two years old and they divorced in 1964. Obama's father returned to Kenya and saw his son only once more before dying in an automobile accident in 1982.
After her divorce, Dunham married Indonesian student Lolo Soetoro, who was attending college in Hawaii. When Suharto, a military leader in Soetoro's home country, came to power in 1967, all Indonesian students studying abroad were recalled and the family moved to the island nation. From age's six to ten, Obama attended local schools in Jakarta, including Besuki Public School and St. Francis of Assisi School.
In 1971, he returned to Honolulu to live with his maternal grandparents, Madelyn and Stanley Armour Dunham, and attended Punahou School, a private college preparatory school, from the fifth grade until his graduation from high school in 1979.
Obama's mother returned to Hawaii in 1972 and remained there until 1977, when she relocated to Indonesia to work as an anthropological field worker. She finally returned to Hawaii in 1994 and lived there for one year before dying of ovarian cancer.
Of his early childhood, Obama recalled, "That my father looked nothing like the people around me—that he was black as pitch, my mother white as milk—barely registered in my mind." He described his struggles as a young adult to reconcile social perceptions of his multiracial heritage. Reflecting later on his formative years in Honolulu, Obama wrote: "The opportunity that Hawaii offered—to experience a variety of cultures in a climate of mutual respect—became an integral part of my world view, and a basis for the values that I hold most dear." Obama has also written and talked about using alcohol, marijuana and cocaine during his teenage years to "push questions of who I was out of my mind". At the 2008 Civil Forum on the Presidency in 2008, Obama identified his high-school drug use as his "greatest moral failure".
Following high school, he moved to Los Angeles in 1979 to attend Occidental College. After two years he transferred in 1981 to Columbia University in New York City, where he majored in political science with a specialization in international relations and graduated with a B.A. in 1983. He worked for a year at the Business International Corporation and then at the New York Public Interest Research Group.
After four years in New York City, Obama moved to Chicago, where he was hired as director of the Developing Communities Project (DCP), a church-based community organization originally comprising eight Catholic parishes in Greater Roseland (Roseland, West Pullman and Riverdale) on Chicago's far South Side. He worked there as a community organizer from June 1985 to May 1988. During his three years as the DCP's director, its staff grew from one to thirteen and its annual budget grew from $70,000 to $400,000. He helped set up a job training program, a college preparatory tutoring program, and a tenants' rights organization in Altgeld Gardens. Obama also worked as a consultant and instructor for the Gamaliel Foundation, a community organizing institute. In mid-1988, he traveled for the first time in Europe for three weeks and then for five weeks in Kenya, where he met many of his paternal relatives for the first time. He returned in August 2006 in a visit to his father's birthplace, a village near Kisumu in rural western Kenya.
Obama entered Harvard Law School in late 1988. He was selected as an editor of the Harvard Law Review at the end of his first year, and president of the journal in his second year. During his summers, he returned to Chicago, where he worked as a summer associate at the law firms of Sidley & Austin in 1989 and Hopkins & Sutter in 1990. After graduating with a Juris Doctor (J.D.) magna cum laude from Harvard in 1991, he returned to Chicago.
Obama's election as the first black president of the Harvard Law Review gained national media attention and led to a publishing contract and advance for a book about race relations, though it evolved into a personal memoir. The manuscript was published in mid-1995 as Dreams from My Father.
From April to October 1992, Obama directed Illinois's Project Vote, a voter registration drive with a staff of ten and 700 volunteers; it achieved its goal of registering 150,000 of 400,000 unregistered African Americans in the state, and led to Crain's Chicago Business naming Obama to its 1993 list of "40 under Forty" powers to be.
For twelve years, Obama served as a professor of constitutional law at the University of Chicago Law School; as a Lecturer from 1992 to 1996, and as a Senior Lecturer from 1996 to 2004. In 1993 he joined Davis, Miner, Barnhill & Galland, a twelve-attorney law firm specializing in civil rights litigation and neighborhood economic development, where he was an associate for three years from 1993 to 1996, then of counsel from 1996 to 2004, with his law license becoming inactive in 2002.
Obama was a founding member of the board of directors of Public Allies in 1992, resigning before his wife, Michelle, became the founding executive director of Public Allies Chicago in early 1993. He served from 1994 to 2002 on the board of directors of the Woods Fund of Chicago, which in 1985 had been the first foundation to fund the Developing Communities Project, and also from 1994 to 2002 on the board of directors of the Joyce Foundation. Obama served on the board of directors of the Chicago Annenberg Challenge from 1995 to 2002, as founding president and chairman of the board of directors from 1995 to 1999. He also served on the board of directors of the Chicago Lawyers' Committee for Civil Rights Under Law, the Center for Neighborhood Technology, and the Lugenia Burns Hope Center.
Political career: 1996–2008
Obama was elected to the Illinois Senate in 1996, succeeding State Senator Alice Palmer as Senator from Illinois's 13th District, which at that time spanned Chicago South Side neighborhoods from Hyde Park-Kenwood south to South Shore and west to Chicago Lawn Once elected, Obama gained bipartisan support for legislation reforming ethics and health care laws. He sponsored a law increasing tax credits for low-income workers, negotiated welfare reform, and promoted increased subsidies for childcare. In 2001, as co-chairman of the bipartisan Joint Committee on Administrative Rules, Obama supported Republican Governor Ryan's payday loan regulations and predatory mortgage lending regulations aimed at averting home foreclosures.
Obama was reelected to the Illinois Senate in 1998, defeating Republican Yesse Yehudah in the general election, and was reelected again in 2002. In 2000, he lost a Democratic primary run for the U.S. House of Representatives to four-term incumbent Bobby Rush by a margin of two to one In January 2003, Obama became chairman of the Illinois Senate's Health and Human Services Committee when Democrats, after a decade in the minority, regained a majority. He sponsored and led unanimous, bipartisan passage of legislation to monitor racial profiling by requiring police to record the race of drivers they detained, and legislation making Illinois the first state to mandate videotaping of homicide interrogations. During his 2004 general election campaign for U.S. Senate, police representatives credited Obama for his active engagement with police organizations in enacting death penalty reforms Obama resigned from the Illinois Senate in November 2004 following his election to the U.S. Senate.
In a 2006 interview, Obama highlighted the diversity of his extended family: "It's like a little mini-United Nations," he said. "I've got relatives who look like Bernie Mac, and I've got relatives who look like Margaret Thatcher. Obama has seven half-siblings from his Kenyan father's family, six of them living, and a half-sister with whom he was raised, Maya Soetoro-Ng, the daughter of his mother and her Indonesian second husband. Obama's mother was survived by her Kansas-born mother, Madelyn Dunham until her death on November 2, 2008 just two days before his election to the Presidency. In Dreams from My Father, Obama ties his mother's family history to possible Native American ancestors and distant relatives of Jefferson Davis, President of the Confederate States of America during the American Civil War. Obama's great-uncle served in the 89th Division that overran Ohrdruf, the first Nazi camp liberated by U.S. troops during World War II. Obama was known as "Barry" in his youth, but asked to be addressed with his given name during his college years. Besides his native English, Obama speaks Indonesian at the conversational level, which he learned during his four childhood years in Jakarta. He plays basketball, a sport he participated in as a member of his high school's varsity team
In June 1989, Obama met Michelle Robinson when he was employed as a summer associate at the Chicago law firm of Sidley Austin. Assigned for three months as Obama's adviser at the firm, Robinson joined him at group social functions, but declined his initial requests to date. They began dating later that summer, became engaged in 1991, and were married on October 3, 1992. The couple's first daughter, Malia Ann, was born on July 4, 1998, followed by a second daughter, Natasha ("Sasha"), on June 10, 2001. The Obama daughters attended the private University of Chicago Laboratory Schools. When they moved to Washington, D.C., in January 2009, the girls started at the private Sidwell Friends School.
Applying the proceeds of a book deal, the family moved in 2005 from a Hyde Park, Chicago condominium to a $1.6 million house in neighboring Kenwood, Chicago. The purchase of an adjacent lot and sale of part of it to Obama by the wife of developer, campaign donor and friend Tony Rezko attracted media attention because of Rezko's subsequent indictment and conviction on political corruption charges that were unrelated to Obama.
In December 2007, Money magazine estimated the Obama family's net worth at $1.3 million. Their 2007 tax return showed a household income of $4.2 million—up from about $1 million in 2006 and $1.6 million in 2005 mostly from sales of his books.
Obama is a Christian whose religious views developed in his adult life. In The Audacity of Hope, Obama writes that he "was not raised in a religious household". He describes his mother, raised by non-religious parents (whom Obama has specified elsewhere as "non-practicing Methodists and Baptists") to be detached from religion, yet "in many ways the most spiritually awakened person that I have ever known".
He describes his father as "raised a Muslim", but a "confirmed atheist" by the time his parents met, and his stepfather as "a man who saw religion as not particularly useful". Obama explained how, through working with black churches as a community organizer while in his twenties, he came to understand "the power of the African-American religious tradition to spur social change".
He was baptized at the Trinity United Church of Christ in 1988 and was an active member there for two decades. Obama resigned from Trinity during the Presidential campaign after controversial statements made by Rev. Jeremiah Wright became public. Obama has tried to quit smoking several times and said he will not smoke in the White House.