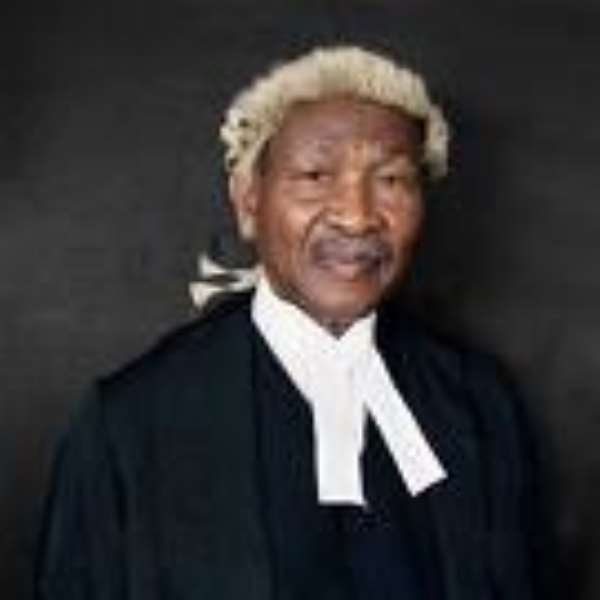 Lawyer Okudzeto
Ghanaian legislators, criminal and constitutional lawyers may be scratching and pouring their heads over dusty law books and court rulings following the challenge to the authority of the Bureau of National Investigation, BNI by lawyer Sam Okudzeto.
In citing instances of legal precedence, Mr. Okudzeto invoked the 1996 – 97 ruling of Edusei v. Attorney General - SCGLR at 1-62 and questioned the powers of the BNI or any state security agency to revoke a Ghanaian passport or question a suspect in the absence of their attorney.
Interestingly, it is clearly stated in page one of Republic of Ghana passport that a Ghanaian passport "is the property of the government of Ghana and must be surrendered on demand by an authorised representative of the Ghana government."
Contrary to what the learned Mr Okudzeto said, the BNI or Police do not have to go to court to get a ruling before the government can revoke a passport. There's nowhere in the Edusei v Attorney General case which says you have to go to court to get an order. The ruling says if there are sufficient grounds to seize a passport, so be it.
I am sure MR. Okuzeto has a Ghanaian passport and has seen page one of the passport. Why has the learned lawyer not questioned the disclaimer in the passport until now? It has been more than ten years since the Edusei v Attorney General ruling, are we to believe that the entire legal community in Ghana deliberately kept quiet over an illegality?
Perhaps Mr Okuzeto can institute a legal action to seek further clarification on the matter and if the Supreme Court ruled that no state authority can seize a Ghanaian passport, then the NDC government should resort to parliament to pass legislation that will nullify the ruling.
We are trading on very dangerous grounds if we seek to cripple institutions of state in the name of human rights. We are faced with unprecedented challenges in matters of security and are threatened by drug lords thanks to the Kufour government; if we cared so much about the security of our country then we must collectively endeavour to empower the BNI to do any and everything as long as they do not torture or kill suspects. No serious nation takes its security lightly – it is therefore very dangerous at this point of global insecurity to demonise and weaken the morale of our security agencies.
The powers of the police in the US were enhanced just recently (25th May 2009) when the Obama administration asked the Supreme Court to OVERTURNED a long standing "ruling that stopped the police from initiating questioning unless a defendant's lawyer was present." That is America, a country with an impeccable human rights record, a country we are so quick to look up to for direction; well here's the direction now, let's follow.
Presently, the only Western leader with any sense of integrity and respect for human rights is Barak Obama. But it is the Obama government which asked the courts to overrule the 1986 Michigan v Jackson case where a security officer couldn't question a suspect in the absence of a lawyer. What would the self righteous human rights activists in Ghana say about that?
If Mr. Okuzeto wants a legal precedence, that is a good one, but since a US Supreme Court ruling is none binding on Ghana, we might as well push for an anti terror and state fraud legislation that would seek to give the BNI overriding powers to squeeze the truth out of suspects without recourse to torture and if picking them up from the church or departure lounge is what would do the trick so be it.
The former minister of Information – Asamoah Boateng was right about one thing when he gave an interview on joy fm's morning show – "Ghana is in trouble". Our dearest Ghana is certainly in trouble if obstructing the BNI is what some politicians and citizens want. But we are in more trouble if the wives of footballers and politicians can brazenly assault, obstruct justice and get away with it.
We must get serious in Ghana – if this is how things would remain then I'm afraid it won't be long before the wife a taxi driver marches to the police headquarters and started slapping officers because her husband had been fined by a motor traffic officer.
The Ghanaian idea of justice is the antithesis of what we are trying to learn from the West. Politicians are investigated all the time by the police and other investigative bodies in the West. Political prosecutions in the US dates back to early 19th century when Eugene Schmitz, the Mayor of San Francisco was found guilty of fraud and sentenced to 5years in Prison in 1907.
The FBI investigated and arrested Rod Blagovich, former governor of Illinois in December 2008 and indicted him recently for trying to auction Barack Obama's senate seat. His immediate predecessor as governor, Ryan George is currently languishing in jail after being found guilty of issuing license to unqualified drivers, lying to investigators, tax fraud and other federal crimes.
Any attempts to stymie the work of the BNI in the name of human rights are dangerous. We have damaged the BNI enough by the daily comments we make and attacks on its personnel. What the country needs from legal luminaries like Mr. Okudzeto is help in insulating state security from politics. National interest takes precedence over anybody's human rights, and if restraining people from travel is the way to unravel questions over suspicious fraudulent deals then thumps up to the bureau.
Ras Mubarak
Broadcaster & Publicist for NDC Europe
[email protected]