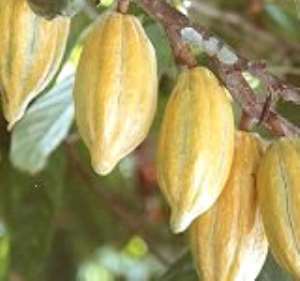 On a Friday morning at the Praaso Video Viewing Club in Ashanti, central Ghana, cocoa farmer Janet Dufie leads the club in song and prayer. She is accompanied by over twenty other farmers, mostly women, who have gathered to watch a video on pruning cocoa trees. Operating in 18 cocoa-growing communities in Ghana, video viewing clubs (VVC) form part of a new form of creative extension developed by the Sustainable Tree Crops Program (STCP), and is one which they hope will soon be applied to other tree crops in the region.
Farmers make films
The videos are made by a team of eight farmers, who – with some technical support - are all involved in the scripting, acting, filming and narration of the clips. To date, the team, whose members have little formal education, has developed eight episodes covering topics such as pruning, chemical control of diseases and pests, and post-harvest handling. According to STCP master trainer, Isaac Ansah, problems are identified and prioritised during video planning sessions.
"The uniqueness of this video production," Ansah emphasises, "is that we allow the farmers to come up with what they want to say, how and when they want to say it, and even the particular way they want to present the video to their fellow farmers. This has been very effective." The videos are watched by clubs of approximately 20-25 farmers, who meet weekly for three-to-four months. Each club is led by a trained facilitator, typically a farmer.
Watch and learn
Janet Dufie believes she has learnt a lot about proper upkeep and better management of her cocoa farm since joining the club. "Before I joined the club, I took things for granted," she says. "For instance, there was a pest infestation, which I initially thought was a flower on the cocoa pod, until I learnt better from one of the videos."
Now the facilitator for the Praaso club, Janet shows the video on pruning for the first time without making comment. During a second showing, however, she draws the participants' attention to new practices and, during a final showing, she pauses the video intermittently to allow for questions, answers and discussion. The farmers talk about their existing practices and discuss reasons why the new approach may be better, with Janet using an illustrated guidebook to direct the process. After the session, the farmers all visit a member's cocoa plot to practise their new skills.
Having an impact
Isaac Ansah is enthused about the increasing cocoa yield of club members. "Of late, their production is going so high. Farmers who have increased their yield have been interviewed during the video production process, so they can pass the messages on to others," he says. Spacing of trees has been a key lesson, as one club member, Abena Buyaa, remembers: "Initially, I planted so many trees with the intention of obtaining higher yield, but at the end of the season, I would harvest fewer pods than expected. Ever since I had the knowledge of spacing the trees, my yield has increased significantly."
Regular farm monitoring by club members, supervised by the VVC facilitator, strengthens the farmers' learning, and members are encouraged to pass on their new skills and knowledge to friends and neighbours. The videos even attract the farmers' children, who watch with keen interest. "My son should grow up knowing how to till the farm better than me or my father," says Buyaa.
While currently limited to cocoa farmers, STCP extension specialist Sylvanus Agordorku hopes the communication initiative will soon be extended to other tree crops for more farmers to benefit. "This can be done, when funds are available to train more farmers in producing the videos," he says. The farmers are also handicapped in accessing chemical inputs and other tools to practise what they've learnt. Despite this, however, Buyaa reports that she has never regretted joining the VVC and will not hesitate to sacrifice a day of farming to sit in a class and acquire new skills and knowledge through watching the videos.
Credit: Kofi Adu Domfeh
Luv 99.5 Fm, Kumasi
[Email: [email protected]]