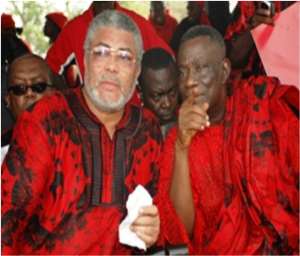 Rawlings and Prez. Mills
An objective and critical look into the political leadership of Ghana reveals that, our dear nation have had five democratically elected leaders. To make myself very clear, I wish to put forward that, Ghana have had five democratically elected Presidents and they are in chronological order as follows:
1. Dr. Kwame Nkrumah,
2. Dr. Kofi Abrefa Busia,
3. Dr. Hilla Limann,
4. Mr. John Agyekum Kuffour and
5. Prof. John Evans Atta Mills.
That he-goat (ewe) man Rawlings is automatically out of the system, because he forced Ghanaians to accept him as an imbecile dictator/president and I trust that, every sane Ghanaian will agree with me. Those who grab leadership by the barrel of the gun/intimidation and rigging of elections are not considered as leaders; they are usurpers and Rawlings belongs to that category.
As Mother Nature has it, three of these legitimate leaders of our nation are dead; painfully enough, they all died out of office, two of them while in exile. I however thank God, that we now have a living ex-president and a sitting president.
Those who were born and lived in the 40s and 50s do tell us that, some African leaders were brutally assassinated by some devil-incarnate soldiers of the Rawlings type. They tell us that, Sir Alhaji Abubakar Tafawa Balewa of Nigeria was overthrown and killed in a military coup on January 15, 1966; his body was discovered by a roadside near Lagos six days after he was ousted from office. Balewa was buried in Bauchi.
The same also applied to William Richard Tolbert, Jr. president of Liberia (1971-80). Having been in government since 1935, he became the vice president from 1951-71, succeeding to the Presidency upon Tubman's death in 1971. He was killed in a military coup in1980.
There were occasions when some presidents died while in office. I can mention at least the following: President Felix Houphouet-Boigny of Ivory Coast, Samora Moïsès Machel of Zimbabwe, Agostinho Neto of Angola, Sir Seretse Khama of Botswana, Léon M'Ba of Gabon, Ahmed Sékou Touré of Guinea, Jomo Kenyatta of Kenya and Sir Milton Margai of Sierra Leone.
I wish to thank God that, Ghana has never witnessed that sad occasion of "burying" a sitting president; however, if one views the present political utterances from some ex-soldiers who have been diagnosed with the chronic malady of vampirism, then one can easily conclude that such utterances are serious indicators pointing to the occurrence of such an unfortunate event – president dying while serving his term of office.
Reliable sources from the Volta Region have revealed that, this he-goat (ewe) man Rawlings is arranging with a very popular spiritualist to apply what they call "adwaladwa" to eliminate the life of President John Evans Atta Mills; therefore the Professor must be more close to God and be more distant from the Rawlings' in addition to being careful about everything offered to him by this wicked Rawlings and his Jezebel wife. They (Rawlings and his wife) have set up machinery to propagate to the Ghanaian populace, that the medical condition of President Atta Mills is bleak and that his life span is very short so that they can cover-up their wicked plans. They have sneaked to the South Africa to obtain what appears to be the medical records of Prof. Atta Mills and have falsified the records to let it look very discouraging; these are facts which must not be trifled with. If the Rawlings family still believes in the lie detector test, they should now be bold and call for the lie detector test to be conducted on them to proof otherwise of the validity of what I have revealed. I suggested the lie detector test, because they requested that method for ex-president J. A. Kuffour.
If Rawlings should die a natural and peaceful death like all good human beings die, I will be very, very sad, because he must also die in the same way as the killers of Alhaji Abubakar Tafawa Balewa and William Richard Tolbert Jr. On this note, I wish to point to the President that his intimate link to he-goat (ewe) man Rawlings will send him to the grave prematurely and thus make a history in Ghana for being the first Ghanaian president to die in office.
Mr. President must fear the Rawlings' with the same degree as he would run away from a piece of cyanide.
He killed Generals I. K. Acheampong, A. A. Afrifa, F. W. K. Akuffo, Robert Kotei, Felli, Utuka and Air Vice Marshal Yaw Boakye. That barbarous act was not sufficient for him, so he extended his diabolical killings to the three High Court Judges and another army officer. The most wicked of them all was the massacre of his own body guard; this body guard was alleged to have made available one of his "secret tapes" to a source that nearly dumped his faked reputation in the quagmire. As I write, I do believe that his blood-thirst for human lives is still excited.
On this note, I wish to point out that, Ghanaians are God-fearing people; however we at times forget the curses that ungodly rulers have, in time past, ushered us into; this forgetfulness makes us to listen to them again and follow their ungodly plans. A typical example is the mistake of voting the Rawlings' party into power. Have we so soon forgotten the dark period of nineteen years of the P/NDC tyranny? Have we forgotten the period of serial killings of innocent women? Have we forgotten how we were all fear-gripped to even pass genuine comments – the constitutional right of every Ghanaian? (Odartey's TV Morning Show). Have we so soon forgotten how innocent people's mansions were bulldozed, because they did not share common views with either Rawlings or his wife? May be, this time we must all incur the displeasure of God for bringing back this he-goat (ewe) man Rawlings' party into power. Even if God should turn Ghana overnight to the leading producer of oil in the world, we shall still be languishing in a more extreme economic poverty for making this great mistake. Therefore, I wish to alert my beloved citizens of Ghana, that unless a more godly person is appointed to replace that Rawlings as the founding father of the NDC, then Ghanaians should forget about any divine blessings under the rule of NDC.
Remember that anytime the Israelites went under the rule of ungodly kings, they suffered the consequences. If we check the period from Manasseh, Amon and Jehoahaz to Jehoiakim (2nd Kings, chapters 21 to 25), because all these kings did what was evil in the sight of God, the ultimate punishment was that, Israel went into the Babylonian captivity. I think that, Ghanaians are going to suffer brutally for the next four years for electing an evil, ungodly, human blood-thirst Rawlings' party back into power.
Having said all these things,
1. I believe that if Prof. J. E. A. Mills can stand up and be very firm against the dictates of this he-goat (ewe) man Rawlings, change the evil agenda of Rawlings and live up to the expectations of God, then some of the curses that could be meted out to Ghanaians might be averted.
2. President Atta Mills can finish his four-year term on a good note to proof to the Ghanaian populace, that he is really a learned professor who cannot be turned around by a piece of six-form drop-out.
3. He could also make history for Ghana by making his link to the Rawlings and his Jezebel wife very intimate, because doing so would label him (Prof. Mills) as the first president of Ghana to die while in office.
4. John Dramani Mahama could also be fortunate to be the first vice president to rise to the office of the presidency by the cheapest way.
The professor must beware of Rawlings, for he is a dangerous, poisonous cyanide. A word to the learned wise and to all Ghanaians is enough. I therefore urge the clergy to remember our president and the entire populace in their daily spiritual supplications.