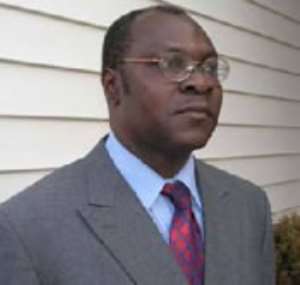 My seven year-old son gave the idea for this column two weeks ago. We were driving round Accra when he suddenly asked, with an edge to his voice "Why is Ghana so full of garbage?"
As I pondered his question, through the car window, I could see so many well-dressed ladies and gentlemen, picking their way through and round piles of garbage, to board tro-tros, taxis and buses on their way to and from places.
Garbage, human excreta, stench----- these are problems that should engage the attention of all serious Ghanaians. These problems are apolitical. They defy ethnicity.
I am sure that over the last 24 hours, nearly everyone who is healthy has pissed and/or pooped and generated some garbage. It is a problem whose depth and breadth defies political sloganeering.
That is why, when President Mills promised during the campaign to rid the nation of filth in his first hundred days, I wondered whether he and his team had a good grasp of the problems. To be fair, President Mills is not our first Chief Executive to tread that path. Many others, some at the head of revolutions, have pledged to conquer garbage and instead been conquered by it.
According to government sources, currently, only 70% of waste generated in Accra is lifted to final disposal sites. The respective figures for Tema, Tadi and Tamale are 68%, 60% and 55%. According to the same sources, the best city is Kumasi that leaves a quarter of its garbage unhauled! This garbage that is left of course, causes a stench, and as breeding grounds for flies and collection points for water, helps to spread disease. En route to the final resting place for the garbage, the haulage trucks manage to lose nearly half of their offensive cargo. When the garbage gets to the disposal sites, it is another matter altogether. The residents of Oblogo and other such places can tell you about rivers of garbage that invade their neighbourhoods whenever it rains.
It should therefore not surprise anyone that up to four-fifths of out-patient complaints in our hospitals may be directly related to our dirty environment.
Our record with the disposal of liquid waste may be even worse. According to figures from the Millennium Development Goals, only ten percent of Ghanaians have access to improved or appropriate toilet facilities.
In many places around our country, people day in day out, are resorting to "free-range", on our beaches, in between old buildings and near public gutters, to attend nature's call.
For the sake of our sensibilities, I am not going to divulge regional figures on "free-range".
Sometime ago, I was waiting to meet some people in front of an office in a suburb of Accra when a very well-dressed lady rounded the corner, lifted her dress and to our astonishment, started peeing right in front of us! In many places in Ghana, the inability to properly dispose of human waste has created a crisis. The people have immortalized this problem in their own way by naming the area near Jamestown, "Lavender Hill" in acknowledgement of the stench that comes from the area. This stench is the result of years of dumping raw human sewage into the sea.
A few years ago, I was forcefully reminded of the deleterious effects of sanitation on our tourism industry by an American lady. We met at a conference and when she learnt that I was a Ghanaian, she said she had visited Ghana some months earlier. When I asked her for her impressions of Ghana, she said forthrightly "Your people are very nice but your country is filthy". She went on to explain that during her visit, she had travelled by public transport to Kumasi. "When we got to Nkawkaw, the bus stopped for a break and since the wash-rooms were not enough, some of the women started heading for the bushes, lifting their skirts as they went. It was disgusting." Needless to add, it was one of my most humiliating moments as a Ghanaian.
While this is a crisis, thoughtless actions, though motivated by good intentions will not solve the problem.
First, exhortations by Presidents and Ministers for people to keep their environment clean followed by the scheduling of cleaning campaigns scheduled for Saturdays and vociferously covered by the media will have no effect. During such cleaning campaigns, people collect the garbage from neighbourhood gutters and pile most of it beside the gutters. As soon as it rains, most of the garbage is returned to the gutter. Of course, the people who filled the gutter with garbage in the first place resume the dumping the day after the cleaning exercise. Such exercises have not worked in the past and will not work now.
Second, redesigning public education, just by itself will not work. Most of the people who live in or next to the filth know that dumping garbage is bad and that they should not just ease themselves anywhere. The problem is that when the appropriate authorities leave a quarter or more of garbage uncollected, it is hard to keep your environment clean. As for attending nature's calls in an appropriate manner, try trying to find a decent place to go for this all important function in Central Accra or Kumasi.
Third, pay-as-you-dump will not work. The fact is that many of the poor who generate household garbage do not have the wherewithal to pay as they dump. The question is if they cannot pay, shall we compel them to keep the garbage in their homes? Just as we recognize that some cannot pay for their health insurance, we must recognize that some too cannot pay for their garbage and that they too, deserve to live in clean neighbourhoods.
Speaking in Accra last week, the Director of Environmental Health and Sanitation, for the Ministry of Local Government and Rural Development, Mr Lensason, said the Metropolitan, Municipal and District Assemblies were doing an inadequate job despite the "huge amounts of money being channeled into sanitation by the assemblies themselves as well as the central government."
What we need to know is what is the real cost of sanitation? Are the amounts referred to as huge by Mr. Lensason enough? If yes, who and what are preventing the appropriate people from accomplishing this important task?
Should the primary responsibility for Sanitation stay with the Ministry of Local Government and Rural Development or with another Ministry, regardless of which Ministry has primary responsibility, how and who co-ordinates the Ministries that have some interests/obligations relating to sanitation?
Who holds who accountable for uncollected "boola"?
Whatever the answers to these questions, it is obvious that whatever is being done is not working.
The first step in fixing this problem is a Presidential-level meeting involving all the Ministries, agencies and major Metropolitan areas with varying degrees of responsibility for sanitation to define the problem and adopt a solution. While they are at it, the team must also discuss water and its relationship to cleanliness.
The second step is to commit the necessary resources to the solution of this problem. Cleanliness, it appears, is not cheap.
Third, we must bring to bear some of the modern technologies that appear to be turning garbage into money all over the world. Why can't we convert garbage into energy? Why can we not get fertilizer out of excreta and garbage?
Fourth, we must provide the necessary incentives for the private sector to get involved in this important sector. I look forward to the day when every hospital and school, in partnership with government and the private sector, will use its own waste to produce most of the energy it needs. Nkawkaw Holy Family Hospital is doing it. Indeed, in the case of very large facilities, it may be possible for the facility to generate more energy than needed and to sell the excess to others.
Fifth, we must integrate waste treatment and garbage disposal into all aspects of our national lives. This means that companies that pollute our environment must pay to clean the environment. In other words, those who pollute while doing business must pay for cleaning up their mess.
Sixth, there must be public education combined with enforcement of our sanitation laws. These laws, for instance, must require businesses to provide reasonable places of convenience. Government must lead the way by providing enough public toilets and garbage collection bins to serve the public. The enforcement must involve, after the needed investments, the return of large numbers of sanitary inspectors, otherwise known as "TANKASE" into our neighbourhoods.
Ultimately, it is the responsibility of government, to keep our environment clean.
Our governments must never let the public wonder whether they are more committed to building public toilets than theatres— drinking taps than palaces.
Finally, it is said that cleanliness is next to Godliness. Let us make the building of clean environments amongst all our people, the work of our leaders, as part of the sacred obligations, to God and mankind. Here on earth, God's work is our own and we must build, to the glory of God, a clean country. We must banish names like "Lavender Hill" from our vocabulary and show my son, Kofi that this country is not "full of garbage".
May God bless you all.
Let us move forward, together, in unity and cleanliness.
Credit: Arthur Kobina Kennedy