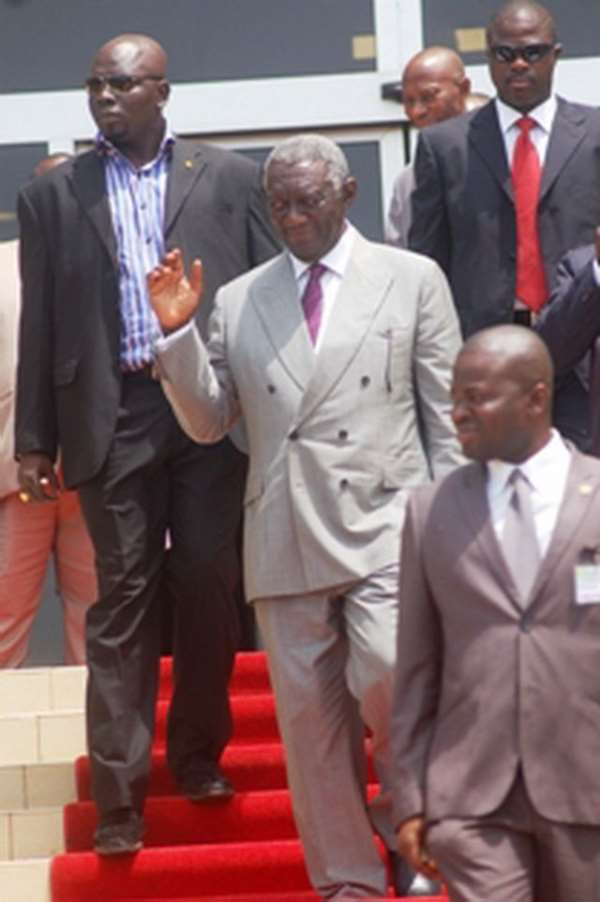 He signed it. Didn't you hear him say it outside parliament? Yes he did and you must accept that and stop being "hysterical" and "unrealistic." Don't you know "the work of members of parliament is so difficult?"
"Look, you are making too much noise about ex gratia". Do you want us to pay Members of Parliament like we pay unskilled workers or what we in Ghana call Labourers? Yes you are; well, unless of course you endorsed 'the President Kufour approved' ex gratia of 5 months pay to former MPs. But if you bemoaned the payment, then you are ignorant.
Forgive me if I got you lost for a moment, but I was quoting words by the title holder for 'The World's Most Travelled President', John Agyekum Kufour, alias The Gentle Giant.
John Kufour feels people who have questioned the amount of money approved by him in the dying embers of his presidency for parliamentarians in the 4th Republic are in his words "not living in the world." Our former head of state unashamedly told journalists in Accra that he indeed signed the ex gratia of the law makers in question. He wants us to keep quiet, stop making noise about spending wisely and accept whatever the executive and legislature decided to award itself. He says it is not extravagant at all. John Kufour wants us to live in his world, the real world, a world where only the rich got richer and political office holders lived grandiosely on tax payer's largesse. After 40 years of a career in politics, John Kufour is still intolerant of dissent and he wants us to shut up.
Kufour's real world, is where his government spent our monies largely on frivolous projects and tell us not to question them. (Did you hear the former Chief of Staff under John Kufour? What a mug? I'll tell you about him in subsequent articles). But whilst mothers were detained in our hospitals for non payment of bills because they couldn't afford it, and our health services lack equipments and beds to accomodate the sick, John Kufour conferred a national award on himself and largely on a bunch of undeserving recipients of national honours for doing "well." The so called National Awards event really reminded me of the "Butcher of Uganda, Iddi Amin Dada, a man who was so benighted he offered himself to be the King of Scotland if asked. Iddi Amin's power drunkenness was so offensive he asked Julius Nyerere, then President of Tanzania to meet him for a boxing match, according to the Associated Press. Nyerere's crime was that he was a critic of Amin and that was enough sin to call for a boxing match between two sitting heads of state. Hahahaha. What a hog! Africa has really been ruled by a bunch of clowns you know.
Well, "Field Marshall" Iddi Amin and John Kufour do not have anything in common except that they both conferred onto themselves medals. Kufour was so oblivious to the crying of his countrymen and women he bought for himself an 18 karat gold medal which cost the Ghanaian taxpayer £32,700 which cost many times than an olympic gold medal. The medals for the National Awards costs Ghana £ 717,000 or $1.4 million USD and it was well with nearly all of our members of parliament, some of whom were decorated.
Ex President Kufour's comments should not come to us as a surprise at all. You remember how he described Ghanaians who complained about difficult times as lazy people? Kufour in his offensive power drunkenness looked us in the face and told us - public and private sector workers - that we were lazy. Perhaps he would be interested to know how many experienced people resigned from GBC alone between 2006 and 2008 and why they left. Whilst many public sector workers couldn't afford to pay their bills because of rising cost of living, our President who had been in Politics for more than forty years felt we were whimpering too much and simply lazy.
And today he tells us we should not raise objections to what many have described as profligate giveaways to our law makers. Well he can afford to say that can't he? He had so soon forgotten how he bemoaned the suffering of the people of Ghana when he badly wanted to be president and begged for Ghanaians to vote him into office so he could put in place measures to soften our suffering. Ghanaians gave him a chance to do something differently and bring about change in the welfare of his compatriots. And what did we get for our grace? He slaps us in the face, calls us lazy, hysterical, humiliates us before a teasing international community who must be thinking these Ghanaians are a bunch of buffoons to declare their country as a failed state that could only survive at the mercy of crumbs they threw at us - that a country with over 22million people are not ingenious enough to create wealth for their people except to beg?
In the eyes of our immediate former leader, a parliament that played a rubber stamp role under his administration should be greeted with gifts, garlands of praises and medals and certificates. They are heroes and heroines, they did very well and we must pay nearly all 230 of them about £9 million or £40,000 each for a full four year term served as retirement package for being in parliament and voted for detrimental laws and loans. Many of these MP the ex President wants us to award funds he calls "not extravagant" voted for bills in parliament for the approval of loans that were fraudulent and a rip off (Remember the CNTCI and IFC Loans)?
Many of our politicians are so megalomaniacal they feel the rest of us don't matter. One of them, lawyer John Ndebugre even went as far as saying if all our law makers should resign en bloc, Ghana doesn't have rich(in terms of expertise) people to run the affairs of our parliament. The Zebilla law maker feels by virtue of being in parliament, MPs become repositories of all wisdom and knowledge and that they knew better than people out of parliament. You couldn't fault POLITICIANS like John Kufour and John Ndebugre, we have a culture of glorifying mediocrity, so anything second best is authority.
Every law making body needs to be resources to be able to function very effectively and we can all agree that our parliament does not have the facilities. Our Law Makers earn about £1800 a month as salary, minus allowances, not the best but these are luxuries their equally qualified compatriots in other public services, whose work is equally indispensable, do not get. We have to do better than what we are doing now for our workers where ever they may be. But that should be based on performance. No one complains about fat allowances if we are getting value for money, but as it stands now, the work of our MPs in the last parliament is far from good. Whilst Western institutions are cutting back on spending and allowances for senior executives in the wake of the economic meltdown (the most recent being allowances for senior staff of UK bank Lloyds TSD and General Motors and Chrysler), John Kufour wants us to do the opposite, spend, spend, and over spend like he led us do when he was president; after all we can beg our way out of poverty and economic difficulties. Under Kufour, parliament approved a loan of $20 million USD for the celebration of our independence, and your guess is as good, we over spent to a tune of $78 million USD (and still owed contractors $3million) and overspent on a presidential palace which should have cost us not more than £19 million or $30 million USD. Again we overspent to a tune of $50million USD. What a pity.
RAS MUBARAK

[email protected]