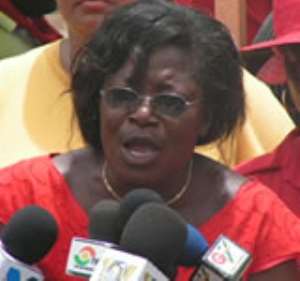 Ama Benyiwa-Doe dropped a self-deprecating joke at her vetting when she said "My father did not go to school oo," in response to a question that demanded her month of birth.
Madam Benyiwa-Doe also known as Ama Chavez, nominee for the Central Region, sank into her seat grinning from ear to ear but little did she know the drilling could get tough.
Responding to a question posed by the Member of Parliament for Adansi Asokwa, K.T. Hammond, about her exact date of birth, the nominee said her father never had formal education for which reason he could not document the specific month and day she was born.
The former MP had indicated in her curriculum vitae she was born in 1950 but could not tell her birth day and month.
"Can we know when you were born,… date of birth?"
"1950. Because I put down 58 [years], you are getting into specifics."
"But [tell us the] date and month."
"Ah! My father didn't go to school oo," she quipped, driving committee members and journalists in the Speaker's Conference Room into profuse laughter.
Although the vetting was generally light-hearted it was also characterised in part by some amount of political jibes.
The Minority Leader Parliament and Ranking Member on the committee asked the nominee whether it was politically right to describe the cocaine menace as party political problem because a member of the party had been convicted of possessing narcotic drugs.
Madam Benyiwa-Doe is on record to have said the Kufuor government was riddled with cocaine and at one moment saying the positive statistics on the economy were all cocaine-driven.
"If one MP is jailed for cocaine it is also wrong generalisation to say that NPP is a cocaine party, you agree with me?"
But responding to the question at the floor, Madam Benyiwa-Doe admitted "I agree with you."
She however indicated that she passed the comment on the premise that the former President John Kufuor had stated on a party platform that "the cocaine business is a party matter."
She also promised liaising with the regional house of chiefs and people of the region to find a lasting solution to the numerous chieftaincy issues that confront the region.
The minister-designate also promised a special programmes to create jobs and equip the youth in the region with employable skills.
Meanwhile if Madam Benyiwa-Doe's 1950-year-of-birth is correct, then she would be turning 60 next year.
Story by Fiifi Koomson