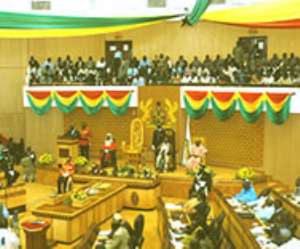 This stool building could be the key to unlocking Ghana's potentials
To you the against people of the Accra Golden Stool, you want the president to use the castle as his executive mansion. The same castle that was used as a slave trading post and once habited by a man who never feared God. That man who once asked a disputant to go swear at a Nogokpo shrine and had as his chief watchman,a man known as gbagbladza. "Mo yare papa," egya K may have muttered.
The back and forth on the presidential mansion include, the Castle being an ex slave post, Ghana needed a mansion befitting the country, misplaced priorities and the cost of the project. President Kuffour's opponents forgot what a rich country Ghana was with a gold sword made of pure gold as a symbol of presidential power. It was that which necessitated such accouterments as the presidential medal and chain, bling bling.
So to all those expressing outrage at the president's decision to build for himself a new bling house, stop wasting your time. This stool building could be the key to unlocking Ghana's potentials. The president never used the Castle as his home and the offices at there were not in good shape to so he could not organise himself. It could have been the reason why he undertook 130 trips out of the country looking for solutions to govern this proud nation to the promise land.
How dare you compare President Kufuor to Jean Bedel Bokassa
How it felt like to go sleep in executive mansions on these trips and come home to work in a hen coop is a matter best left to the cockerel to decide. Now that he is moving in to steal his successor's thunder, we should expect some miracles. But how dare you compare President Kufuor to Jean Bedel Bokassa the former president of Central African republic who crowned himself emperor and proudly displayed medals of honor, some acquired from the French. And don't you dare compare him to the great Mobutu Sese Seko a.k.a. Nkuku Ngbendu wa Za Banga a.k.a Joseph Desiree Mobutu. This man who build mansions allover the place. Just because the 14 days ultimatum issued against persons who accused him of that comparison expired does not mean they were of the same stock.
The first edition of VooDoo Child titled, "chest out your bling Mr. President," has more toli on adorning oneself with ornaments and living large as an Africa thing, a black thang. Bling bling is a term that may have been formalized through hip hop by African Americans but Africans were long into bling and hip hop even before slavery. From the look of things, we are still masters of bling bling,
An edifice befitting the status of Cote d'Ivoire
Other adventures in ostentatious expenditure and show of legitimately acquired wealth include the biggest church in the world next door in Cote d'Ivore's administrative capital, Yamoussoukro. The late President Félix Houphouët-Boigny decided to build an edifice befitting the status of Cote d'Ivoire and his devotion to God. Ding, dong, the word is "befitting;" not to forget that the late president wanted an image representation of himself near Jesus Christ in the church. Houphouët-Boigny was taking bling to a divine level.
Honorable mention must be made of Teodoro Nguema Obiang junior a.k.a Little Teodoro, son of President Teodoro Nguema Obiang of Equatorial Guinea. Per capita income, that island's citizens are the third wealthiest people in the world courtesy of new oil discoveries. The average person however lives on less than a dollar per day. And Little Teodoro, he bought a 35 million dollar villa in California to help him discharge his duties properly as Minister of Agriculture and Forestry. He divides his time in official travels between that villa, and other mansions in South Africa and other parts of the world. Ding, another bell rings; "official travels." Yet this is not at all in comparison to the 130 trips that President Kufuor took outside the country in discharge of his duties, never. Mr. President was seeking investors and honoring invitations whereas little Teodoro was driving fast cars and partying with the fairer sex.
A revisit of the argument about the castle being a slave post; on 20th January, descendants of slaves and relatives of such would have become masters of a mansion that was largely built using slave labor. A mansion that housed slaves who served masters known as President of the United States. Such masters included, George Washington, Andrew Jackson, Thomas Jefferson, James Madison, John Quincy Adams. These were some of the founding presidents of the US and guess who is inheriting them now?