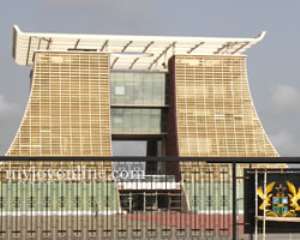 The choice of Golden Jubilee House as the name of the newly commissioned seat of government and official residence of the President of the Republic of Ghana has generated a big debate.
While many readers' comments on Myjoyonline have kicked against the name as inappropriate and unbefitting of the imposing edifice referred to as 'the house of the nation' by President John Agyekum Kufuor, who commissioned and announced the name on Monday, others say the arguments are misplaced.
For the latter group, efforts should be geared at re-orienting managers of the mansion towards a disciplined maintenance culture; one that must deviate sharply from the nonchalant attitude of the Ghanaian that has seen many state buildings, edifices and property gone waste far ahead of projected lifespan.
"The name chosen, in view of the construction starting around the 50th Anniversary of the nation's Independence is the Golden Jubilee House," President Kufuor had explained at official ceremonies to open the place.
But a reader, Nat, who described the building as a good house, disagrees with the President's choice of name and writes, "As a Ghanaian, I am very happy that at long last we are not going to be using that white painted edifice used to haul our mothers and fathers into slavery. My only problem is the name by which the house is called. Why jubilee house...don't want to say anything but it should be changed.
K. Dan also faults the President and says "great achievement but the name is bad. This is a great building but the name die Kuffuor you no try. How can we name it golden jubilee? Wouldn't a local word that stands for greatness be named after the building?"
One John Green thinks the name is a joke! "Please change the name, whose idea was that. As the seat of the government, please stop joking and get serious. My suggestion THE STOOL.
But Green's suggestion of The Stool is also challenged by another person, who reads tribal meanings into the suggestion. "STOOL?? This thing looks like a stool. What about people from the north who use skins. Are we saying they can never rise to be president one day? Tribalism at its best!!"
But Phil is happy for a job well done and congratulates President Kufuor for seeing the project through. "THE PREZ HAS DONE VERY WELL IN THE MANAGEMENT OF THIS COUNTRY. MUST WE ALWAYS POSTPONE THINGS LIKE THIS? ALL IN THE NAME OF POVERTY? YOU PEOPLE ONLY THINK ABOUT WHAT SHOULD GO INTO YOUR POCKETS. NDC SHUD SHUT UP. IF IT WERE THEM, THEY WOULD HAVE USED THE MONEY ON THIER KIDS TO FURTHER THIER EDUCATION OUTSIDE.
Similarly, Acheampong thinks whining over the project and name will not solve any problem. "The building is already here. Crying and justification won't change anything. What we should be thinking of now is maintenance to keep its value. Quite good-purposely built edifices have virtually rotten due to our attitude to maintenance. We shouldn't add this to the statisitcs. eg. Job 600, Flag staff house and others in Aburi." His view is supported by SAI SEIDU, who writes; "Hope we would apply strictly the culture of maintenance to this building for the future. There are numerous historic buildings in the country that are left rotten."
Another reader, Earl Jones thinks the president has missed the point. "I have just listened to the president's speech and think he has completely missed the point. Nobody is questioning the need for a presidential palace. What Ghanaians are saying is that, the president must get his priorities right. Out of all those examples of presidential palaces he mentioned, 80% were built in developed countries; countries he goes beginning for food to feed Ghanaians. Is the president rubbing shoulders with his masters?
Nigeria has more wealth than Ghana can imagine. I find it sad that the president only compares where it is convenient. I equally disagree with the other African countries he cited as examples, building presidential palaces when their people have no clean water, no schools, no roads, no hospitals, and where a majority of their citizenry are on less than 1 dollar a day. The fact that some African countries made mistakes does not mean the president should also make those same mistakes.
Nobody is questioning the quality of the loan from India either. That same loan could have been used to build excellent group of 10 hospitals so Baah-Wiredu would not have to be flown to South Africa.
Whom is the president trying to impress?
A good leader will take care of his people first before spending such a colossal amount of money on creature comforts for the sole preserve and enjoyment of the president leaving his people to payback the loan over a whopping 25-year period.
The world will see this so called 'edifice' appropriately called the white elephant as nothing but a Potemkin village! change must come!
See other views below.
KM: Golden Jubilee what?
As for this name paaaa...they should change it to something more inspirational or nice.
NII: Maintain the Name
I don't agree to the change of name for the seat of Government. All other countries have peculiar name like white house, Knesset etc. why do we want to change flag staff house? Government should not worry because we are always going to credit it with this one.
Sam: GJH
It's about time to have this GJH.
IKE GOLLEX: GREAT WORK DONE
I WILL SAY THAT I'M HIGHLY IMPRESSED WITH THE WORK DONE. IF IT WERE TO BE SOME YEARS BACK, THE WORK WOULD HAVE BEEN LEFT UNDONE. PREZ KUFFOUR HAS REALLY DONE A GREAT JOB AND HE NEEDS TO BE PRAISED. MAY THE GOOD LORD BLESS HIM. GOD BLESS OUR HOMELAND GHANA.
GOD BLESS PREZ KUFFOUR.
GOD BLESS THE GOLDEN JUBILEE HOUSE AND
GOD BLESS GHANA.
MAN OF GOD: WHY, GHANA IS NOT YET 75YRS FOR ANY GOLDEN JUBILEE
BE PATIENCE, WHAT AT ALL THIS NPP PEOPLE ARE TRYING TO DO. ALL PRIVATE COMPANIES REFUSE TO INCREASE WORKERS SALARIES, INSTEAD THE GOVERNMENT TO FORCE THEM TO DO SO, THEY ARE NOW GIVING NAME TO PRESIDENTIAL PALACE. ARE WE GOING TO USE PRESIDENTIAL PALACE TO CONTRIBUTE AS A TAX PAY TO YOU. CPP, PNDC, NDC AND YOU NPP ARE ALL THE SAME.I WISH TO BE A LONE NOT TO VOTE FOR ANYBODY AT ALL. AND I WILL CONTINUE BEING A FLOATING VOTER. IF I LIKE I WILL VOTE, IF I LIKE I WILL NOT VOTE.
BUT NPP GOVERNMENT IS THE WASTE GOVERNMENT I HAD EVER SEE SINCE I WAS BORN FEBRUARY 12, 1953. WHY, WHY WHAT IS HAPPENING IN THIS OUR COUNTRY.
William: Why Rushing?
You only have less than a month to go why are you rushing. Taking all your belongings alone to the palace will take you 2-3 weeks, just leave it and prepare it for the incoming president. Now I begin to believe that you don't want Akufo-Addo to win. President Kufuor you're greedy and your greed will kill you. SHAME ON YOU.
Gary Hem: LIBERATION ROAD?
A simple name as 'NO. .... LIBERATION ROAD' would have been perfect. Would the PERPETUALLY-WHINING ingrates give us some peace? They are so blinded by hate politics, they would not spend a minute to think about the utility of the facility. The facility provides for
1. A cabinet meeting room
2. A banquet hall
3. Veep's offices
4. Chief of Staff's Offices,
5. Shopping Centre, etc., etc.
Let us be fair and eschew cheap politics. God bless you Mr President. God bless Ghana. God bless the next President.
Waltpro: Why Not HIPC HOUSE
THE BEST NAME HIPC BENEFIT
Mickson: Golden jubilee house?
It's significant to have this edifice for national heritage purposes but my concern is the naming of the building. Do we mean to tell the rest of the world that after consultation with national house of chiefs, council of state, christian council of churches and what not, the only name that came out was the above named? Those who mooted the idea could no decipher any reconciliatory name than the above named? so sad abi?. Sometimes, we should learn to combine a priori and a posteriori knowledge.
'xie xie' - thank you
Iktek: Non-innovative leader
Yes if you consider the name and the purpose of the House then it is enough to tell my fellow Ghanaians the level of 'colonial mind' our leaders of this dynamic world are. How can you name preseidential house like this. no inspiration, no innovation and no intellectual dynamism. No wonder the nation is like this.
MAN OF GOD: BOAST YOU SAID
BOAST YOU SAID. WHAT IS WRONG WITH YOU MY FRIEND. AFTER THEY HAVE COLLECTED OUR TAX MONIES AND REFUSE TO FORCE THE PRIVATE COMPANIES TO INCREASE THE WORKERS SALARIES. I THINK YOU ARE NOT YOURSELF. YOU ARE BEING CONTROL BY THEIR REMOTE CONTROL.
DANIEL, PLEASE SEE THE PASTORS TO PRAY FOR YOU TO SEE THINGS CLEARLY.
THANK YOU.
BOAKYE:
On behalf of President Mills I wish to congratulate Out-Going President Kufuor for putting up the Golden Jubilee Palace.
Even though President Mills would not have used such a huge sum to put up the edifice for his own use, since it has been built he would make good use of it. He would not let it fall into disuse as President Kufuor did to the Gulf Stream Presidential Jet.
One may ask why I am so sure that the next occupant of the Palace is President MIlls?
The answer is simple. Ashantis will not vote for an Akyem to become a President.
This is because the Akyems claim that Ashantis are their slaves. That they are the masters of Ashantis since they killed Osei Tutu the first while he was crossing the River Pra and decapitated him and use his skull as a calabash to drink palm wine anytime a new Okyenhene is being enstooled.
It would, therefore, be a taboo for Ashantis to use their own thumbs to put themselves under an Akyem President.
Ashantis are too intelligent to vote for Nana Akufo Addo. I trust Ashantis, they will never, never do that. I can assure you of this.
Once again welcome President John Evans Atta Mills.
To show the authenticity of my source of information I am going to supply you a code: "Kwaye mu akrokyere aboa, me nua ne wo anka me ne wo ka, enso wo akwan mu na me suro wo". Need I explain it in English? No I will not do that since I want it to remain a code.
Agbo: GJH
We talk too much. we think little and talk much. either the name or the cost maters not at the moment. let give praise where it is due.
Ama 7: Golden Jubilee House
What a name! What about the old Flag Staff House? We even thank God it was not named "HIPC Benefit House or Palace".
Second question: why the rush to commission the edifice? Does our president want to have a feel before his party leaves the scene? Surprisingly, the building is still under construction. I learnt there are still finishing touches to be done and will it be safe for the president to stay there while the 'touches' goes on.
Ah! President! "towobo ase" at least you have about a month to hand over power. Ei!!! if I may ask, how much did it cost us to put up this Ahenfie or the "value is the same".
Hans: When shall we Learn
So until when shall we learn? We have Flag Staff House, State House and all that, Job 600 is not even completed and now Golden Jubliee House?
Are just humans who don't want to learn or we are some kind of nature who don't want progress? This money could have been injected into something better. If all government come to power and build New Presidential Homes, then we should know we will move forward but it will take a life time.
Ghana has the ability to be where ever he wants to be, but the mindset of these politicians are killing us...
God Bless Ghana and may he have mercy on our politicians.
Hans
KOBBY JONES: POULTRY FARM
WOW!! THIS HOUSE IS TOTALY FIT FOR THE REARING OF FOWLS, GOATS, DUCKS, BIRDS, BATS, AND ALL SORT OF FLYING CREATURES.
WOW!!!!!! WHAT A POULTRY FARM?
Mansah: hummmmmmmmm
I think the name golden jubliee should be changed
S N Nick: Golden Jubilee House
Sad that Ghanaians have not been told the cost to the tax payer but fast to commission an uncompleted building to be known as what ----Golden Jubilee House???. Why is this government always changing the name of everything in Ghana. Please it is time the President is told to change the name back to Flag staff House now!!!.
Emma: Please JAK, You can do more than this
The idea of a presidential palace is good but please the name. We have golden jubliee parks all over the country, at least this should be different. Kufuor please you can do better than this. The name is really bad.
X cape: God bless Ghana
May the god God bless mother Ghana. In fact hurray to all the good people of Ghana for this great achievement by our great President H.E. J.A. Kufour.
Now those who are saying the amount involve was huge let me tell them this, as at the time Osu castle was built do they know the amount of money in both cash diamonds, silvers and gold not forgetting labour for free that was involved? Please the answer could only be provided by our colonial masters.
Please let us not for get that the castle was build on purpose of slavery, oh my goodness how can some people consider this great monument to be hospital or farm? shame onto them.
As a matter of fact if they say Ghana don't deserve this mansion then we also don't deserve them, this is not the property of N.P.P. but for the good people of Ghana.
now we are going to vote for a leader to occupy the jubilee house some say they are not going in so we will vote for those who will go in and do good jobs for us.
on the other hand what they say means they are not going to continue the good works of the great leader we have so a forward man who can take us to the promise land is needed to continue the good works of pres. JAK.
God Bless Mother Ghana
Yaw: Poor architecture
I really don't see anything beautiful about this building. It's very ugly. Indians are not known for archtecture. We should have gone to the French or Italians for something worthwhile that could withstand the test of time. What is beautiful about this building?
NAA: WHAAAT?
I am not impressed. The name of all the names we could give this building we chose golden jubilee. Black Star as others have suggested or a local name would have been more appropriate. In my opinion the money could have been used to give us water good WATER.
Blewu: Not a good name
Golden Jubilee House? What a name? Who thought of this name and what does that person mean? This shows the lack of thinking on the part of Kufuor administration.
Daniel: Nice & Historic
Good we Ghanaians can also boast of a presidential palace. Countries like Niger, Nigeria have them so why can't we also have this. The president cannot rule the nation from his house. After all that is why he is the first man in the country. Kudos Kufour.
Yao: Change the name to Black Star House now!!!
Come on! We could do better. the name needs to be changed to Black Star House immediately. we need a unique and inspiring name with a timeless appeal.
Detuti: We are a funny bunch
We had the castle and the flagstaff house but we decided to abandon them so we could waste money on some building and argue over what name is the best. Interesting.
Yaw: Golden Jubilee House or Black Star House
In spite of the fact we are in the golden jubilee year, this name does not strike as a name that will stand the test of time.
Black Star House or Flag Staff will stand the test of time.
Danny T: STATE HOUSE, PLEEEEASE
The project is magnificent but the name is clueless. What informed the choice of name? A simple name like, STATE HOUSE will do. Let's just call it the STATE HOUSE.
Banumbu: Interesting
It is not bad for the President to commission the golden jubilee house, the thing which is disturbing is that that House is not complete or is it that He just want to sleep in there? My God.
Mawuli: Golden Jubilee House...
Golden Jubilee House? Oh Nooooo. Golden Jubilee is not an ideal name for a place like this.
This is a State building and could be named after one of our national symbols e.g The Black Star House or the Nkrumah House. I don't know how much thought went into taking this decision but seriously it needs a rethink.
Kofi Dei-Tutu: And when Ghana is 75yrs?
If you call it Golden Jubilee today, what would it be called when Ghana turns 75years or Diamond?
Well names are not difficult to come by.
God bless Ghana
KWAME: Golden Jubilee House!!!
The commissioning of The Golden Jubliee House marks a significant milestone in the history of Ghana. I appreciate the effort of the govt of Ghana and India for this collaboration. The preservation of the memory of Osagyefo by renovating the Nkrumah Heritage House is laudable.
The question is who moves into this edifice after 7th December. I believe its obvious. The country is moving forward into prosperity. This shows vision. For Prez Kuffuor to go into a deal where 50% of the loan is grant and the rest payable over 25years at 1.75% interest shows wisdom, vision and the capability of this government to seize golden opportunities all the time. We urge all our opposition brothers and sisters to join this government to move the country forward. Come on board so that this country will move forward in development and freedom. Long Live Ghana.
Mawuli: Beautiful Edifice
Admittedly it is a beautiful edifice, but aside the beauty comes legitimate questions; first of which is "how much at least has the first face of the project cost the nation? Government should please be straight with Ghanaians on matters like this. I wonder how many of our Leaders will move into a new house he/she has built without knowing how much it has cost him or her.
Mikky Darlin: Change The Name To NKRUMAH HOUSE
We must name the building after Dr. Kwame Nkrumah. This Golden Jubilee house is bogus.