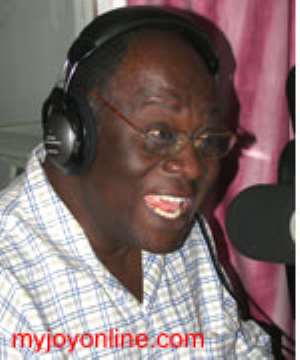 A former New Patriotic Party (NPP) Member of Parliament for Akropong, now the Akwapim North Constituency, Mr. Agyare Koi Larbi, has been reported dead.
He died in the early hours of Monday, November 10, 2008 at the Korle Bu Teaching Hospital where he had been rushed to after he suddenly fell ill on Sunday.
Paa Koi, a nephew of the late MP told Joy News Koi Larbi had taken breakfast and visited a friend nearby. It was while he was with the friend that he suffered a sudden ill-health and was taken to the Korle Bu Polyclinic from where he was referred to Korle Bu Teaching Hospital for admission.
"He was admitted to the Emergency Unit, unfortunately this dawn, around 3 o'clock we lost him," Paa Koi narrated.
He was survived by a wife and three daughters.
Koi Larbi, outspoken on issues and non-conformist even in his NPP party, served two terms in parliament from 1997 to 2004 before he was replaced by William Ofori Boafo.
One of his recent public appearances was on Joy FM's Super Morning Show where he lambasted the government for embarking on the cedi redenomination exercise, calling the exercise a waste of public funds and the government an insensitive one.
Indeed Koi Larbi on that occasion caused to be played a patriotic song – Asem yi di ka (This matter deserves to be told) - by the late Dr. Ephraim Amu to herald his interview with host Kojo Oppong-Nkrumah. See Agyare Koi Larbi's views on the cedi redenomination exercise.
He also had many tiffs with several government appointees over official decisions or actions, and was held in government circles as a turncoat.
But Agyare Koi Larbi, a pioneer panel member of Joy FM's political programme, "Cross Fire", variously explained that he has always been critical of situations that run contrary to his beliefs and precepts, and was not criticising the government because he had fallen out of favour with it.