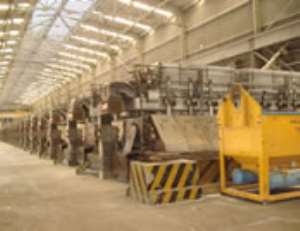 Ghana's parliament approved a deal on Friday for the $175.5 million sale of 70 percent of aluminium smelter VALCO, but both foreign companies mentioned in the deal document denied they had any plans to buy the stake.
Ghana's trade ministry said in a memorandum to parliament that Norsk Hydro (NHY.OL: Quote, Profile, Research, Stock Buzz) and Companhia Vale do Rio Doce (Vale/CVRD) (VALE5.SA: Quote, Profile, Research, Stock Buzz) had agreed on Aug. 8 to buy the VALCO stake and invest $4.7 billion in Ghana's aluminium industry.
Three-month aluminium futures MAL3 have fallen by nearly a third since Aug. 8 and by over 40 percent since July highs.
Parliament approved the deal by acclamation but within hours both companies denied they were investing in buying into VALCO, which has been inactive since early 2007 due to power shortages.
"Hydro has no plans to make any investments in Ghana," Norway's Norsk Hydro spokesman Stefan Solberg said in Oslo.
"We have not signed any agreement. This is something we have looked at just like (we have looked at) other places in the world," Solberg said.
A spokeswoman for Brazil's Vale told Reuters in Sao Paolo that "there are no such plans for this."
Ghana government officials could not be reached for comment.
VALCO has capacity to produce 200,000 tonnes of aluminium a year, but has been shut since March 2007 due to power shortages caused by low water levels in the vast Volta hydropower dam.
Under the terms published by the Ministry, Vale and Norsk Hydro would pay an initial $25 million to Ghana's government, with the remainder due only once VALCO resumed production with two pot lines running and power guaranteed from the Volta dam.
The deal was cleared by acclamation without the need for a vote in parliament, despite opposition over recent days from some members of parliament who objected to some of the terms.
"It's a giveaway because we know it will take a pretty long time for VALCO to run two pot lines -- the reality is that we don't have the excess power to give VALCO now, if we go that way, we'll be plunging our country into darkness again," opposition National Democratic Congress (NDC) spokesperson Haruna Iddrisu told Reuters ahead of the vote.
INVESTMENT PLANS
VALCO was created in the 1960s after Ghana's independence from Britain in 1957. Ghana's government bought out Kaiser Aluminium's (KALU.OQ: Quote, Profile, Research, Stock Buzz) 90 percent stake in 2004 for $18 million.
The government bought the outstanding 10 percent stake in the company from U.S. aluminium maker Alcoa (AA.N: Quote, Profile, Research, Stock Buzz) last June for $2 million, saying it wanted to create an integrated aluminium industry including an alumina refinery.
Rio Tinto (RIO.AX: Quote, Profile, Research, Stock Buzz) mines bauxite in Ghana, but ships it abroad for refining. VALCO has always imported alumina from abroad to feed its potlines.
Among the investments specified in the text approved by parliament on Friday were bauxite mining operations at Kibi and Nyinahin and a new $2.5 billion, 2 million tonne/year alumina refinery in the port of Tema near Ghana's capital Accra.
It said the mines, alumina refinery, 1,200 megawatt power station and upgrade to the railway between the capital Accra and the second city Kumasi would be complete within six years.
Ghana, the world's second biggest cocoa grower and Africa's No. 2 gold miner, is keen to diversify its economy and expects to start pumping crude oil from offshore fields in late 2010.
The administration of President John Kufuor, who is due to stand down after elections in December, has pushed economic reforms. In August it sold a 70 percent stake in phone operator Ghana Telecom to Britain's Vodafone (VOD.L: Quote, Profile, Research, Stock Buzz) for $900 million. (Additional reporting by Jorgen Frich and Aasa Christine Stoltz in Oslo and Roberto Samora in Sao Paulo; writing by Alistair Thomson, Editing by Jim Marshall)
Source: Reuters