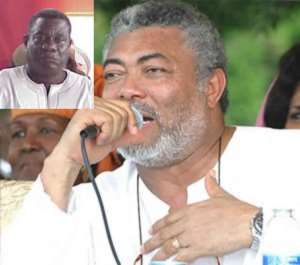 By the time of the trial it had become clear that the Rawlings government was the most bloodthirsty government the country had ever known. And to think that Rawlings was let off after a failed coup on 15 May, 1979 and Kodjo Tsikata, after being involved in a coup and was sentenced to death by firing squad, he was reprieved and the government that sentenced him to death gave him a job as deputy managing director of the Ghana Diamond Corporation.
After such humanitarian treatment it is ironical that these two people should kill almost everybody who allegedly took up arms against them.
Before the trials the soldiers were much harassed. Some of them had to attend two different courts a day. Tekpor and Dzandu, for instance, had to go to the tribunal trying them for the murder of the three judges and retired army officer and then to the court trying those involved in the June 19 episode. There were times when the courts sat both morning and afternoon.
On such days they had to go from one court straight to the other. There were also times when they were picked up from the BNI at about 2.00p.m. and returned at around 10.00p.m. or sometimes much later. They had no lawyers and the prosecution was too much in a hurry to finish the cases because it had too much on its hands. But since the raison d'etre for setting up the tribunal courts was to expedite the trial procedure and jail opponents of the government, in the process justice was sacrificed.
Finally Tekpor, Obeng, Offei and Dzandu were sentenced to death by firing squad. Sgt. Fofie, Corporal Debrah and Sgt. Abednago Kwakye, better known as Abe, were given 18years. Abe was originally given a death sentence, but perhaps for the important role he played during the June Four uprising, his sentence was later commuted to a life imprisonment. In 1985 he benefited from a New Year amnesty, perhaps the only able-bodied person serving a term for subversion to have been so treated.
It was clear at the BNI that feverish efforts were being made to clear the cells of all outstanding cases. It was during this time that Effah Dateh went for his second interrogation. He was suspected of planning a coup which he denied, but since security could not pin anything on him he was allowed to return to the cells to await further interrogation.
Then the time came for Massawudu and Newton to face the inquisitors. They returned somehow confident that their trials were over. The following day, they were given conditional release, provided they could raise the bail money and fulfill other conditions.
Each of them was to raise 200,000 cedis and get an officer of the rank of a colonel to bail him. In those days, officers of that rank and above were an endangered species in the Ghana Armed Forces. Despite the difficulties encountered in raising the money and finding an officer who was prepared to stick his neck out for them, they met the conditions within one week.
"Man has no plans", said Massawudu.
Massawudu says whenever a person plans for the future, he should first get God's approval or else he is wasting his time. He gave his own predicament as an example. Two weeks before traveling to the Soviet Union for further studies, he was arrested and had been languishing in detention ever since.
That Saturday morning when Massawudu was being released I asked him to send my greetings to Mrs. Susanna Alhassan and her children. I told him to collect a bottle of Club beer I had paid for but could not drink that day from her. We laughed over this and he said he lived very close to Mrs. Alhassan's place, and would by all means drink my beer for me.
The following afternoon, we were shocked to see Massawudu back in detention with us. What had happened? On being released, he said, he went to his East Cantonments home and had a good sleep on a real bed. Then he went out to see a few relatives to tell them the good news. The following morning, Sunday, he had gone to Mrs. Alhassan's for the Omo Tuo session.
He had delivered my greetings of course. A chilled Club beer was produced immediately he mentioned the topic. After the heavy breakfast he returned home, only for the house boy to tell him he had had two visitors. By his description, he guessed they must have been the detectives who sent him home. He was puzzled, trying to fathom what could have gone wrong. Then at 2.30p.m. the two officers returned and said they had orders to return him into detention at the BNI. He was dumbfounded.
Since he did not have any say in the matter, he went into the house, took a few new clothes and accompanied them. It was not until the following day that Newton was also brought in.
It turned out that an interrogator at the Accra region headquarters had told Kojo Tsikata it was a mistake to have bailed them since they could abscond. Even though it was the same Kojo Tsikata, who in his infinite wisdom, sent the message from the Castle that they be allowed to go on bail, he changed his mind again.
The following Sunday we were at breakfast when a sergeant who dealt with the movement of prisoners came to the sitting area and announced that Effah Dateh, Johnny Dzandu and I were to be transferred. I asked where to, and he said he did not know, but I overheard him say we were going to Nsawam Prison.
He returned around 10.00a.m. to take us. Effah Dateh, who was sitting by me drinking koko, asked me where we were being taken. When I told him, he stopped eating and took his plate to the pantry. I understood why he lost his appetite when we arrived at Nsawam prison.
So we arrived at Nsawam prison, with all its scary stories of atrocities meted out to inmates. This was the prison Nkrumah built mainly for his opponents. It was the prison where every morning robots were said to give inmates a good morning slap. Nsawam prison where you never saw the sun again once within its walls. You could go on and on. The myth and the truth intermingled.
We were led to our new 'residence' and three prisoners were ordered to carry our things. It was on the way that I saw Tommy Thompson, the publisher of the Free Press. We shook hands warmly for I never knew he was also in detention.
'I've been here since the end of June. John is also here.' He said. I had heard of john at the Cantonments police station but I was not aware he had also been detained or sent to Nsawam. Tommy and I walked together to the Annex Block where my companions joined me at the desk of the officer on duty. Here they had to decide which cells to allocate us.
The Block Leader, that is the prisoner who acted like a prefect of the block and handled all complaints and problems before they got to the officer on duty, was present. This was the regulation. A lot of people gathered to take a look at us as we walked to our assigned cells. Dzandu was taken to the Lock Up or solitary confinement since he was considered a dangerous prisoner who could escape.
He was locked in a cell not bigger than four feet wide and six feet long all day with a small vent in a heavy steel plate gate. Effah Dateh was assigned a cell which already had two soldiers, Captains Bimpong and Baba Awuni. I was sent to cell 16, closest to the bathroom and the toilets. As I walked on to my cell, I noticed the floor was getting dirtier and the air harder to inhale.
I entered cell 16 and was shocked by what I saw. It was fairly big, at least bigger than those I saw while walking down. The shock came from the grime on the walls and the filth on the floor. There were about ten bunker beds most of them without mattresses. Some had cardboards on them.