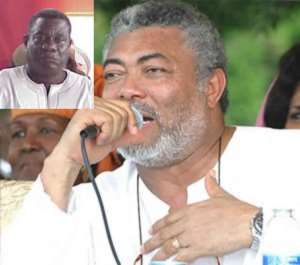 Tommy Thompson, the publisher of the weekly Free Press of Accra drove his Volvo 900 Turbo to his office in Kokomlemle on June 21. A very able football administrator, he had been Chairman of Accra Hearts of Oak football club founded in 1911, the oldest in the country, for seven years.
When the ban on political parties was lifted in 1979, it became apparent that the former supporters of the Convention People's Party (CPP) lacked the big name support that attracted voters. Tommy sent the names of two of his close friends to the Daily Graphic without their knowledge as having joined the PNP. These were Messrs Quarshie-Idun and Carl Reindorf, both prominent Accra lawyers. This gimmick worked. Other respectable people could now also join the PNP.
Tommy was in the office around 9.30 a.m. when plain-clothes men from the Criminal Investigations Department (CID) informed him they had come to search the premises for subversive documents.
Another person whose office was searched that morning was John Kugblenu, the editor of the Free Press. At 49, John was four years younger than Tommy. They were contemporaries at Achimota School and the man who ordered his arrest, Kojo Tsikata, was his classmate.
From their offices, they were taken to their homes and searched, perhaps more thoroughly than the soldiers searched my house, shifting wardrobes and turning almost everything upside down. They found nothing and both of them were released around noon.
The following day they were picked up again.
In all, eight people were arrested about this time. These included lawyer Sammy Okudzeto, President of the association of Recognised Professional Bodies and a critic of the government. Another was Dr. Obeng Manu, a Sunyani barrister and politician. His crime, ostensibly, was that he had said in a press statement issued in Sunyani that Rawlings had turned Ghana into a poultry farm, and with the curfew he had imposed on the country for the past year and a half, he was " opening and closing" the people of Ghana as if they were chicken.
For his temerity, soldiers were sent from Kumasi to pick him up and send him to Accra. By the time he got to his destination at the Gondar Barracks he could hardly be recognised and was barely able to walk. His head was swollen and his eyes were blood shot.
Apenteng Appiah-Menka was the president of the Ghana Manufacturers Association. Arrested with him was the executive secretary of the Association, Mbeah Amuako. The former was kept in the Ussher Fort prison for less than a week and released, but the latter was in the BNI for about a week and then transferred to Ussher Fort for another fortnight.
A fortnight later, the government announced that all of us were arrested for subversive activities. Being so sure of why we had been arrested, one would have expected us to be put on trial and charged with subversion. Apart from those from the Manufacturers' Association released within a month of their arrest, and Tommy Thompson who was released five months later because he suffered a stroke, the rest of us-Sam Okudzeto, Obeng Manu, John Kugblenu and myself-were detained in various prisons without trial for more than one year.
The BNI headquarters is made up of two main buildings. Immediately to the left, as you enter the high walled compound, is a modernized colonial bungalow. It used to be on pillars but this space has been converted into three cells, stores and administrative offices.
One of the cells is separated from the others in the sense that its entrance is on the outside. In the cell area is a large sitting room at the end of which are a toilet and a bathroom. This area faces the big compound which stretches from the main administration building in the south and the canteen to the north. It has a wrought iron gate for a door. Inside the sitting area and to the left are two cells with a small corridor in front and another wrought iron gate. The two cells also have the same type of gates.
The main administrative building has three fingers. A three storey structure, the architect made good use of the small available space for the building. The director, his deputies and other assistants worked here. On the ground floor are facilities for finger printing and photographing.
What makes this detention centre different from others in the country is that it is the 'big people's' prison. Before the coup, every morning a chef came round and asked what each suspect would eat and his meal was prepared for him separately. If what he wanted could not be prepared in the kitchen, it was ordered from a hotel.
When Jerry Rawlings was detained here after the abortive 15th May 1979, coup attempt, he virtually lived on hotel food. By the time I arrived, that facility had been cancelled by Jerry Rawlings. Food however was being cooked in the canteen for both inmates and workers, most of them undercover agents.
When I entered the sitting area, only one person was there, reading the Bible.
"Good afternoon", I said.
"Good afternoon. You are welcome," he said with a contagious laughter but without looking up. "Who are you, if I may ask?"
"Mike Adjei"
"The journalist?"
"Yes."
"Massawudu, Massawudu", he shouted. "They have brought him."
"Brought who?" a voice shouted from the inner bowels of the building.
"Mike. Mike Adjei. He has come. I told you that man will come here by all means. Oh, sit down," he told me getting up and pulling a chair for me. "I'm Effah Dateh. Lt Effah Dateh." The name struck a bell and I thought hard.
"Ah, Effah Dateh, the one who says he'd be head of state of this country before he dies?"
He laughed that "belly full laugh" that hinted it was forced.
Heavy guns were heard close by. I thought the shots originated from Broadcasting House which was less than half a mile away. There was a lot of activity upstairs. Heavy boots were trudging up and down and orders were being given in rapid fire. The few men on duty were running up and down the compound.
Gashon, who was the duty officer at the reception, came into the sitting area, walkie-talkie in hand and ordered us into the cells. He said they were trying to find out what was happening and returned to the reception.
"What's happening up there," I asked Effah Dateh. He told me he preferred being called Nkrabea, which means destiny in Akan.
"The former president lives there. Dr. Limann lives alone up there with about 10 soldiers guarding him."
"So this is where they are keeping him under house arrest?'
"He was brought here early this year, I think."
Another officer came later to say the firing had come from the Boarder Guards headquarters. It was not an attempted coup. He said he was told a member of the PNDC had led some of his guards to kill some people.
"Why, why did he do that, I asked, angrily. "Animals, all. Animals, all. They are all bloodsucking vampires".
"Not so loud, my friend, there are soldiers upstairs. If they hear you say this you'll be in trouble." That was the voice of Newton, the third inmate of the cells, who was asleep when I arrived.
" One of our men went to the Border Guards and another rank on duty told him WOI Adjei Boadi, the PNDC member went there around 4.00p.m.and told the sergeant in charge of the guard room he wanted to see the dissidents who were arrested, after taking part in the coup and were escaping to the Republic of Togo. They were all manacled in the guard room, but he said they should be brought out for fresh air. It was against regulations, but who dare turn down a suggestion from a member of the PNDC?
"So they were brought out and sat on two benches, six of them. They were sitting there when some 10 minutes later the member returned with his bodyguards who opened fire on the defenceless dissidents, killing all of them instantly." Tears welled up in his eyes as he turned round and walked away sadly.