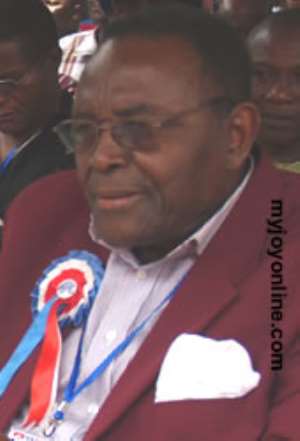 A former National Chairman of the NPP Mr. Samuel Odoi Sykes says he is devastated by the decision of Mr. Alan Kyerematen to stand by his decision to quit the party.
He said it was his expectation that the matter would be resolved to facilitate the return of Mr. Kyerematen.
According to him, Mr. Alan Kyerematen was supposed to call him (Mr. Sykes) to arrange a meeting to discuss the matter.
"I am personally shattered, I am devastated because in spite of what some of our members are saying, my position has been that this is a member of the party who has some support because he participated in the last congress and so every effort should be made to let him stay in the party", he lamented.
The failed presidential aspirant of the NPP issued a statement saying he had no intention to rescind his decision to resign from the party.
He said the leaders of the party mediating the crisis had asked him to withdraw his resignation unconditionally "without a substantive discussion of the concerns raised in my letter".
"I have disagreed with this proposal because in my humble opinion it does not resolve the matter on hand", Mr. Kyerematen said in his statement.
Mr. Sykes told Joy News that he was disturbed because the former Trade and Industry Minister had some support in the party and could cause problems for it in the December polls.
He however stressed that the party will move with or without Mr. Kyerematen who resigned from the party last week.
"If I drop dead today of Mr. Kyerematen drops dead today the party will move on", he noted.
Speaking on the developments on Mr. Kyerematen's resignation, election monitor, Mr. Ben Ephson noted that asking Alan to return to the party unconditionally amounted to making a mockery of him.
He said the party should have started a process of resolving the issues raised by Mr. Kyerematen in his resignation letter.