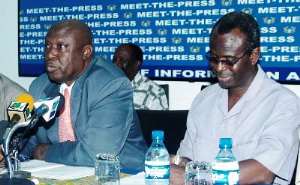 The Deputy Minister Alhaji Ahmed Awudu Yirimea (left) addressing the media with him is Mr D.A.Y. Sampong of the Ministry of Information and National Orientation
The Deputy Minister for Local Government, Rural Development and Environment, Alhaji Ahmed Awudu Yirimea, has appealed to community leaders and traditional authorities to step up efforts at sensitizing their people on the negative effects of noise on their health.
Speaking at the launch of the Third National Noise Awareness Day in Accra,on the theme,'Noise Reduction: our collective Responsibility', Alhaji Yirimea said, the Environmental Protection Agency, in 2006 acquired noise meters for all its regional offices nation-wide for noise measurement and data collection.
He added that the agency educated eighty pastors from the Presbyterian Church of Ghana on noise abatement as its social responsibility to the church.
Dr Danso Adams, former medical officer in-charge of ENT, cautioned the general public on noise making and the use of walk-man and other gadgets that can cause damage to the ear.He said, when the ear damages as a result of noise pollution, it can not be given any treatment.
He therefore recommended that manufacturers of vehicles and other machines such as Generators should be made to reduce the noise level on their machines and also produce machines that can make less noise.He also advised parents to teach their children to keep their radios low to prevent noise pollution.
Mr J. A. Allotey, Executive Director, Environmental Protection Agency, said it is the agency's expectation that the Noise Awareness Day celebration will create public awareness about the hazards of noise nuisance and its impacts on health and welfare of the people.
It will also educate the population on noise control provisions in our various national noise guidelines and enforcement procedures that must be enforced by the Police.
Mr Allotey said, 'Serious hearing loss is a handicap that leads to significant changes in attitude and behaviour or complete social isolation, there is the need to work in concert with all stakeholders to reduce noise hearing impairments in Ghana.'
Mr Divine Sarppor, Chief Environmental Officer of AMA,said AMA has taken some measures to combat the menance and has therefore sanctioned some churches, drinking bars and discotheques who are major producers of noise in the urban areas.