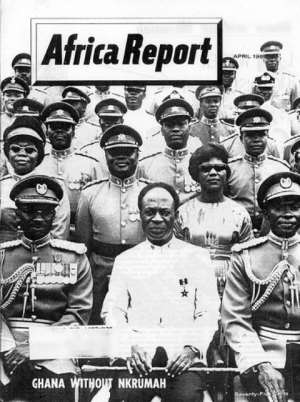 Family, this article has been prompted by a certain sub-text and debate that arose from a Professor Kwame Okoampa-Ahoofe's article, that in large part called for the renaming of University of Ghana after the doyen of Ghana politics, Dr. JB Danquah. A section of the respondents were quick to call that suggestion blasphemous and sacrilegious. In their submission, JB Danquah was more or less a CIA agent who conspired with the imperialists to overthrow the first government of Ghana. It is the position of yours truly, to submit that JB Danquah more than deserves the naming of the University of Ghana after him. Again I would further submit that a nation that does not honor its heroes is not worth dying for, so let's give merits and honors to our benefactors, so that it might inspire the youth to greater heights of excellence and public service. JB Danquah doesn't deserve to be labeled a traitor. He was the precursor to the independence movements that Nkrumah piggybacked to run the the last lap to independence. Kind of the John the Baptist who preceded Jesus Christ.
On the subject of university of Ghana, perhaps it has to be pointed out that it was his salutary heroic effort that wrestled down that establishment, much to the disapproval and protest of the colonial administration, to get the university of Ghana built. Hitherto, Ghanaian GCE A level graduands were slated to go to the University of Ibadan or Foulah Bay College in Sierra Leone to attend to university. That is how high they thought of us. Therefore if somebody, such as as the Okyehene and a lot of leading dignitaries are calling for the naming of the University of Ghana after him, that is in the right order. Some countries go to the extent of naming their national capital, states, regions and provinces after their founding fathers. JB Danquah is a patron saint of Ghana not a traitor. I concur with president John Agyekum Kufour. Just continue to read on to find why I say so?
Perhaps I have to warn you that it is my candid opinion that when it comes to traitors, Kwame Nkrumah, in spite of all the great things he did for the country was as much a traitor as anybody. He was in short Odomfo-Kumfo, or should I say a mercy killer.
Are you dumbfounded? You should be. And here are my reasons with Kwame Nkrumah being the very first traitor of Ghana, if there is such a person. You may stop here and turn off if you find it discomforting.
Kwame Nkrumah can be credited with many great firsts. First Prime Minister, First President, Akosombo Dam, Tema Township and harbor, Tema Motorway, a variety of factories and industries that came to be known as GIHOC, many trust fund schools, scholarship schemes and colleges. Not bad for an independent country first president who had no peer or predecessor to count on for advice. But then, should he have taken our politics to the direction he did? Should he have made conditions so difficult that the opposition could not stay but go into exile? How does it feel to make somebody a stranger to their own country, to the extent that their loved ones could pass away and they couldn't come down to pay their last respects because the president in power would capture and throw them in jail, without any fair and free trial?
In every country worth its salt, there is a government and then there is a constitution. Governments are formed by political parties whose sole aim is to articulate a certain ways and means to achieve the common good. But then the constitution is sacrosanct, something like the Bible of the modern state. A certain church and its pastor are not supposed to tinkle with the Bible and kind of supplant or superimpose themselves on the Bible. Ditto, ditto, a country's constitution.
But then what did we get under Kwame Nkrumah's CPP led Ghana? By 1965 he and his CPP had declared themselves as a one party state with Kwame Nkrumah as life president. Looking back you can see how obnoxious and insulting that was to the section of the population who did not share his political vision. Where did Kwame Nkrumah and his Convention - sounds like an apostolic brass band fellowship – Peoples Party, get the idea that they alone possessed the wherewithal to achieve the common good? If all of Ghana less one person voted for one party, that party still wouldn't have the right to bend the constitution to suit their parochial political agenda and views, just as no one pastor has the right to rewrite the Bible to suit his doctrinal or dogmatic religious views. And not only did they commit treasonable act by declaring Ghana a one-party state, they committed the blasphemy of making Kwame Nkrumah a life president.
That was the litmus test for a dictator. The trajectory of Nkrumah' s regime, if it had not been truncated, would have been at best to make us look like Cuba or North Korea, and at worst to be like Zimbabwe today, for we would have been isolated on the international scene and major trading blocks.
Talk of a banana republic or a mickey mouse roaring like a lion. We were not, and he assumed for himself something beyond his grips. We had an independence constitution, and later a republican constitution by July 1960. Kwame Nkrumah and his CPP thought to their own detriment that a party was the same as the state. He was not. A party is just that, part of the whole. For Kwame Nkrumah and his one-party parliament to have bend the constitution to suit their narrow parochial agenda was to commit the very first betrayal and hence treasonable act against the state, and he had to be resisted. That one party declaration in itself made Kwame Nkrumah a traitor and the 1966 coup inevitable for our right to peacefully change the government had been abrogated.
A government is not the same as the state, that is why in some countries they have a prime minister, and then a president. Prime minister is the head of government and the president is the head of state. The two are not to be confused. Governments come and go, but the state is forever, and the CPP was not the state. They had to be kicked out. It was right then and still right today. Our constitution and national anthem requires of us to resist the oppressors rule. Kwame Nkrumah inserted himself and entrenched his name in the preamble to the constitution, which was a world first and record. Did he ever think he would live forever or was he up to something; laying the groundwork for a dynasty where his children and the name Nkrumah would have been kept in our constitution in perpetuity? He deserved to be kicked out. A government should expect to be challenged, even if you are doing perfectly well. Why because there would always be others, and there should be, who would think they can do better than you. We cannot grind dissenting voices to the ground, the way Nkrumah's student and protege, Mugabe, is doing even today in Zimbabwe. At 85 he still wants to run the 2012 elections by which time he would be 90years old. Is that what we want? Kotoka, Harley, Afrifa, Denu, Ankrah, Ocran, Yakubu, Busia, Gbedemah, RR Amponsah, Victor Owusu, Joe Appiah and JB Danquah should have their names written in gold, they redeemed us from the oppressors rule. Get it?
Presented By,
Eric Kwasi Bottah (alias Oyokoba)
Philadelphia, PA
USA