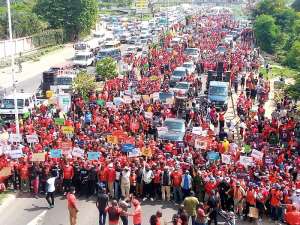 The planned protest by pressure group Democracy Hub is set to proceed as planned Thursday, September 21 despite an injunction filed by the Ghana Police Service.
In a strongly-worded press statement, Democracy Hub said it has not been officially served with any application by the police regarding the protest.
The group's convenor accused the police of "desperate and likely partisan attempts" to disrupt the "peaceful and democratic mobilization" for the #OccupyJulorBiHouse picket through "ruse and misinformation".
"Our attention has been drawn to a last-minute press statement released by the Ghana Police Service claiming that they have filed an application to prohibit the lawful exercise of our rights to demonstrate.
"We wish to put it on record that the Ghana Police Service has not served us with any application; and we are unaware of what exactly the police application is about," read a portion of the press statement.
Democracy Hub stressed that the protest planned from 6:30am tomorrow at the 37 Trotro station to march to Jubilee House will "proceed as planned", citing the legal position that merely filing an application does not prevent the exercise of constitutional rights.
Earlier, the police had "advised the public not to take part" in the protest and "urged the organizers to respect due process".