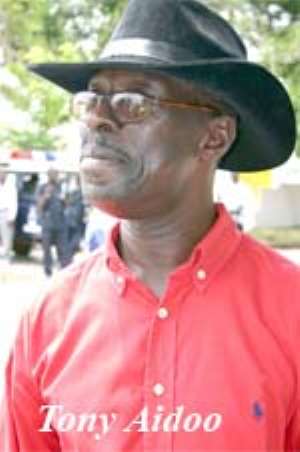 •Leave Me Out Of Radio Gold Wahala
Dr. Anthony Aidoo, former deputy Defence Minister and regular panelist on the now defunct Alhaji & Alhaji programme on Radio Gold, has developed cold feet, following a stunning revelation by Alhaji Bature Iddrisu, host of the programme on Peace 104.3 FM yesterday.
For once, the brutally frank politician, who is reputed to be one of the very rare species in the opposition National Democratic Congress (NDC) who could speak his mind on delicate internal party issues and come out unscathed, has pleaded that he be spared the 'agony' of explaining the genesis of what is now being referred to as 'The Radio Gold Coup'.
Even after Alhaji Bature had described him on radio as stooping low to queue for a pittance and again accusing him of stabbing him (Bature) in the back, the former sociology lecturer would not talk beyond his plea to be left out of the imbroglio.
He conceded however that the reported tug-of-war between Bature and Mr. Sainti Baffoe-Bonnie, CEO of Radio Gold 90.5 FM was real.
"This is a conflict of personalities, and they should not drag me into it. The conflict has been going on for some time now.
I have always liked Alhaji Bature, but please don't drag me into it," he said, stressing that he owed no one any loyalty except the programme, its concept and audience.
The withdrawn Dr. Aidoo, who once defiantly pointed a gun at a journalist when he was deputy minister and persistently threw unprintable words at the sitting president, virtually stunned listeners as he shied away from harmless questions from Mr. Kwame Sefa Kayi on his alleged betrayal of Bature.
Minutes before then, the Alhaji & Ahaji host had spilled the beans on radio when he accused Aidoo and Kwesi Pratt of stabbing him in the back.
He said he had kept the former minister on the panel in spite of pressures from the Radio Gold CEO requesting that he took him out of the programme for not making any intelligent argument.
According to him, Mr. Baffoe-Bonnie had stifled the panelists and that he had all along pitied Dr. Aidoo, who he alleged, had to queue for ¢100,000 after participating in the weekly programme, and was shocked to see the lecturer now joining others on another programme on the same station.
On Pratt, he revealed that the Insight Editor-In-Chief had consistently prevented him from inviting other journalists to the programme for intellectual discourse on national issues because he (Pratt) had problems with those journalists.
He specifically mentioned Kweku Baako Jnr, Egbert Faibille and Alfred Ogbamey, editors of Crusading Guide, Ghanaian Observer and Gye Nyame Concord respectively, as three media colleagues Pratt would not see eye-to-eye with because he alleged they had kicked him out of another programme.
Likening Pratt to the Biblical Judas Iscariot, Alhaji Bature alleged that the editor of the Insight was relaying confidential text messages for his personal consumption to Baffoe-Bonnie and back.
In a sober text message to Pratt, Bature wrote: "Bro, with a heavy heart am profoundly sorry to inform u that 2morrow may well be the last of Alh n Alh on Radio Gold …"
The message, when relayed to the CEO, allegedly prompted the following response; "I got the message that Alhaji Bature sent to u a couple of days back….".
Bature again claimed Alhaji & Alhaji was the biggest English programme in the country.
Even though it is not clear which research findings he was quoting from, Bature insisted that while Radio Gold had a 100,000 constant audience, Joy FM had just 10,000.
He announced a temporary hold on the programme, which he alleged was his baby, saying, "Between me and Radio Gold, it is over."
The collapse of the programme was foreseen by close observers long before now.
For instance in its December 6, 2006 issue, the Daily Guide had published how Bature and Baffoe-Bonnie seemed to be on a collision course.
Even though none of the two personalities had agreed to speak to the paper on the issue, the publication reportedly deepened existing cracks between them, as the CEO allegedly accused the host of planting the story in the paper.