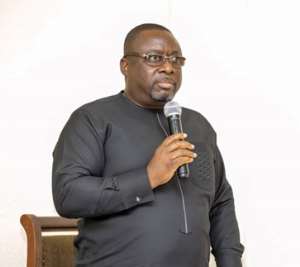 ING George Asiedu
The Duplicity of Looks Art Exhibition has opened in Accra. Opening the exhibition, ING George Asiedu, Project Coordinator of GAMA said he strongly believes that fate has given him the opportunity to be a Guest of Honour and to inaugurate this exhibition.
He explained that he has two daughters and one of them has surprisingly shown so much interest in art.
The virtual exhibition featured 10 selected acrylic and oil paintings hosted by the Women Arts Museum Ghana and was curated by Mardey Ohui Ofoe. The exhibition is open from 1st May to 1 st June 2023 at the following location https://visit.virtualartgallery.com/nanafrema/
The art exhibition was made possible through an exhibition grant awarded to Nana Frema.
In a speech read on behalf of Ing George Aseidu by Ing Gabriel Engman in an opening ceremony held on Zoom, he noted that as an engineer by profession, he deeply appreciates the creative beauty of the artist's labour and how much dedication she used to produce a wonderful piece of art.
ING Asiedu pointed out that "we've all heard the phrase "beauty is in the eye of the beholder", but what this show tackles is something much deeper. In the collection of works, The Duplicity of Looks, Nana Frema explored the topic in very diverse ways."
He added, "The exhibition featured several works that explore the idea of duality that can be applied to our everyday lives. The works in this exhibition aimed to make viewers think about how different looks can be interpreted in different ways".
ING Asiedu noted that the pieces are also a testament to the power of art. "They show us that beauty and meaning can be found in the same image, but it's up to us to decide how we interpret it". He stressed that the complicated and layered ideas of the Duplicity of Looks challenge people to think beyond what they initially see. "This challenges us to find new depths in our understanding."

ING Asiedu encouraged other invited guests to take an art piece home, saying "you are not only supporting the artist to continue in this vocation, but you are also contributing your quota to the preservation of our beautiful African cultural identity being expressed through the experiences of the artist".
In her welcome address, Akwele Suma Glory, the President of wAiA said it is with immense pleasure that she warmly welcomes the invited guests to the exhibition "Duplicity of Looks," an installation of paintings by Nana Frema one of the hardworking young ladies of wAi Africa.
"For us at wAi Africa, this show is extra special because it is our maiden virtual exhibition edition.
In recent times, the harsh economic conditions in the world is improving gradually. It is therefore imperative that we find solace in things like carefully created artwork like this installation of paintings. This will enable us to rejuvenate as we prepare for better economic opportunities in the world," she explained.
Madam Akwele encouraged invited guests at the exhibition to take a moment and look at the installation of works closely. "You will see in each piece the artist's hopes, aspirations, and dreams. You feel her expectations. You sense her quiet but insistent demand for results," she stated.
She invited guests to patronise artists like Nana Frema to help them carry on with their good work. She praised the special guest, ING George Asiedu, for making a wise choice to open the exhibition, and for taking home a couple of paintings by the artist.
In her statement, Nana Frema, the exhibiting artist expressed her appreciation to God almighty for helping her with the project. She also thanked wAi Africa for giving her such an opportunity and her husband Frank Nartey for supporting her throughout the project.
Frema said she was also happy to have worked on herself through the canvas. Frema expressed gratitude to the exhibition grants team for their encouragement to her. "The belief in me and the push to do more really challenged me to work".
Visitors can access the gallery 24 hours a day, throughout the week for free via our online platform and would be exposed to stunning visual representations.
The art exhibition also introduces the viewer to the painter's innocence, her interpretation of creativity and what it symbolizes. Given enough time and the right amount of self-presence, the paintings would reveal another reality if looked deeper into.
The paintings are an index of Frema's deeper waves of enquiry about her evolving life perspectives. Thinking beyond first impressions when evaluating her life situations has allowed her to be inclusive in her observations about what lies beneath the outer look of things.

Producing the paintings was emotionally demanding because she had to drop all her accumulated knowledge. From a place of oneness with herself, she began expressing her emotional self without duplication, just herself and the universe.
The artist applied different techniques to articulate her point of view. The exhibition is a melting pot of texture, cubes, abstract landscapes, abstract faces, and the moon. Visitors to the exhibition can also gain insight into the artist's vision and creative process.