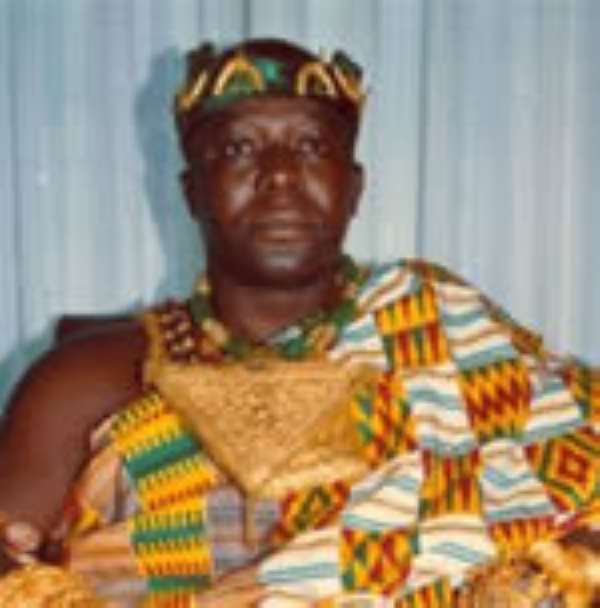 The Asantehene Otumfuo Osei Tutu II has honoured The Most Rev. Dr Justice O. Akrofi, Anglican Archbishop of the Church of the Province of West Africa and Bishop of Accra, by instituting an Educational Endowment Fund in his name for the Anglican Diocese of Accra.
The Akrofi Educational Endowment Fund, to which the Asantehene made a personal donation of 50 million cedis, would be used to support Junior and Senior Secondary School students within the diocese.
The Asantehene made the announcement at a thanksgiving service at the Cathedral Church of the Most Holy Trinity to round up activities commemorating Archbishop Akrofi's 30 years of dedicated priestly ministry.
Most Rev. Akrofi was ordained a deacon and Priest on December 19, 1978 in Accra, elected bishop of Diocese of Accra in 1996 and later elected Archbishop of Church of the Province of West Africa in September 2003.
Otumfuo Osei Tutu expressed the hope that the fund would be a fitting memorial to the celebrations.
Most Rev. Akrofi, who expressed his appreciation to the Asantehene for the honour, said the fund would be used to fulfil his vision for children within the diocese.
In a sermon to mark the day, the Rt. Rev. Benjamin Kwashi, Bishop of Jos, Nigeria, underscored the importance of bringing up the youth in the fear of God.
He said when children have all the material possessions in the world but lacked sound biblical teachings, it would amount to nothing.
It is, therefore, necessary to bring the gospel to the youth to ensure a firm moral upbringing in order to guarantee them a secured future.
Rt Rev. Kwashi said relentless effort must be made to bring the majority of the youth, who were outside the church to the knowledge of God.
He stressed the importance of good behaviour and asked all to accept Christ to enable them get away from the moral decadence of the past.
Intercessory prayers were said for the nation, the unemployed and broken homes.