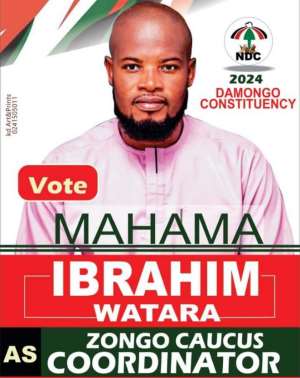 An aspirant for the Zongo Caucus Coordinator position of the opposition National Democratic Congress (NDC) in Damongo constituency of the Savannah Region, Mahama Ibrahim Watara has said he is the best among his contenders to lead the Zongo wing of the party.
He said his mission when given the nod to lead as the Zongo Caucus Coordinator is to harness the love of the Zongo communities for the NDC to win power for the party come election 2024.
In a statement copied to Modern Ghana News, the popular social media activist of the NDC said the person needed by the party to lead the wing is no other person than himself.
His reason is that he understands the dynamics in the Zongo communities better than any of his contenders.
"As one who was born and raised up in the first ever Zongo community in Damongo, Canteen to be more precise, I understand the dynamics in the Zongo communities better than any of my contenders and for this reason, I would be the best candidate for the job of the Zongo in our beloved constituency," he stated.
He indicated that when given the mandate, he shall be embarking on an "operation all out within the Zongo communities" to ensure that the party win both the presidential and parliamentary elections come 2024.
He implored his contenders to go about their campaigns devoid of allegations and name calling just to court the support of the delegates.
He urged the leadership of the party in the constituency to mend the rank and file of the party aftermath of the election to kick out the New Patriotic Party (NPP) in election 2024.
According to him, the party's victory in 2024 is unstoppable but noted that it will not be delivered smoothly on the silver platter.
"Therefore, with the task ahead, I would urge every member of the great NDC party in the Damongo constituency to unite and mend our ranks to wrestle for power and our parliamentary seat," he stated.
Mr. Watara added that his vision is also to use networking to attract development from within and afar for the Zongo communities in Damongo.
Watara is a popular social media activist of the NDC and a former Intisuria branch youth organizer. He also served the party as Organizer in 2019 in the Tamale Central constituency. He was also a senior member of TEIN of the Tamale Technical University from 2016 to 2019.