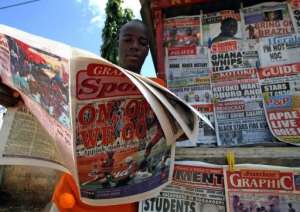 We are in a critical stage of our democracy. Whilst we as a people are making frantic efforts to consolidate the strategic gains we have made in entrenching parliamentary democracy and freedom of the media, as well as freedom of speech, we are also paradoxically overwhelmed in the media space by media charlatans. These imposters, who have found themselves in the media space by accident, are using the power of the microphone to pursue their personal parochial interests of fighting those they perceive as their enemies, blackmailing persons in authority, dividing society, and promoting certain individual paymasters who are seeking to dominate the political arena. Social media has even made it worst. My focus here, however, is the traditional media.
When I was growing up in the early 1980 and 1990s, I listened to GBC Radio 1 and 2 and the GBC External Service, not necessarily for the news but, to enrich my language in Akan or English. The same was the case when TV3 joined the stage. It was a delight to watch and listen to newscasters and hosts of particular programmes as part of learning, and striving to copy them as role models, because they were held in high esteem for their mastery over what they did on air or on set.
Fast forward to the past decade and in recent times, media proliferation has resulted in the incredible infiltration of the noble profession, which is classified as the fourth estate of the real, by self-seeing media practitioners, resulting in the unrestrained and unprecedented dilution of media practice in Ghana. The situation has reached a crescendo to the extent that the space is characterized by unprofessionalism, monkey business, wickedness and plain cabalism. It is now an open secret that some of the people who shout from the pinnacle of the moral tower that corruption is killing the nation are the most corrupt and rotten beings on earth. Some of them are paid salaries are as small as the mustard seed yet, they have riches as huge as Mountain Everest. For some of them, blackmail is their jackpot.
Worrying, though, is the sorry state of irresponsible journalism we are currently witnessing, characterized by noise making in the airwaves, with abysmal and mediocre content which is nothing but open insults and denigrating of authority. Shamelessly, persons who churn out this thrash argue that they are practicing freedom of speech. They quack, crow, bleat, horn and chirp with careless abandon calling politicians, public officers, chieftains, and the clergy all sorts of names, as though they lacked the guidance of the elderly in their youthful upbringing.
Ostensibly, these unprofessional journalists who are abusing freedom of speech are using their fortuitous access to the powerful tool of journalism and the console to desecrate the hard won reputation of people in and out of power who have worked hard to build their lives and served mother Ghana all their productive lives. Unfortunately, the same crusaders of insult- turned-free-of-speech become reactive and overly agitated when the same language they qualify to be free speech is used on them.
How did we get here? Firstly, I will blame the regulators. Regrettable, the overture whereby private media owners are allowed to pick anyone, at all from the wayside, and put on air with the accolade, Journalist, has fueled this unprofessionalism. These people are given access to a powerful tool that reaches thousands of audience without background knowledge of the theories, principles and practice of journalism. They are ill-informed about the ethics of the great profession and they practice in arrogance without respect and the humility to learn from the real professionals in the space. If it has been a stringent requirement that persons employed and placed before the console should be professionals in good standing with a relevant media organization, there would be the assurance that the right persons would be recruited.
Secondly, media owners cannot escape blame by choosing to employ mostly the untrained who are, inadvertently, used as cheap labour in order to maximize their profits. What these media owners forget to appreciate though is the reality that "cheap things are costly in the end". The unprofessional behavior and the unrestrained language and insults, primarily, cast a slur on the station and ultimately open the media house to potential legal suits. The corporate world and officialdom may also blacklist the station in terms of paid activities which may affect the revenue potential of the station.
Thirdly, the general public must be scolded for entertaining mediocrity, condoning unprofessionalism and cheer-singing pure insults instead of frowning upon it, and condemning it in line with our time tested tradition. Insults are not part of us. Ghanaians, from whichever ethnic origin are well nurtured people who consider disrespect to authority as alien to our unique cultural norms and heritage. It should therefore not be alright when someone gets on air and his preoccupation is to flood our homes with such unprintable works like "moyare", "moabobodam", "moagyimi", "moye mmoa", "monnnwene" and what have you. This is just not acceptable. There should be a better way to call attention to malfunctioning in society other than insults and noise making.
Going forward, I expect that anyone who uses unacceptable language on air would be sanctioned personally or jointly with the radio or television station by the relevant regulatory agencies. I urge media house owners to build a better reputation and legacy for their media houses by setting strict standards that uphold decorum and pursuit of ethical journalism. The law enforcement agencies should be up and doing and close in quickly to put journalists who are a danger to themselves and to society where they belong.
Responsible media houses should also expose their colleagues whose activities and mode of practice is bringing dishonor to the realm, as a way of protecting the turf. Every media practitioner belongs to a clan. I will urge clan heads to put their feet down on their relatives in the media whose actions and shameful pronouncements are at variance with clan nurturing and conduct. Similarly, pastors and mallams should put an eye on their congregational members who are media practitioners and invite them for counseling and sometimes stern warning when they abuse the privilege they have to inform, educate and entertain the public.
We should all know that chirping, barking, bleating and crowing on air and damaging peoples reputation is not synonymous with free speech. Freedom of speech is about facts, evidence, due process, and protection of our civil rights. The history of Rwanda should always serve as a reminder to us that irresponsible journalism is as dangerous as wild fire and costly if allowed to fester.
By Fred Effah-Yeboah
**The writer is a youth counselor and youth development advocate.