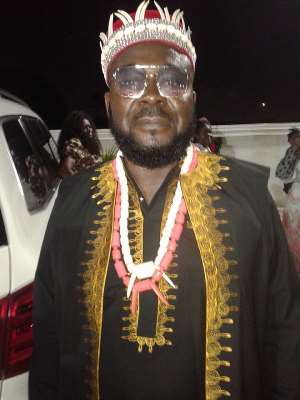 To beat the ravaging effects of the covid-19 pandemic, and ensure the survival of their peoples, goverments in Ghana and Nigeria need to work not only harder but, also smarter, to plug all loopholes, Chief Executive Officer of Octapus Lounge and Nightclub, Accra, High Chief Edwin Ugwunze tells MARTIN-LUTHER C. KING in this interview. He said though the covid-19 has hindered a lot of progress both in the economy, in social life, and in everything, nonetheless, the times call for resilience because, according to him, just as the corona came so will it leave, also.
Excerpts:
Q: What is your impression of this year's Igbo Yam Festival, Ghana?
A: Oh, it's a wonderful occasion; and it comes just once every year. We, the Igbo people, take the festival very seriously. And from what happened at the event, you can see how important the occasion is to us. We spend money, we spend time, and we give the festival value. So, we thank God for everything. And, life goes on.
Q: Guests from cultural and religious divide in Ghana, as well as visitors from outside Ghana graced this year'syear's festival. Why so?
A: The world is global village. Everybody, every people with their own culture and tradition; but we interact, nonetheless. Because at the end of the day, we are all brothers. So they take something from us; and, we take something from them.
Q: What are your expectations from this year's Igbo yam festival?
A: My expectation is that everything belong to God; you do your best and leave the rest to God. You work hard, but hard work is not enough. You work smart, too; and, then, leave the rest to God.
Q: How do you expect the occasion to impact relationship between Ghana and Nigeria?
A: When you look around, you will notice that we invited a lot of Ghanaians; they came in their traditional attires. They see ours; we see theirs; and, we collaborate. From time immemorial, Ghana and Nigeria have been like brothers and like sisters; and, we will continue to be like that. So this event will impact us positively, and make the union and the relationship to grow better; so that as they host us in Ghana and we enjoy peace and tranquility, we also host them in Nigeria and enjoy the little peace we have there, and life goes on.
Q: This year's event and last year's, how do you compare them?
A: It is a progress; it's work in progress. Everybody wants their tomorrow to be better than their today and their yesterday; so, you see an improvement by the fact that though the covid-19 has hindered a lot of progress both in the economy, in social life, and in everything, still, however, we are a resilient people; we don't give up; we fight the corona, we don't allow the corona to fight us; and, we have been fighting corona. The corona came; but it will go just the same way as it came. It's a visitor; so, it will leave.
Q: The covid-19's negative impact on the economy, both local and global, is all glaring. What is your advice to your people, and everybody?
A: We have to work harder and plug all the loopholes. And, we are pleading with the government to open up the economy. Because this corona is not worse than malaria. Malaria is more impactful in our lives; everyday you see mosquito, and it bites us. But, we don't see corona with our physical eyes. So we pray the government to see corona as one of the diseases that we already have, like typhoid, like malaria, etc. Open up, and let anybody that is sick go to the hospital and get treated; and, life goes on. Open the borders; open the airports. You see, already, Africa is poor. This corona is white man's disease; they brought it. Our own is malaria; when we cry for malaria, they don't help us; now that they are crying for corona, we don't have to help them.
Q: What is your message to the Eze Ndigbo Ghana, the organiser of the Igbo yam festival?
A: He is Eze Ndigbo; he is like a unifying factor to us. It is God that makes kings; how he does it is above human comprehension. And, when God says 'yes', nobody can say 'no'. And, God has chosen him and made him. We all rally around him and give him the necessary support. And, that is why I am here; I've known him for over twenty years, ever before, when we were in the field. That is why I came today to give him support, and to highlight our common cultural heritage.
Q: What do you envisage that next year's event will be like?
A: We continue to grow bigger and bigger, and to expand and exploit the horizon. And the sky is not our limit.
Q: Tell us who you are?
A: My name is High Chief Sir Doctor Edwin Ugwunze, the CEO of Octapus lounge and night club, Accra.
Q: Thank you for your time.
A: You are welcome!