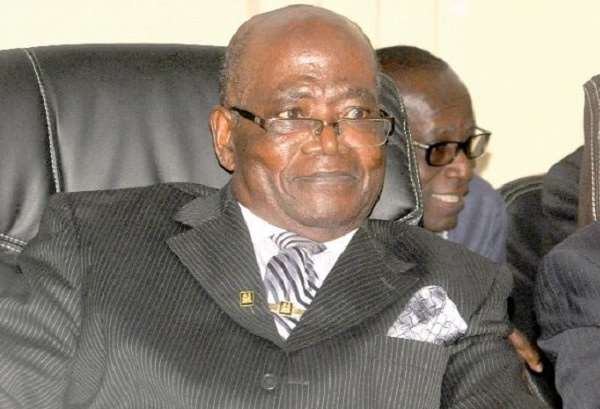 Prof. Samuel Kingsley Botwe Asante
Professor S K B Asante and his wife, Jane were buried together on the same day – 14 August 2021. The Professor died in November 2020, while his wife followed him in April 2021.
Who was Professor S K B Asante? I shall tell you who he was NOT – he was not "the other" [Nana]Professor S K B Asante, former Solicitor-General of Ghana and now Omanhene of Asokore, Asante!
The two Asantes, who shared identical initials as well as the title of "Professor", were both so involved in Ghanaian public affairs that they were often mistaken for each other.
Death did not spare them the embarrassment of this situation, either: when Professor S K B Asante died in November 2020, so widespread were reports that it was his "alter ego," Nana, who had passed that the Ghana Peace Council, of which Nana is a member, issued a statement making it clear that it was NOT Nana who had left us!
The dead Asante's initials stood for Samuel Kingsley Botwe (SKB) Asante, while the Asokore 'Manhene is Nana Susubribi Krobea (also SKB) Asante. The late Asante was a political scientist who served both as an academician and international civil servant. The living Nana Asante is a lawyer and traditional ruler. But he too served as an international civil servant, before becoming Ghana's Solicitor-General in 1969-74; and Deputy Attorney General in 1974-77, this compounding the confusion.
In a tribute to his fellow "SKB", Nana Asante wrote: "Kwasi and I shared much in common.... We were not formally related; while he came from Soabe in Wench, in the Akyem area, I came from Asante. But we bore the same name..."
Nana Asante revealed that a few months before "Kwasi" passed, he was reflecting on Ghanaians who came from the rural areas and were not born with "a silver spoon in their mouths" and yet showed "tremendous initiative and drive to overcome these constraints and rise to the top of their profession." [Kwasi's] achievements clearly came to his mind and he "called [Kwasi]to let him know of the profound reverence" that he had for him".
Nana Asante added, "As he begins his journey to his rightful resting place, I hope my words of appreciation will soothe him on his celestial journey."
In a similar tribute, Professor Yaw Twumasi, Chairman of the Council of the University of Ghana, Legon, remarked that SKB had "a great interest in and respect for education and scholarship and showed evidence of this early in his life. It is clear from his autobiography that he had a hard , scrabble childhood. "
There was no primary school in Soabe, his birth-place, and so he was educated at primary schools in neighbouring towns, moving from town to town, Prof Twumasi pointed out. Later on in life, he managed to win admission to Abuakwa State College, Kyebi, and then to Achimota School, from where he went on to read history at the University of Ghana, Legon.
But that was not enough for him,. and while working as a bursar at the University of Ghana, he studied privately to earn a political science degree from the London School of Economics and Political Science It was the same institution that awarded him his Ph. D degree.
These qualifications enabled him to work for several international organisations to become Executive Director of the Centre for Regional Integration in Africa (CRIA). Other prominent appointments he held were head of the Department of Political Science at the University of Ghana, Legon; Chairman of the Board of Trustees of the Professor and Mrs. S. K. B. Asante Educational Trust Fund; Member of the Governing Council of the Institute of Fiscal Studies; Professor of the Legon Centre for International Affairs and Diplomacy (LECIAD), and Fellow of Ghana Academy of Arts and Sciences.
He was also a Professor and African Area Studies Consultant, University of Florida, Gainesville, in the United States; Director, United Nations Institute for Namibia, as well as Principal Regional Adviser and Coordinator of the United Nations Multi-disciplinary Regional Advisory Group at the Cabinet Office of the Economic Commission for Africa.
Professor Asante ensured that the advantages that had accrued to him through education should be enjoyed by young people in his area who came from a background as impecunious as his own. So, he set up the "Prof and Mrs S.K.B. Asante Educational Trust Fund", which has awarded scholarships to various pupils from Akyem Soabe, Wenchi, and Takorowase towns – from primary school to University level. Over fifty young men and women have benefited from the scholarships.
Professor and Mrs Asante have also built a fully-equipped "Community Information Centre of Excellence" to provide computer literacy to school pupils in the Soabe area.
His Excellency Dr Hage G. Geingob, President of Namibia, stated, in a tribute to Professor Asante, that the people of Namibia find solace in the fact that he lived a life of purpose, committed to the improvement [in the lives of, not only his fellow Ghanaians, "but also of all Africans. "As Namibians, we recall with fondness, the contributions of Prof Asante in assisting Namibia to attain the institutional capacity for self-governance, through his work at the United nations Institute for Namibia," the President added.
Prof Asante died at the age of 87. His late wife, Mrs Jane Botwe Asante, died at age 82. They produced a family of four children and eleven grand-children.
Professor Asante was a prolific writer, many of whose books have been published by Digibooks (www.digibookspublishing.com). In a tribute, the Publisher of Digibooks, Mr Fred Labi, warmly acknowledged the tremendous "support" the Professor had provided his enterprise,by publishing so many books through it.