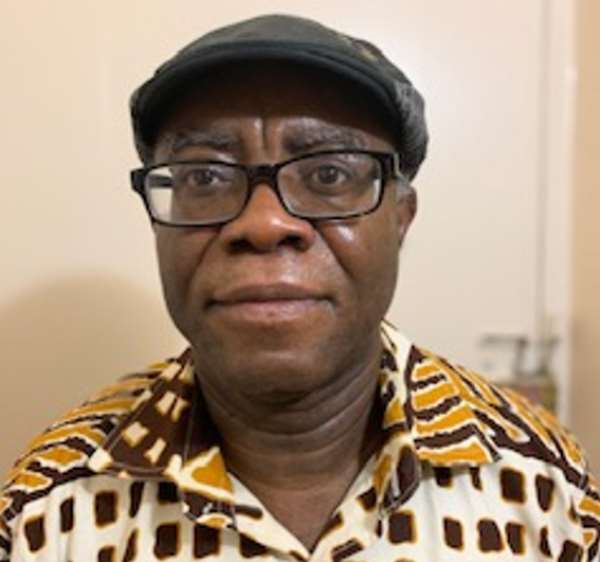 I have been without Internet, landline phone and cable-television services for nearly a week now; so, I guess I am really beginning to appreciate some of the practical effects of Dumsor in Ghana, right here in Bronx, New York. I get services restored by the end of tomorrow, Wednesday, May 5, 2021. As a writer who gets an article or two published nearly on a daily basis on Modernghana.com and elsewhere in Ghana's cybermedia, this acute state of privation feels like a sudden excruciating bout of paralysis. Perhaps I should have asked my late eldest maternal Aunt Mary Akosua Baaduaa Sintim, who had been wheelchair-bound once and regained the use of her legs, like it is told in the Epic Myth of Sundiata, Mari Gyata (Dzata), in Medieval Mali, either in her late 30s or early 40s, how it had felt like to be hale and hearty only to lose it all in one fell swoop for at least a decade, or so, I have been told. She never deserted her walking staff, though.
As I vividly recall, she owned several of these canes or walking sticks. Perhaps a half-dozen of them. My beloved Aunt Mary transitioned at 89 years old. A fine arts educator and sometime headteacher of the country's public school system, my Aunt Mary was contemporaries with the legendary Mr. Kofi Antubam at both Achimota School and what will eventually come to be known as the Kwame Nkrumah University of Science and Technology, Kumasi. She was among the very first batch of matriculants. She also had the privilege of having the legendary and immortalized Dr. Ephraim Amu as her mentor and guardian at both Achimota and KNUST. My Aunt Mary is the one that I often think about, whenever the critical subject of a Fee-Free Senior High School Policy Initiative (SHSPI) comes up in our ongoing national conversation on the same.
Having been born in 1924, she was roughly a generation the senior of the genius architect of Fourth-Republican Ghana's SHSPI. But, of course, by the very caption of this column, neither aforementioned personality is who I want to talk about right now or presently. What I really want to talk about is what many of us have believed and maintained from the get-go, in informal American parlance, ought to have foregrounded our national discourse on a Fee-Free Senior High School Policy Initiative from Day One. Which is that this progressive and landmark project and national development agenda ought to have been predicated on a "Need-Based" agenda or program, since it is borne out of the progressive, civilized and democratic doctrine and philosophy of equal access and equal opportunities for all Ghanaian citizens.
So, instead of the Minister of Education, Dr. Yaw Adutwum, pleading with parents and guardians who are comfortably capable of footing the bills for their SHS-attending children to voluntarily do so, the Ministry of Finance and the Internal Revenue Service/Authority, as well as the Executive Administrators of the Ghana Education Service (GES), ought to draw up the professional and economic profiles of all parents and guardians of public school attendees and ensure that those with demonstrable tuition-fees-paying ability or capacity promptly do just that. The problem that our leaders appear to have unwisely beset and besieged themselves with, presently, is that they have allowed the desperate jockeying for political power to cloud the need for fiscal rationality vis-à-vis the implementation of the Fee-Free Senior High School Policy Initiative, knowing full well that while this PI or Policy Initiative was opportune and even long overdue, nevertheless, it needed to be implemented in ways that prioritized fiscal feasibility as well as emphasized the practical significance of need and socioeconomic equity in the kind of civilized democratic society that all of us, bona fide Ghanaian citizens, have been strenuously and studiously trying to build since 1957.
If, indeed, our present Hung Parliament, so-called, presages or calls for the rallying of all progressive forces to enable us to constructively put our nation on the proper development path and trend, there could never be a much better time or period than presently. Money collected from parents and guardians of Senior High School attendees who are comfortably able to foot the tuition-fee bills of their children and wards, could then be put into such critical and necessary use as the adequate provision of learning and teaching tools and materials, including widespread and easy access to cyber technology. To the latter issue must also be added the need to significantly improve the teaching skills and the pedagogical delivery capacity of our teachers across the board, irrespective of academic and / or professional qualifications and attainments.
I also sincerely don't think and believe that sending students back home, as a COVID protection measure, was necessarily an inadvisable or egregious policy decision. It is always better to err on the side of caution than to be belatedly and vacuously sorry for the same (See "Free SHS: We'll Applaud Parents Who Want [Offer?] to Pay Fees – Education Minister" Modernghana.com 4/23/21).
*Visit my blog at: KwameOkoampaAhoofeJr
By Kwame Okoampa-Ahoofe, Jr., PhD
English Department, SUNY-Nassau
Garden City, New York
May 4, 2021
E-mail: [email protected]