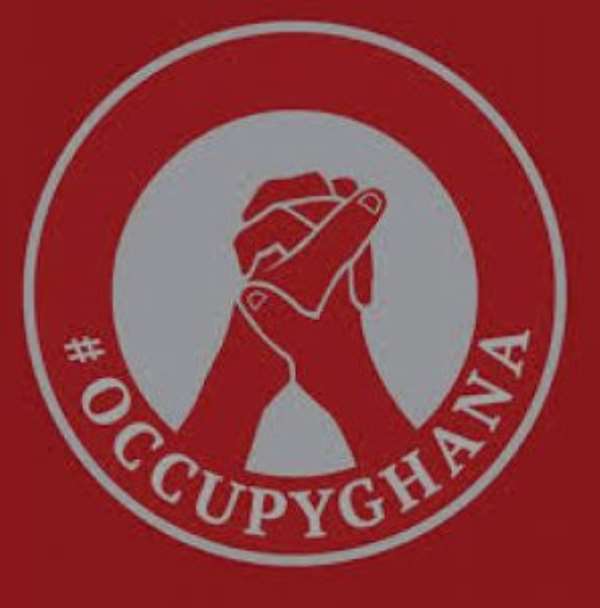 I must admit that I have the greatest respect for the social pressure group, "OccupyGhana."
Therefore, I do not find it surprising that OccupyGhana is currently attracting headlines by preaching that "Galamsey is illegal and it must not be fought with illegal means"!
But wait a minute: what "illegal means" is the Government using to fight galamsey?
According to OccupyGhana, "there are clear laws stipulated in the Constitution, laying down sanctions and punishments for people engaged in the illegal act." Therefore, the Government should "enforce those laws."
OccupyGhana was reacting to photos and videos circulating in the media, showing military personnel setting mining equipment and excavators ablaze on site. OccupyGhana says that that act is "an illegality and the Government should desist from it immediately."
The pressure group added: "OccupyGhana is shocked to see pictures and films in which equipment being used in galamsey operations and seized by security officials, have been set on fire."OccupyGhana maintains that "these dramatic optics" are a "brazen illegality that will only exacerbate the situation and not help in the fight against galamsey."
OccupyGhana also pointed out that "the law in the Minerals and Mining Act is clear: there is a fine and imprisonment between 15 and 25 years, for each of the following crimes: buying or selling minerals without a licence or authority; mining in breach of the law; abetting any breach of the mining law; contracting a non-Ghanaian to provide mining support services; abetting the breach of the mining laws by a foreigner; fabricating or manufacturing floating platforms or other equipment to be used for mining in our water bodies; and providing an excavator for an illegal mining operation."
OccupyGhana said that in its view, "the legal provision that equipment used in any of these offences is required to be first seized and kept in police custody. Then, when the person using the equipment for the illegal mining activity is convicted, the court will order the forfeiture of the equipment to the state.
"Then the Minister has 60 days within which to allocate the equipment to a state institution. There is absolutely no legal room for simply torching the equipment. It is illegal and must stop immediately."
I am afraid OccupyGhana, in this case, has closed its eyes to one extremely regrettable but undeniable aspect of our social situation, in particular, the demonstrated inability of the state legal apparatus to resist the use of influence and money by well-connected individuals, to make it impossible to enforce the law against those well-connected individuals and their networks.
OccupyGhana itself cites the weird case of the Chinese woman who was allowed to be quietly deported after being caught organising a huge unlawful galamsey operation in Ghana. How did that happen?
It is to be hoped that the recent action by the armed forces indicates that the Government has learnt, from the practical, operational experience gained through the erstwhile Operation Vanguard, that it is useless to capture equipment and hand it over to the police and/or local authorities for safe-keeping. That would be opening the door again to corrupt influences in the country.
We've got to be realistic! As OccupyGhana knows very well, quite often, when the erstwhile Operation Vanguard personnel had gone to the police stations or official installations in good faith to enquire about the whereabouts of seized equipment trustfully left with them, Operation Vanguard officials had been told that "some influential people" had ordered the police and local officials to hand over the equipment to those who claimed to be their owners! And the stories by the local officials that pressure had been put on them to release the equipment, had checked out!
To pretend now, as OccupyGhana is doing, that this is some country in which, like some others, gate-fenced legal processes exist which seized galamsey equipment can be taken through, within "60 days of their seizure", is invoking cloud cuckoo-land. unrealistic.
In this country – regrettably – even "learned friends of the legal fraternity" (of whom the greatest professional integrity is expected) can collude to incur judgement debts against the state. And judges have been caught on camera accepting gifts of goats and/or cash, to liberate dangerous suspects being prosecuted for posing great danger to the public through armed robbery.
Against that background, is it safe or realistic to leave what happens to equipment being used for unlawful purposes entirely in the hands of the police and the judicial processes they are obliged to work with?
OccupyGhana should have taken "judicious notice" (not judicial!) of the corrupt society in which we live, where privileged people, partticularly those with money, are more equal than others. Without intending to be cheeky, I suggest to OccupyGhana that if it is so concerned about the niceties of enforcing the law that apply to seized galamsey equipment, the patriotic thing for it to do is to call on the Government to amendthe Mining and Minerals Act to allow for the destruction, on site, of equipment seized whilst being used to commit the illegal act of galamsey!
I would draw OccupyGhana's attention, though, to the fact that our current Parliament is more or less "hung", and that procuring an amdement to themining law or organising a referendum to empower the armed rorces to burn seized galamsey equipment on site, would take so long that our rivers, streams and water-bodies would all be dead and burioed before we got the legislation through! But surely, the welfare of the people IS the supreme law?
Certainly, OccupyGhana must allow that the law is not applied in a vacuum anywhere in the world. In some law-abiding Scandinavian countries, "self-bail" is very common. But try that in Ghana and see!
Conversely, normal "jury selection" is unthinkable in some countries, because unabashed racial and social prejudice make it necessary – nay, essential – to spend lot of time "vetting" juries. That doesn't happen everywhere, of course. But in some countries, it is a vital arm of the judicial system, as otherwise, justice would be enjoyed by only those who do not have to face racial or social prejudice from those of their fellow citizens who would rather strangle the life out of them than give the law achancve to determine whether they are guilty or innocent.
I repeat: the reality that OccupyGhana is shying away from is that ours is a very corrupt country and the armed forces, having been ordered to drive excavators, bulldozers and changfans away from our rivers and water-bodies – for a very good reason – are entitled to pursue their lawful objective by the methods they think most practicable. In effect, they are being asked to save both "the face" of the nation, no less. And, of course, its future as country in which life can be sustained in future.
Certainly, there is no doubt that the Government could have saved itself from the barbs of iys critics by first declaring a "state of emergency" and then giving the armed forces special powers to burn excavators on site. But the psychological atmosphere created by the way the struggle against galamsey has been dogged by divided loyalties (in particular, having regard to how excavators had tarnished the reputation of some Ministers and party officials) had made it impossible for the Government to place reliance, once again, on the type of measures which our legal system favours.
Indeed, if a referendum were organised on whether to alter the legal processes we now use, which are subject to all manner of party and governmental influences, the forceful method of enforcing laws that protect the public interest (which is all that burning excavators and bulldozers does, really!) would win hands down.
Morally speaking, the, the Government was right to choose to err on the side of the public interest. No-one can drive a burnt excavator or bulldozer elsewhere (police road-blocks notwithstanding!) to go and carry out galamsey operations with them, can they? The armed forces, having pledged to protect and defend the "territorial integrity" of Ghana (which includes Ghana's rivers, streams and water-bodies) must carry out that oath with "proportionate force" where necessary. That's how to ensure the survival of Ghanaian citizens yet unborn.
Ha, in case I am accused of harbouring a contempt for legal prpcesses, I throw this challenge to OccupyGhana: will you please advise members of the Ghanaian public whose excavators, bulldozers and changfans have been burnt on site by the armed forces, to go to court and SUE the Government, or the armed forces, for illegally destroying their "property"? That's how to apply the "rule of law", isn't it?
I just can't resist laughing at the thought of lawyers going to court to confess on behalfd of their galamseyer clinets – through lawsuits – that they had offended against Act 955 and (ought to be sentenced to 15 or 20 years imprisonment but that, in the meantime, one should be compensated for the "unlawful destruction" of the equipment with which one committed one's felonious act!
By Cameron Duodu