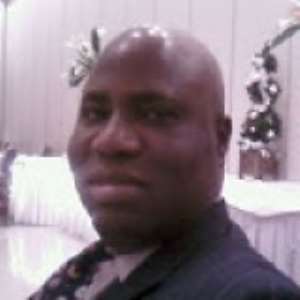 I lived quarter-century of my adult life under military dictatorship in my native Nigeria throughout the 1970s most of the 1980s and spilling over to nearly all of the 1990s. I know what it meant to be ruled by rascals, nonentities, military brigands and schizoid souls. Not only did I engage jackboot autocrats in war of ideas when I was in my 30s, I fought them with entire fiber of my being. In the wee years of autocracy in my native land, there were few courageous men and women in those days that fought the likes of Gen. Muhammadu Buhari, Gen Ibrahim Babangida, Sani Abacha and Gen. Abdusalam Abubakar to standstill (1983-1999). (See Pages 5 & 6 U.S. Department of State Nigeria Country Report on Human Rights Practices for 1997, Released by the Bureau of Democracy, Human Rights, and Labor, January 30, 1998. (See link(https://www.justice.gov/sites/default/files/eoir/legacy/2013/06/07/hrp97nigeria.pdf).
In the giddy era of Nigeria's disorganized chaos presided over by those the Western media benignly referred to as "strongmen of Africa" in the 20th century, there were few of us that put our heads on the chopping block for freedom and liberty (See link:https://www.hrw.org/reports/1997/nigeria/Nigeria-05.htm#P451_107749). The empty men in Khaki and military epaulette soon became history and my land was rescued. Our historic struggles to guarantee democratic ideals and representative government, a nation ruled by rule of law which guarantees open expression of unfettered ideas and opinions in a free society in Nigeria have been chronicled for the archives around the world ((Source Columbia Journalism Review (CJR) Nov/Dec, 1998 Journalism Building, 2950 Broadway, Columbia University, New York, NY, USA (http://backissues.cjrarchives.org/year/98/). It was in pursuit of this freedom that brought many of us to the shores of the United States of America. Consequently, the tragic incident that occurred at the US Capitol penultimate week is personal. Americans and indeed lovers of freedom around the world could see clearly that; not only is eternal vigilance is the price of liberty, but the pursuit of life, liberty and happiness are not sempiternal but works in progress. Democracy isn't etched in Rosetta Stone; it can be crashed. It can be derailed; it can be lost. Those low-lifers on Capitol egged on by a treasonous commander-in-chief the other day should not only be meted with the highest punishment under the law, but the dramedy calls on all genuine patriots in the land to save our democratic values, ideals, ways of life and this republic. Here are few suggestions encapsulated in prophecies, predictions, commentaries and analyses.
PROPHECIES: -Some born-again Christians are still at sea on prophecies and prophetic utterances. Of course, unbelievers are completely clueless on how the True Lord God Almighty talks to us and so are easy preys to charlatans, religious racketeers and Satan's messengers. In prophecies, the genuine prophets of the Lord God Almighty have certain rights allowed by the Boss; the Holy Spirit. For instance, it wasn't the Almighty God that told Jacob to bless his 12 sons in his dying days in Genesis 49; but all his blessings were fulfilled. It wasn't the Lord God Almighty that instructed Joshua to place a curse on Jericho after the fortress was destroyed in Joshua 5:26. The prophetic curse by Joshua was fulfilled thousands of years late when Heil the Bethelite rebuilt Jericho at the cost of Abiram his first born he laid its foundation, and at the cost of Segub his youngest son he set up its gates (I Kings16:34). When Apostle Paul conveyed the Holy Spirit take on ideal marriage in I Corinthians 7, he added his own opinion as God's herald viz: "To the rest I say this I, not the Lord; If any brother has a wife…" (I Corinthians 7:12). For examples, it wasn't the Almighty God that brought three-year famine and desertification on the land during Elijah's prophecy, but as Elijah decreed: "Now Elijah the Tishbite, who was among the settlers of Gilead, said to Ahab; "As surely as the Lord lives-the God of Israel before whom I serve, there will neither dew nor rain in the next few years except at my word" (I Kings 17:1). Prophet Nathan made young Solomon king as a representative of the Lord God Almighty and Adonijah, David's eldest son and the rightful heir-successor lost out, because Adonijah didn't understand the enormous powers the Almighty God gives to His true and genuine prophets. I placed a prophetic curse on a politician the other day that he would never govern a state as governor because of what he said about me. As the Word of Life aptly says; "The person with the (Holy) Spirit-referring to a genuine and true prophet of His Majesty-makes judgment about all things, but such a person is not subject to merely human judgments, for who has known the Mind of the Lord so as to instruct Him but we have the Mind of Christ" (I Corinthians 2:15), Hallelujah! We exercise this prophetic power with utmost sense of responsibility and humility in the Name of my Lord, Master and Savior Jesus Christ.
PREDICTIONS: - Unlike prophecies inspired by the Holy Spirit (Job 33:12-20), predictions are subject to the interpretations of prophets and most people of the world cannot distinguish the twain. It is on this premise that fake "prophets" thrive in the land and they are many in Nigeria and around the world. However, unbelievers cannot detect them because as Apostle Peter telegraphed: "Now there were also false prophets among the people, just as there will be false teachers among you. They will secretly introduce destructive heresies, even denying the Master who bought them (thereby) bringing swift destruction on themselves" (2 Peter 2:1). This inability of most people to tear apart prophecies from predictions in this column has caused some readers to be unease.
COMMENTARIES AND ANALYSES: - These are the other ways or methods future events are recorded, but of the three listed here, prophecies are onerously of the Lord God Almighty as He said: "Everything I prophesied has come true, and now, I will prophesy again. I will tell you the future before it happens" (Isaiah 42:9 NLT). Because we use these three tools in this column, many do not understand how prophecy works. Here is the way these three tools work): Prophecies are for believers (I Corinthians 14:22); Predictions are mostly from Satan and his demons, while Commentaries and Analyses are from secular minds/ humans. Writers, authors and columnists use the three tools but readers and people of the world may not understand the differences between these mechanics.
When we disclosed in this column five years ago that Mr. Donald Trump would not win the 2016 US Presidential Election and he went ahead to "cheat and win" many thought we missed it. What we are witnessing now in America is the result of that prophecy. The Lord God Almighty told Samuel He had rejected Saul as king over Israel and replaced him with David, but Saul still ruled for another fifteen years and a total of 40 years. The fulfillment of that prophecy was the way and manner King Saul died on Mt Gilboa (2 Samuel 1:1-27). Earlier on in this column when we prophesied that Mr David Cameron would not return as Prime Minister, readers were fixated on elections, but we saw how he exited. When the Almighty God told Prophet Habakkuk: "For the vision is yet for an appointed time, but at the end it will speak, and it will not lie. Though it tarries, wait for it; because it will surely come, it will not tarry" (Habakkuk 2:3); the Lord God Almighty came true, because "it is impossible for God to lie" (Titus 1:2). In the coming 8-year presidency of Mr. Joseph Biden, any aspiring presidential candidate in the United States will be mandated to record and release to the public at least 10 years of his or her tax records. Presidential candidates will be legally required to undergo mental and psychological evaluation and make results available publicly. Never again will any American contest for the presidency without a record of "public service" as those words will be defined. The Supreme Court will be reshaped and good news are coming for students' debts, DACA and the undocumented immigrants in the United States of America as my prophecy declared in this column five years ago. On Thursday November 10, 2016 after the hoopla over our prophecy on Mr. Donald Trump, I reiterated again that the man was not chosen by the Lord God Almighty and the world would see what would happen. See the link to my prophecies, commentaries here five years ago: ( https://nigeriaworld.com/feature/publication/fayemiwo/111016.htm).
Please let's pray for that young man call Omoyele Sowore and anyone who can reach him where he is being held incommunicado in Nigeria should tell him to confess his sins and give his life to my Lord, Master and Savior Jesus Christ. Even if he is released on bail, he needs the saving grace of our Lord, Master and Savior Jesus Christ now! Put Papa Edwin Kiagbodo Clark in your prayers this year. I saw gunmen and kidnappers heavily armed with murderous intents invade the government house in a Nigerian State to kidnap the state governor. We have written much about the current Coronavirus-19 Pandemic and nothing more to add. On Wednesday December 25, 2019, we disclosed through the Power of the Holy Spirit all the events, crises, and ugly incidents that happened in Nigeria in 2020 and will spill over to 2021. Here is the link to the prophecies:(https://nigeriaworld.com/feature/publication/fayemiwo/122519.html). The so-called Evangelical Right in America will lose one of its vocal leaders this year. Mrs. Dupe Jemibewon should pray not be bereaved this year. It is well in Jesus Mighty Name, Amen.
Dr Moshood Ademola Fayemiwo is the Spiritual Head & Founder, The Jesus Christ Solution Center, based in Cameron, TX USA. Call him at this number: 254-605-4035. You can send him email at [email protected]. You can also visit our websites at: - https://tocu.education/ and https://tocu.online/