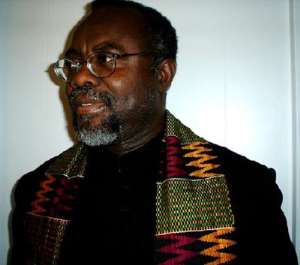 He may have cared well enough to have extended electricity to most of rural Ghana, especially the Northern and Upper regions, but it is also significant to recall the fact that Chairman Jerry John Rawlings never selected a Northerner as his Presidential-Election Running-Mate, although even as the likes of Ex-Cpl. Matthew Adabuga, the real masterminds of the so-called Rawlings Revolution, have steadily and consistently maintained, Chairman Rawlings was not the least bit averse to swiftly and suavely using northern-descended noncommissioned soldiers to achieve his bloody political objectives. As well, both of his two Vice-Presidents or Political Right-Hand Men, namely, Messrs. Ekwow Nkensen-Arkaah and John Evans Atta-Mills, were of Fante-Akan ethnicity or descent.
So, the intellectually superficial likes of Mr. Donatus Akamugri and John Tia had better be modest and not cavalierly and farcically presume that the late Mr. Rawlings had a far softer spot for Northern-descended Ghanaians than he had for even his own Anlo-Ewe kinsmen and women. No such facile presumption could be at once more preposterous and asinine. You see, being politically charitable towards Ghanaians of Northern descent did not necessarily mean that Chairman Rawlings did not know where he properly belonged among the comity of Ghana's multiethnic and multicultural polities (See "Rawlings Will Not Be Buried Until NDC Recaptures Power – Party" Daily Mail / Ghanaweb.com 11/21/20).
The question of where and when Ghana's longest-reigning strongman cum democratically elected postcolonial leader gets buried is the exclusive preserve and prerogative of the Rawlings-Agbotui Clan and the latter's allied families and relatives, and whoever else the Rawlings Family, in particular Chairman Rawlings' widow, Nana Konadu Agyeman-Rawlings, so decides or collectively decide. It is not a sheer matter of political frivolity to be soccer-played by the opportunistic operatives of the National Democratic Congress (NDC), who cannot even tell the nation the precise circumstances under which the then-President John Evans Atta-Mills met his death or proverbial Maker.
To be certain, if the Rawlings Family wanted to have NDC party executives and apparatchiks to cannibalistically play political football with the funeral and burial of their patriarch, for cheap political points or electoral advantage, they would first have officially announced the seismic passing of the acclaimed Founding-Father of the NDC to the 2020 Presidential Candidate of the country's main opposition party and the party's executive operatives before officially showing up at Jubilee House to announce the sudden death of Chairman Rawlings to President Addo Dankwa Akufo-Addo, who promptly declared the celebration of the life of the one Ghanaian leader who brought more grief to bear on the largest number of Ghanaians citizens than any other postcolonial Ghanaian leader and/or ruler as a national affair of the Sovereign Democratic Republic of Ghana.
What is more, it is perfectly beyond debate that Chairman Rawlings would never have consented to having former President John Dramani Mahama play any active or significant role in his funeral rites and burial. The Rawlingses simply have absolutely no confidence and trust in the former Rawlings-appointed Communications Minister, even as Mrs. Agyeman-Rawlings had a legion occasions to announce to the global Ghanaian community, shortly after the then former Vice-President and the National Democratic Congress' 2008 Presidential Candidate, John Evans Atta-Mills, announced to the nation, in 2007, or thereabouts, that he had decided to select the Bole-Bamboi, Akufo-Addo-created Savannah Region, native as his running-mate.
It is also inexcusably insulting to both the intelligence and moral sensibilities of the Ghanaian people for anybody to casually believe that if he had written a will, with instructions on how his funeral and burial were to be conducted, that the late President Rawlings would have authorized the man whom he described as the most thoroughgoing corrupt postcolonial Ghanaian leader as either Chairman or Supervisor of such momentous ceremonies. That would be simply blasphemous and heretical. The fact of the matter is that Chairman Rawlings had far greater respect for President Addo Dankwa Akufo-Addo than he could ever have had for the man who, together with his sneaky 2020 Presidential-Election Running-Mate, to wit, Prof. Naana Jane Opoku-Agyemang, colluded with Prof. Kwamena Ahwoi to pen and publish unarguably the most lethal and toxic anti-Rawlings exposé, titled "Working with Rawlings," that likely hastened the demise of an irreparably humiliated and iconoclastically damaged Chairman Jerry John Rawlings.
Is this really the sort of narcissistic and pathologically anti-Akan and "non-Pepe" political vulture that NDC apparatchiks like Messrs. Akamugri and Tia would have handle the State Funeral of Chairman Rawlings? I am also quite certain that the late former President who had not deemed even Mr. Martin ABK Amidu to be qualified to be named as his "Presidential Spare-Tire" had taken kindly to the then-Interim President Mahama's inexcusably ungrateful characterization of his generous deceased benefactor as a northerners-disdaining "Kabonga" who had scandalously presumed to select Little Dramani as his "Presidential Spare-Tire." I also don't doubt that the late Chairman Rawlings would have loved to have expired while the political party of which he was the foremost founder was at the helm of our beloved country's affairs. But I seriously doubt that Chairman Rawlings would have desired having Little Dramani scoop up the last spade-full of dirt onto his casket, let alone into his grave. This is what all Ghanaians ought to be thinking about as we head into the 2020 General Election.
*Visit my blog at: KwameOkoampaAhoofeJr
By Kwame Okoampa-Ahoofe, Jr., PhD
English Department, SUNY-Nassau
Garden City, New York
November 21, 2020
E-mail: [email protected]