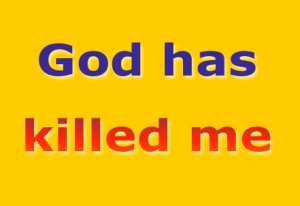 "It is an inner struggle also...to stay away from eating so much food while I am visiting my people in our community," was Mr Karl not able to resist to mention pointing with his fingers to the crumble on his plate of the cake just eaten.
"The people attending the funeral lately of our local Paramount Chief have said they have missed you greatly," mentioned Judge Owusu with great concern in his voice. "I do not know what they will gossip about again as because of that."
"What people think about me...do I care?" laughed Mr Karl and smiled at the Judge that was always standing by his side and teaching him traditional aspects and about the local social network among people that he needed to be aware of. "I only care about what I do and as long as I feel in my heart and soul that what I am doing is the right thing to you...I am okay...very okay indeed."
"Yes, that is a very laudable attitude, Mr Karl," wanted Judge Owusu to explain himself with easy steps not to make Mr Karl angry in any way, "but sometimes it is a matter of wisdom to consider feeling and expectations of others regardless of what you think about them."
"I know and honour what you what to tell me, Judge. But particularly that specific day I had another very important meeting that is spearheading the progress of our community for which reason I was not available...and it is always difficult when you have to choose between two important things...which one to choose. I will take your words to heart and ensure when the new Paramount Chief is elected to rush to his palace and pay him his respect...I promise."
Judge Owusu smiled all over his face and thanked Mr Karl in the name of the community that had changed so much to the better: "I hear other communities in the country get jealous of us and have mentioned to come to you one day and ask you to manage them as well."
"I hear so many rumours each and every day, Judge. I only trust words spoken when they eventually materialize. So, let us wait and see and when they should ask for an appointment, I will know what to do."
"I also hear the rumour that foreign countries have shown interest in our way of life and what we are doing here. I get the feeling they might want to use us for their own agenda so that in the end we are ending up again in their hands and dancing to their music," was Judge Owusu greatly concerned. His eyes darkened; his face got wrinkles.
"Just outside of Hamburg, Otto Fürst von Bismarck is buried. I know his works from my studies at University quiet well and guess I can follow in his shoes to avoid any harm done to us!"
"That sounds great...even I do not know that man at all, I must confess."
"Check the internet and you will see and understand what I mean, Judge," smiled Mr Karl about to leave, got up and had to hear the last comment from Judge Owusu in which he asked how eventually he himself would like to be buried. "The answer is simple, Judge. I want to be cremated, my ashes should be taken out to sea and my family should scatter the ashes into the water. I do not want any building, any road in my name, no statue...simple nothing. I have done my job by then and can go...simple as that. I am definitely not an African...only a humble, simple worker with ears to hear, eyes to see...."
"And a brain to think and hands to work," completed Judge Owusu the usual sentence Mr Karl always liked to mention.
"But now I have to rush off to my next call of the day, the Incubator to create new vibrant and interesting entrepreneurs that we need so, so much. So, please Judge, let me take my leave!"
"We all gathered here, Mr Karl," said Paul and smiled while others were watching him closely about what he would say, "applaud your great initiative and law for the district after which it is no longer permitted in public space to sit on radio stations, TV stations, social media or even publishing newspapers and tell the whole of Ghana and the rest of the world about private matters like who has cheated on his wife, the misconduct of pastors, which baby belongs to which person and all these useless ugly talks we hear endlessly on all these platforms...so, so disgusting...I am telling you the simple truth. These are all matters between human beings and are not supposed to be shared by anyone on such platforms to gossip the whole day long wasting each other's time. That is a great step ahead and in the right direction. We should never allow such busybodies to come out and show their faces and hear their voices on any platform in public. When a pastor is doing something wrong it is for his family to deal with the matter or his church members...and only for them. If the issue is a criminal offence of serious defamation or wrongdoing anyone having evidence to that effect should report himself to the nearest Police Station and present the evidence so that the Police can take the matter up and the State Prosecutors can have a good look into the matter and make the appropriate decision. To sit on TV and lambasting about Pastors and actors and so on what they might have done blackmailing them to say if they do not stop their wrong behaviour evidence will be presented. No, that is madness...pure madness. If someone has really good evidence for any criminal offence, not moral misconduct...that is private, he should handle it in the process of criminal activities meaning Police and court, simply as that. Therefore, all that we are presented here are so happy that you make it a criminal offence when such platform continues engaging in dirty gossiping to close down such Media Houses with no mercy. I think this will help and will bring sanity to our society."
All young entrepreneurs in the room applauded him, got up wanting to shake Mr Karl`s hand one by one. They told him personal compliments right into his face while passing him before taking back their seats.
"I have also signed a new order that Pastors can establish their own business like printing houses, schools, kindergartens etc. but when this is not done in form of a charity or foundation, the profit generated by such a private company must be taxed. I also added in that law that Pastors cannot take up any position like a Chairman in a bank or other companies, any mandate companies want them to take in the business sector. As the past was teaching all of us, when someone is the Chairman of a bank and a Pastor of a great church at the same time the question arises whether or not such a Pastor has the needed know-how to oversee a bank or a manufacturing operation and so on and as such mandated demand lots of attention to details of operation most certainly will not be up to the requirements of such a position in the light of his own assignment as a Man of God and the vast numbers of churches to oversee and guide, even giving his own sermons always in Sunday Service. Such a mix will never work but most certainly is a blueprint for the failure of such a bank and company which must be avoided right from the start. Pastors only should do what they were ordained for and when they see the need to start out of their very own activities a private company, this company must follow the rules and regulations just like any other private entity...besides that, no business activities allowed for Pastors."
Paul looked at Mr Karl with great eyes saying on behalf of the others: "That is a clear cut policy and certainly will bear good results so that we all in this country can sleep well at nights and go to church knowing the true position of our Pastors."
"Ghanaians should finally come to their senses and accept that worshipping any Politician or Pastor is the madness of the highest degree...and we must stop it...if force is needed, so let it be!" added Mr Karl to his short presentation.
Peter got up, a skinny young man with high intellectual capacity, dark glasses and eyes filled with fire and said: "Mr Karl...I hear and agree with your intention...but my concern is, Sir...is this not restriction the Freedom of Expression and the Freedom of the Press? I mean...I am just asking!"
Mr Karl got up and moved closer to Peter to teach him a lesson: "Freedom of Expression and Freedom of Speech cannot mean to put out any lies about anyone on any public platform. Much is anyway only for the eyes and ears to hear for wives, husbands and family members or church members...not for the gossiping public wasting their time by listening and watching such reports and such stupid lambasting people. As long as no criminal offence that can stand in court and can get a conviction is presented before the Police and Prosecutor, such nonsense must stop as it harms people and wastes their time. So, in that light when the truth is spoken...no problem, then it is covered by Freedom of speech, but when lies are spoken and harming people and wasting the time of so many others...the society must step in and such issues are not covered by Freedom of Speech. As society speculation about people is not Freedom of Speech but the first step to destroy a person and situation. All we have to entertain in our society is the truth...nothing but the truth. So, anyone that wants to raise his or her voice from now on has to consider his or her actions and words very well. So, best is anyone has to ask himself are the information I hold in my hands enough to be called in a courtroom as evidence to get a proper judgement form an honest Judge or will this information provided in the end be only a shaming and naming game that eventually can turn against me. These questions anyone must ask himself from today forward. This madness in Ghana has to stop...and if by force...so it shall be!" Mr Karl saw that Peter took his seat again, but his face showed him also that he was not completely satisfied with the answer he got. Still, something was bothering him; deep inside him, a voice emerged to accept what he had just heard as the right way forward for his people.
"So, Mr Karl," raised Paul his voice and asked all his fellow comrades to follow him and Mr Karl on a tour through the Incubator a newly build facility for forty-five start-up companies. Most of the young companies were developing solutions for the internet and IT sector, while a handful thought about the future of agriculture seeing it as the next milestone in the development of their country with a hope that other countries would benefit from their research.
Paulina stood in the middle of her office with attached laboratory ready to explain to Mr Karl what his new company was all about: "Here we have a think tank and a small facility for testing. What we try to do is to harvest weed from the sea and make it a possible future food for many people. At the same time, we try to grow mushrooms for restaurants at the highest standards that might have a potential for later also to be seen in local supermarkets and in addition to that we try to grow lettuce and another commercial crop without soil."
"Without soil?" was Mr Karl surprised to hear.
"Yes Sir, without soil...just with water and nutrients inside...like the Japanese have invented it after Fukushima and the Atomic Power Station accident years back."
"So, you mean plants can grow in water that as a bit of food for the plants to grow...and that is all?"
"The way you put it Sir...is funny to me...but I guess someone can see it that way," smiled Paulina and led the small delegation into her lab behind the office close to the garden outside where the chicken was grown to produce healthier, fewer cholesterol eggs. "Here you see what we have done and achieved so far, Mr Karl. The water we use in this round-shaped planting table...as we call it...we use again and again. So, we do not take new water. The water we once got into our pipes this water we recycle again and again in a closed environment. This can save the country loss of drinking water of which Ghana has not enough especially not at this high quality. So, this facility eventually should stay in every community that needs good and healthy food grown with fewer resources of sun, water and chemicals... as we here...mind your head Sir, please....oh you are taller than the normal people working here...so, here we do not use any chemicals at all and keep dangerous bacteria and insects that could potentially harm our products...so, only the best lettuce and so on will come out of such facilities like the one you can see here in testing and on a smaller scale like later it will be seen in the world out there."
"Do not tell anyone in Flagstaff House!" smiled Mr Karl while leaving the facility having to rush to his next appointment seeing George had already opened the passenger door.
Paulina gave Mr Karl her hand to wish him well and added: "Do not worry, Sir. They have no interest and no understanding!"
"Yes, George...you are right...we simply have to hurry again. So, let's go!" entered Mr Karl the car and drove off seeing through the back window the young entrepreneurs waving him good-bye. The radio in the car was on, the news was coming. Mr Karl heard about prisoners complaining about their judgments and the conditions in all prisons in the country. "One thing, George, I never understand."
"That is?"
"People know the laws in each country...or could know as they are no hidden secrets."
"Sure!"
"So, when they know or could know that a certain criminal offence carries a certain kind of punishment...later when caught by the Police and standing before their Judge, the same people make big stories that the prison sentence is too long and not fair what they have done."
"That seems to be confusing indeed, Mr Karl."
"What I mean is no one is forcing anyone to kill, steal, beat up, being corrupt and so on. Anyone engaging in such unlawful acts must know that once caught the punishment is not a joke but applies to them as well. On that note, their outcry is too funny to me. Why should I engage in a criminal act and not be prepared to face the consequences once caught...that sounds to me like babies are crying for milk when they have spoilt the milk all by themselves. Humans are too funny people...I am telling you!"
"Mr Karl...you must shout it loud out into the skies...and still then people will never listen and obey...that is human nature," mentioned George while pulling into a dusty driveway leading to a secluded small house, their next stop of call. The light green painted house was surrounded by high plants. The small garden behind the house was planted with green and red pepper, with chilli and groundnuts, a bit of maize and very few flowers. It was a place filled with tranquillity, a place to meditate and find inner peace. Neighbours were far away down the road that was next on the list to get tared as many new estates along the stretch were recently constructed to cater for the increase in the population of his district. More and more people had decided to sell their lands in Kasoa, Ashaiman, Adenta, Jamestown, New Market close to the circle, North Ridge, Adabraka and even form East-Legon to find their new home in the area Mr Karl was responsible for. They wanted to live a life in mental and economic stability, not haunted by witchcraft and money pushing and punishing good ideas and honest people.
"When I look around, Mr Heinz...I am amazed and humbled at the same time," said Mr Karl while standing in the middle of a grand living room. The walls were all painted in white, each side and big pictures hanging in the middle of each wall from top to down showing various bright shining scenes of Ghana, beach fronts took in various locations of the bush of the country, even from mountain tops. "Everything gives me the feeling of love...love for life, love for people...and most of all love for the country of Ghana...very positive, very light, very bright, like birds flying over the nation and seeing all the great things this country has to offer in a grand gesture...I am very, very humbled...Mr Heinz!"
"And you remember when the two of us first met how things were looking around me in my life?"
"Oh, Mr Heinz...I remember so well...and remember the days we talked and talked. I asked you so many questions, asked you why you became a Mallam and what you did wrong, so wrong to the life of so many innocent people."
"I remember how much I hated you, Mr Karl," smiled former Mallam turned himself into a strong Pastor with an increased congregation that loves his personal story of a man finally being saved. "I wanted to do evil against you and do a bad, bad ritual against you. But as you are a foreigner who turned himself into being a Ghanaian...."
"Oh no... Sir...Mr Heinz with the greatest respect to your wisdom...I am still a German!"
"Oh...Mr Karl...I give you back my greatest respect," laughed Mr Heinz taking his German friend by his head leading him over to the dining table where the cake was served and well sliced, the biggest slice for Mr Karl, that was standard in his house, "you are a German for sure by Birth Certificate and your brain, your intellectual understanding of things...but deep in your heart and soul...let me tell you the truth Sir, whether you want to admit it with your own mouth or not...you are more a Ghanaian than most of us!"
"Oh...no that is not...," wanted Mr Karl to protest but had no chance to voice his opinion as his big slice of cake stood right in front of his eyes. "Gosh...oh, my God...that looks...oh, that truly looks amazing; so, so delicious...is it all for me?"
"But you yourself know the answer already, Mr Karl," laughed Mr Heinz and served him tea with milk. While eating the children and wife entered the room greetings, Mr Karl, seeing how happy he was to see them being well. "You see...my own family has been cut off from evil deeds. No more handing down of evil rituals from generation to generation. We all now are born again and have accepted Jesus Christ as our personal saviour. We go out to fish lost souls. As I know many Mallam around our place and beyond I go to them and talk. I share with them what I know now and how much better my life is. Not all turn away from evil works but to my own great surprise do I see that more and more Mallams die and resurrect as Christians. some of them have already, just like me, started their own church and live a much better life in peace. Other have set up their own shops and small businesses, they cooperate with partners...people that are truly partners and not gold diggers, not jealous of any success but striving for personal greatness by seeing, hearing, understanding, copying and wanting to overtake their teachers...all in a peaceful competition for money and fame."
"That is how it should be!"
"Really...Mr Karl....since you took charge of our district much has changed. So much improved. People live a better life now. We have better roads than before, no gutters anymore, good and great jobs paid well, a new clinic with specialized doctors, new rules and regulations...tough though, but the right once and when accepted, life is so comfortable, so stable, so clear, so easy going. I never ever want to go back and see the old misery we Ghanaians used to live in...all this corruption, this lies to keep peace in the nation, the cheating, the lambasting about each other, the fake friendships... ."
"Life only goes ahead and never turns back," tried Mr Karl to relax his good friend that was vital for his mission to eradicate poverty of the minds of his people and made them work as one team in one place and on the nation, see profit-making as the ultimate goal by seeing and respecting others to just do the same and work hard. Whenever he had a meeting, people were on time, were disciplined by bringing their cases and ideas to the table. Creativity, thinking out of the box, respecting traditions and see what can be used of them for the future, being service minded, being cooperative in anything daily life was asking from them.