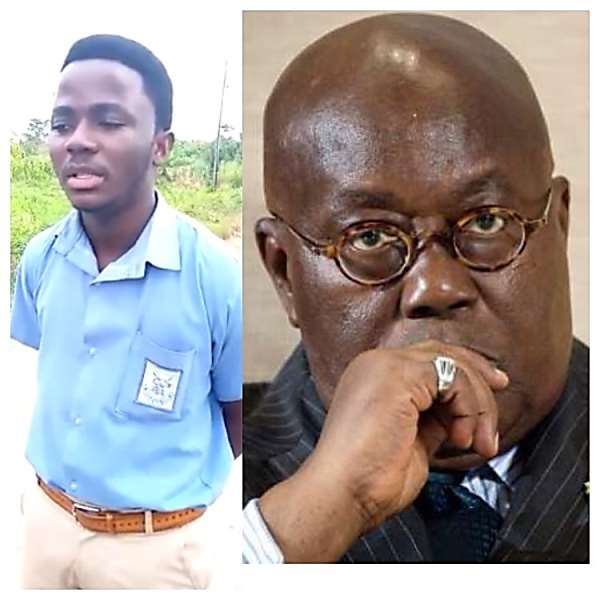 Agoo! Agooo!! Agoo!!!, Ghanaian politicians. In our formative days as children, we were taught to respect an elderly person as though he or she was a parent to us. Yes, those were the days that any adult who found a child misbehaving could discipline the child even to the point of a few whips. Should your parents even got to know of the offense, you would possibly get additional lashes. Unfortunately, those days of cherished morality had vanished.
We seem to be in the era of anything goes. Society is full of social vices.
The boy's act was awful and all adults must regret what happened
A video of a schoolboy went viral. He was heard addressing the President of Ghana, Nana Addo Dankwa Akuffo Addo with unprintable. The schoolchild might not use such words on his elder siblings let alone on his parents. The boy qualifies to be a grandson of Nana Akuffo Addo. It is not only a bad act but also a shameful conduct. It is an uncultured and an un-Ghanaian act.
Perhaps every adult in Ghana and more so the Ghanaian politicians who insult one another openly should be vicariously ashamed. What was the President's offense? He was blamed for some difficulties or possible failures in the ongoing WASSCE exams. The President who made SHS education free for the same students who now abuse him verbally. Where did the President go wrong? From where did the boy learn the act of insulting an adult? Obviously, from the very society, whose members are condemning the act. Wrong must be condemned regardless of who has been wronged or who committed the wrong. I was therefore happy to hear that the North Tongu (NDC) MP, Hon. Samuel Okudzeto Ablakwa condemned it. Thank you Sammy for that show of maturity.
A bitter Lesson for Politicians Including Nana Addo Himself
Methinks that they boy's reprehensible and uncultured act should serve as a bitter and never again lesson for all politicians in Ghana including President Akuffo Addo himself. We have permitted politics of insults for far too long that the new generation sees it to be normal. Even the driving ordinary public insults in traffic. It is as though the good moral lessons in the shrines, mosques and churches are only cherished on the days of worship and at the places of worship but later abandoned.
The media space is full of insults, propaganda, insinuations and aspersions on a daily basis. Politicians and political party supporters insult one another on live radio and on TV as though they control the ages of the audience (listeners and viewers). They forget that children are part of the audience and that children learn mostly by observation.
Perhaps it is high time President Akuffo Addo himself talked to his boys such as Chairman Wuntumi and Abronye DC to desist from using unprintable words on Former President John Mahama. The likes of K.T. Hammond and Freddie Blay also need some counselling to forestall their use of unprintable words on others. The same applies to Koku Anyidoho of the NDC. The President himself and Vice President Bawumia must equally learn from this and stop referring publicly to President Mahama as incompetent, an adjective synonymous with inept, unskillful, inexpert or amateurish. Whoever insults the President or a Former President is culpable of the same offence the student had committed against Nana Addo. We need to apply Douglass McGregor's impartial hot stove rule here. Regardless of the status, height, race, qualification etc of the person who touches the hot stove, the stove must burn the offender immediately
Teenage pregnancy is the cause of uncultured behavior lately
One may attribute the widespread indiscipline among the youth to teenage pregnancy and its numerous implications. I do not however seek to say that the boy who abused the President verbally was a product of teenage pregnancy. In reality however, my observation is generic rather than contextual.
In the past, a person became a grandparent only at an advanced age like 40, 50, 60 or more years. That grandparent often had many life experiences to impart to his or her grandchildren. What do we see lately? Twenty or Twenty-two year olds are becoming grandparents due to rampant teenage pregnancy.
The hospitals are currently attending to 10 and 11 year old pregnant "women." Perhaps teenage pregnancies have compelled the healthcare authorities to refer to the 15-49 year group as the Women In Fertile Age (WIFA) population. Even that, exceptions abound such that 10 and 11-year girls are getting pregnant. Arguably, an 11 year old girl (Kukua) who is currently pregnant may have her mother (Aba) being 22 years, granted that Aba also had teenage pregnancy and gave birth to Kukua 11 years ago. Logically, Kukua;s baby (Sena) born today looks up to her inexperienced 11 year old mother and 22 year old granny for directions and what Sociologist calls socialization. Who counsels whom now?
Instead of insulting one another on radio and on TV, politicians should rather sit in unison, think deeply and solve our numerous societal problems.
Good aftermath of the Incident and Lessons from Pope John Paul II

That the GES had dismissed 14 SHS students including Nicholas Cobbinah of Sekondi College who used unprintable words on the President is not the good news for me. It is rather the fact that the boy had later showed remorse, apologized in another video and knelt down begging Ghanaians to forgive him. I think he deserves unconditional forgiveness.
Perhaps the lesson the President himself must learn from the boy's remorseful gesture is to now apologize to the nation for his famous 1st February, 2011­"all die be die" comment he made in Koforidua (https://www.modernghana.com/news/315834/all-die-be-die-nana-akufo-addo.html ). Most Ghanaians endlessly begged Nana Addo at the time to apologize for the comment but until now, no apology came from him.
Another aftermath of the incident I am excited about is news making rounds that "President Nana Addo Danquah Akufo-Addo has directed the Ghana Education Service (GES) to grant clemency to all the 14 final year students who have been dismissed"(https://ghanaxtra.com/2020/08/exclusive-akufo-addo-directs-ges-to-recall-14-dismissed-wassce-students.html ). If this is true, then we must commend the President for being a forgiving grandpa to the schoolboys and girls and a merciful father of the nation.
If it is not true, then I call on the President to emulate the deeds of Pope John Paul II and forgive the boy unconditionally. In May 1981, a Turkish man by name Mehmet Ali Ağca shot and wounded Pope John Paul II. Mehmet shot the Pope about four times and the Pope bled heavily. He shot the Pope right in the St. Peter's Square in Vatican City. One of the shots hit the Pope in the abdomen while another narrowly missed his heart. The Italian authorities sentenced and convicted Mehmet for 19 years for his near assassination of the Pope. He spent another 10 years in the Turkish prisons for similar offences, he committed earlier. In 1983 (two years after the incident), the Pope visited Ağca in prison and reconciled with him in a forgiving manner. Much later, after the Pope died in 2005, Ağca was reported to have laid a white rose on the late Pope's tomb.
Conclusion
Much as the law must take its course, President Akuffo Addo should show clemency on the 14 students especially the Sekondi College boy who used the unprintable words. After all, a father who loves and gives free SHS education must be ready to forgive unconditionally when children who qualify to be his grandchildren offend him as though Hakuna Matata as my Kenyan friend, Uncle Joseph Mbatha would say in Swahili.
~ Asante Sana ~
Author: Philip Afeti Korto
Email: [email protected]