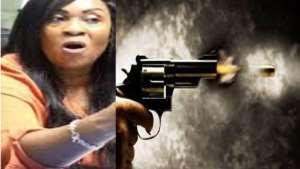 Honourable Mavis Hawa Koomson, I greet you my sister. How I wished I could even call you Hawa Shooter Koomson. How market now? How the shooting market, madam human hunter? Wow, so you can shoot like this. Poooh,poooh,poooh at a voter registration centre? Did you envisage any conflict at the registration centre before going there with a gun? I feel disappointed in your shooting of gun in such an environment. You need to read about Honourable Susanna Al-Hassan, emulate her and mend your ways.
Sister Mavis Koomson, somebody your calibre shouldn't have thought of such an act let alone making it a reality. You really made me remember the late Lucky Dube's Guns and Roses song. I cite below, parts of the lyrics relevant to this piece.
"I don't know why I keep believing
That one day they'll bring us together
When they've shown, in more ways than one
That all they care about is the dollar
You belong to the one political party
I belong to the one musical party
Our differences are worlds apart
Just like guns and roses
If we don't take control of the situation
We'll stay forever in this ya commotion
How can five years of power
Destroy a lifetime of togetherness
One time we were judged by the color of our skins
Now we are judged by the color of our flags.
Let us unite against being divided…"
Aunty Mavis, what do you care about? Guns , the money, the political fame or the development of Kasoa and its environs? You mean you became a Member of Parliament and a Minister of State just to be shooting guns indiscriminately at nowhere but a voter registration centre which is supposed to be a peaceful place. You turned the registration centre into Teshie shooting range or Bundase. It is a shameful act and you should even resign before President Akuffo Addo thinks of sacking you. People like you with such extremes in conduct tend to paint the President in a bad light.
Sister Hawa, I would like to borrow Lucky Dube's words, twist them my own way and ask you, how can your four (4) years of power as an MP cum Minister destroy a life time togetherness in the Awutu Senya East Constituency? Instead of turning your gun into deep thinking as to how to develop that Constituency, you went to threaten the very constituents you claim you represent in Parliament. This is an act below the belt and you should bow your head in shame for it. I call on all discerning women to condemn your act irrespective of their partisan political leanings. You scared women and children with that death threatening act. Must you kill a mosquito with a sledgehammer instead of your palms?
The famous Yaa Asantewa should be ashamed of you. At the time Yaa took her gun to defend Asante and for that matter our country, we were being judged by the colour of our skins as Lucky Dube puts it. Now, politicians like you have come to judge us with political colours/flags and tribal cards thereby considering those who do not support your views as your enemies worthy of your shooting. Lucky Dube sings, "One time we were judged by the color of our skins. Now we are judged by the color of our flags."
Another person who would be ashamed of you if she were alive would be Honourable Susanna Al-Hassan who was Ghana's first female to be appointed Minister of State and later became MP for the then Northern Region Parliamentary Constituency. She was actually the Minister responsible for Social Affairs and Community Development. Madam Al-Hassan served under President Nkrumah from 1960 to 1966. In fact, people even say she was the first African woman to hold a cabinet portfolio. She held many other ministerial positions. She declared war on prostitution in her Constituency without shooting a gun among other humanity-supportive initiatives expected of a female MP and Minister of your sort. She was an author as well. She was the mother of the then GBC news anchor by name Selma Valcourt.
Madam Al-Hassan died in 1997 and in 2007, she was honoured posthumously with a Ghana @50 postal stamp. Notable among her literally works are Asana and the Magic Calabash (1963); The Role of Women in Politics in Ghana: Feminist Perspectives (1994). Nothing leads me persuasively to think that Madam Al-Hassan least envisaged in 1994 that a Ghanaian woman called Mavis Hawa Koomson would in future play a gun shooting role in Politics in Ghana as a Feminist Perspective of voter registration in Awutu Senya East.
Aunty Mavis Koomson, it is not on record that such an astute woman (Madam Al-Hassan) whom you should be proud of, went to her Constituency and was shooting poooh-poooh-poooh indiscriminately because of voter registration. We are not even casting votes yet and you are shooting a gun. One may predict that you will even throw a nuclear bomb on Election Day. Is your shooting a prelude to what is up your sleeves for Election Day in Awutu Senya East?
Hon. Mavis Hawa Koomson, you have somethings in common with Madam Susanna Al-Hassan. She was a teacher like you, she was a Headmistress like you and she was born in northern Ghana like you (she in Bolgatanga and you in Salaga). She was also a Minister of State like you. She served as a Cabinet Minister and you are currently serving so.
I think having the opportunity to serve in Cabinet is a privilege because it is not all Ministers who get that opportunity. In your case, it is more of a privilege because your Ministry is not one of the traditional ones such as Health, Education, Foreign Affairs, Trade, Defence, Finance, Energy etc. that a President cannot do otherwise but keep in Cabinet. If you agree with this, then it is more required of you to live up to expectation in terms of your public conducts.
Indeed, I am also vicariously embarrassed for you that you could go to such an extent. I would like to ask you the following questions. And oh, how I hope that even your own party folks will vote you out for this misbehaviour?
Where did you learn the holding of guns, in Salaga where you were born or in the classroom when you were a teacher?
Were you shooting for Ghana National Association of Teachers (GNAT) when you were the Ladies' wing treasurer and secretary for Sekondi and Takoradi respectively?
Do you think the President appointed you to focus on guns as a special initiative?
Into what dangers do you want to lead Kasoa and its environs?
So with all the talent you have, is that what you can do with it?
Don't you think you are disgracing women of Ghana at this crucial time that some men even think women are not fit for the presidency?
Why won't you rather become a Covi-19 or sanitation hunter for the Awutu Senya East Constituency?
Mustn't lawmakers like you rather obey the law so we emulate you?
At age 54 must you go that far?
Are you that desperate to retain the parliamentary seat so all die be die?
When quizzed why you shot the gun indiscriminately, you answered, "I'm a Member of Parliament, I need to protect myself. It was at dawn; my police escort had not started work yet. So that is a mechanism I have adopted in his absence"
So your life is better than the residents of Kasoa who are faced with rampant armed robbery. You had this gun and could shoot yet you were not defending them from armed robbery attacks. If it is shooting you are good at, then why didn't you join any of the forces so you can be going on peacekeeping missions for Ghana?
But for the fact that you are a woman, I would have been harder in my castigations of that act of yours
. Let me admit however that there is something admirable about you. Even though you did the wrong thing, you admitted you did it. That is honesty. However, consult your pillow and resign or better still, the President should show you the exit from the cabinet position. As for the Member of Parliament job, the constituents and/or your political party executives should call you to order.
Hon. Mavis Hawa Koomson, as Lucky Dube sings, Let us unite against being divided politically, tribally and nepotically. We have common enemies such as preventable maternal and other deaths, poverty and vulnerability, poor sanitation and diseases, flooding and social vices. As a woman occupying high positions in government, leave the gun and focus on things like these. Let your thinking outside the box be your gun that helps to liberate the people of that segment of the Ghanaian society called Awutu Senya East.
Go and look for those female lepers Joy News had shown last week. Use your bullet money to rather support them and God will bless you. Have you heard that Vice President Bawumia has gone to the rescue of the leprous octogenarian by name Dari Poga, whose predicament Joy News had brought to the fore? Stop shooting guns and rather support worthy courses like these. Remember the dead do not vote so anyone your gun may kill cannot vote for you or your opponent.
Until then, go home and sin no more and next time don't come and disgrace women in this manner.
~Asante Sana ~
Author: Philip Afeti Korto
Email: [email protected]