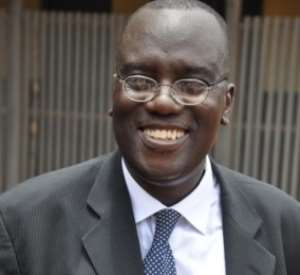 On behalf of the NPP Women's Wing in Belgium, I would like to wish the children, the family and NPP Party members, executives, the President of the Republic of Ghana and all well-wishers condolences for the demise of our one and only former dynamic General Secretary and Chief Executive Officer of Forestry Commission, our beloved friend, brother and father Kwaku Owusu Afriyie alias Sir John.
We are extremely saddened and overwhelmed with sorrow over this enormous loss. Undoubtedly the family of Sir John has lost a great man and their pain is unbearable. We the NPP family are seriously diminished and our tears are unquenchable. I will however plead that we stay united in these very difficult and dreadful times.
We believe with all our hearts that he was an optimist and a philanthropist, and had accomplished for himself, his children, the NPP Party, and Ghana in general.
May the Almighty God find a sound resting place for his lovely soul.
Condolences, condolences, condolences to a great and noble man, we shed tears for you.
We have since ancient times been exposed to incessant suffering, the Ogyapam tree and its ants are from antiquity. Condolences. and may his soul Rest In Peace.
...Signed...
Nana Akosua Nyamekye
(NPP Belgium, Women's Organiser)