It's 24th December…Going Nowhere (2)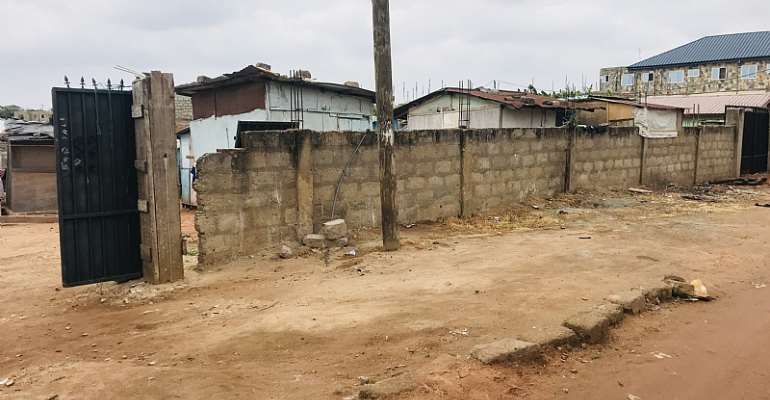 A large number of city dwellers—in Accra, especially live in kiosks. There are a number of gated communities in the nation's capital—gated community of kiosk-apartment complexes. This is when you have within one gated compound, an agglomeration of different kiosks. You've got to respect such ingenuity.
Squatters decorate almost every uncompleted building. Many blessed enough to occupy cement buildings do so counting their blessings—their days, I mean. They sit on thorns, for having already paid more than the legally stipulated advance rent; having paid one, two, or sometimes three years' advance rent, they are to cough up another round of such bulky sums when their term expires.
This is the case for the majority of the nation's workforce—they (expected to in their own individual parts) contribute to the collective advancement of the nation. The right to shelter, many toil to achieve—many lose this fight and find home on the streets.
Public Problem…
We cannot ask or hope for people to leave the cities, or desist from entering our cities to solve our nation's housing deficit. Rural-urban migration is a fact of development. City populations are growing constantly—very expected of a developing nation—owing to factors such as rapid urbanisation (as mentioned), a general population growth, economic and socio-economic growth resulting in an increase in life expectancy, fertility rates, etc. You cannot be mad at these. Yet, all these positive factors may end up adding to our nation's plight—chiefly, our housing plights.
The housing issue cannot be put on the backburner. It must be prioritised and remain so for the foreseeable future.
…Private Solutions
Some nations have witnessed various public housing initiatives to help tackle their housing deficits. I am going to desist from doing the expected: dangling other nation's development journeys in our faces as slights; desist from mentioning say, China when Hong Kong, in fact, is battling its 'coffin homes' endemic. But Ghana has seen arguably little success in terms of public housing initiatives.
So the private sector has been to the rescue. The private sector recognising this gaping gap has sought to meet demand with supply—buildings spring up everywhere one looks. In Accra, storey buildings built to be rented out as shops have their top floors converted into apartment complexes. Landlords are chiselling out apartments out of nothing. There are some buildings with a bedroom and bathroom virtually one: "Won't water enter the room when I bathe?" "Listen, you can just use a rag to chock it."
But within this private remedy—very symptomatic of a capitalist society—is yet another problem: the private individual is undoubtedly motivated, first, byindividualism. Their aim is not to solve the nation's housing issues per se, but to make profit.
So the government steps in, not with competing infrastructure, but the law.
Law as solution
Our governments have sought to remedy this deficiency, not largely in erecting housing infrastructure, but by creating conducive environments to ensure fair dealings between the private sector and the renting populace—particularly, through rent control schemes. Because the last thing we would want is to leave pricing to the laws of demand and supply when dealing with an inevitably profit-minded private sector—especially under such circumstances when demand far exceeds supply. This seems like smart solution until the law proves insufficient.
As far back as 1942, the nation saw its first of myriad rent laws. The Rent Act, 1963 (Act 220) came two decades later and still remains in force. It proved problematic, in part, and saw a slew of amendments in 1973, 1979, 1982, and most recently, the Rent Control Law, 1986 (PNDCL 138). This long list of legislations, all introducing new means of regulating rents charged by landlords, ended up utilising one of two methods: authorising rent officers to make assessment of rents of individual premises—ridiculous on the face of it.
So the law remedies this by introducing the second approach—rigidity. How about legally fixing prices for the various apartment types? Thus, one-bedroom apartments are fixed at—, two bedrooms at—, and so on. This simplistic rigidity was unsurprisingly ineffective. For even now, you know to expect the sum of GH₵500 to be placed on a single-bedroom apartment in East Legon, and GH₵350 for one at Ablekuma. Locations, the nature of the apartment buildings, and such other factors can influence the price of apartments. Thus a fixed sum approach easily renders itself defunct law.
This is one example of the many ways in which these past and present legislations proved themselves detached from the fact on the ground—the economic, socio-economic, cultural, etc., facts on the ground.
An Impasse?
Yet, what we have witnessed in these slew of legislations is that whenever one law proves ineffective, the law maker is tasked with coming up with a new law, only for the new one to prove too, insufficient thus inefficient.
All these laws have come with staunch warnings—contraventions of their provisions have been stipulated as criminal offences, with the possibility of imprisonment. PNDCL 5 of 1979 even threatened landlords of having to forfeit their premises to the state upon non-compliance. All these scare-tactics have failed to give the law compliance; they have proved ineffective in curbing the power landlords wield. Act 220 and PNDCL 138 remain two of the most disregarded laws of the country.
So if the state has not been able to solve the housing deficit by providing public housing units, and have also failed at using the law as instrument to regulate the private sector's bid at offering solutions, where do we turn to next? Who or what is to offer the tenant relief?
The Law. The Fact.
We cannot admit to an impasse, and give up on offering workable solutions to the nation's housing problems. We cannot write these off as business as usual:
The fact that landlords do not charge rents on monthly basis; they do not accept six months advance payment—one is very lucky when their landlord accepts 'just' one year's advance.
The fact that a tenant's financial burden does not end with the landlord only, but with a formidable group called agents. They are middlemen necessitated by this same economic harshness (man has got to make a living, right?). The fact that these agents base their livelihood of a supposed illegal act—for it is from the landlord's requested advance payment that the agent slashes off their commissions.
(To be continued.)
If the housing situation was in a crisis mode in the1940s, now it is a bloodbath.
So, apparently, there is talk of yet another legal reform in the works…
By YAO AFRA YAO