Harmonious Chorale Outdoors Album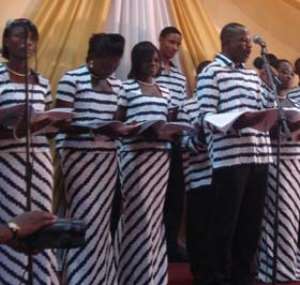 PROMISING GHANAIAN vocal group, Harmonious Chorale, last Friday announced its presence on Ghana's music scene with the launching of a new choral album titled, 'Come Let Us Sing.'
The 14 track album which contains interesting and exhilarating choral songs backed by melodious tunes, is the group's first since it appeared on the scene a couple of years ago.
The group, formerly known as the Harmonious Quartet, was founded in October 2005 by James Verrick Armaah, also a member of the group. Its objective is to promote musical compositions of Ghanaian and African religion (church), and to energize the world with its melodious repertoires and tunes.
There has been no looking back since, as within a short period, it became a household name due to its talent in singing songs by other composers.
Currently under the sponsorship of the Salt and Light Ministry, owned by Ms. Joyce Aryee, the group finds it necessary to step up its activities.
Last Friday's launching at the Kama Conference Centre, at Labone in Accra, attracted high profile personalities including Her Ladyship Chief Justice Georgina Wood, Ms. Joyce Aryee, and South Africa's commissioner to Ghana. Other personalities at the event included religious heads, producers and the inky fraternity. Gifty Anti was the MC for the night.
The group treated audiences at the ceremony to an elating rendition of all the songs on their album. Audiences were glued to their seats and listened with admiration. The group was thus accorded a standing ovation after its last performance.
However, the night was not all about the Harmonious Chorale, as there were other pulsating performances from Nii Okai and Kofi Dua Anto, who made the night a delight for all who were part of the occasion.
Ms. Joyce Aryee, speaking at the ceremony, expressed the need for Ghanaians to encourage choral music. According to her, the music genre is worth promoting but has over the years not received the necessary prominence like other genres on the market.
She added that her ministry was thus using Harmonious Chorale to organize free choral music programmes to encourage Ghanaians, saying that, the project was to expose the good work of Ghanaian composers.
"We've been singing their songs all the time at our own events. We've done three of such shows. The fourth one will be September and it is going to be free," she said.  
By Francis Addo