22 November 2016
|
Opinion/Feature
Guidelines For Young Executives - Lucy Quist CEO, Airtel Ghana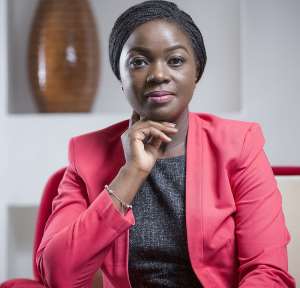 Not many brilliant female employees are given the opportunity to head multinational firms especially in an industry that is very male dominated but obviously Lucy Quist, the MD of Airtel Ghana is cut from a different cloth. Voted the CIMG Marketing Woman of the Year 2015, Lucy inspires many young executives across the continent.
Quist began her working life as an Electrical and Electronic Engineer at Ford Motor Company, progressing to Chartered Engineer (IET), UK. She later joined the Royal Bank of Scotland as a change manager before moving into telecommunications in 2008.
Here are 3 key guidelines Lucy outlines as very essential for every upcoming young executive;
Take a Step
Lucy Quist, who is well noted for her knack in churning out new concepts and ideas through the dynamic projects her company undertakes advised young executives around the world in a recent interview, "whatever you do, whatever the situation, continue trying something new, new ideas, location, opportunities; but whatever it is, please try.
If it works out, you learn from it. Life is full of taking risks, learning and making progress." Lucy further cautioned against inactivity and insisted that aspiring executives around the continent should be prepared to try and grab opportunities as they come. To try new concepts as Lucy suggests, endeavor to understand that failure is part of a learning experience and must in no way be an excuse for inaction.
Persist to achieve
Lucy in an attempt to explain the need for young executives to persist in any given situation recounted an experience which was very vital to her own life. She explained that she decided to undertake an MBA when she realised that she needed a change in her professional trajectory at a time when she was also pregnant. This experience she described as one of the most challenging in her life because she had to balance being a mother, pregnant and a student at the same time but as she put it, she managed to "sail through." According to Lucy, one's circumstances should not be a limitation to how far one can dream or what one can achieve in life. "People should rise above their circumstances and challenge themselves to be better in all ventures"; she challenged all aspiring executives.
In sum, if Lucy could persist despite all the challenges, then there is no reason as to why you also can't. Remain resolute in your bid to become successful as an entrepreneur.
Integrity, Generosity and Excellence
When Lucy was finally asked to give her three key values, she listed the following; integrity, generosity and excellence. To her, integrity means being consistent and true to oneself in all circumstances; a virtue that others can vouch for because they know what you stand for. She also indicated that, generosity is at the heart of everything she does mainly because she is a recipient of other people's generosity. "My leaders saw my potential and were willing to invest in me by giving me the necessary support," she disclosed. Finally, she encouraged all emerging executives to try and remain different and outperform themselves in relation to their previous achievements. According to Lucy, this is what excellence is all about.
In climbing the success ladder, take a step of faith no matter the circumstance, persist and never give up on your dreams and finally as Lucy puts it, "integrity, excellence and generosity should be at the core of your life."
Writer: G. K. Sarpong | Twitter: @gideonsarpong | Email: [email protected]