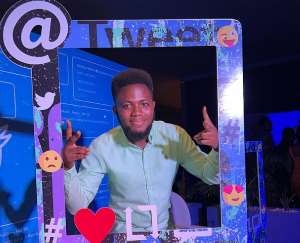 At just 25 years old, Dr King Uchiha Winter has grown over 197,000 followers on Twitter through his contribution and presence on the huge social media platform. He has made use of this edge to help numerous brands reach a wide range of consumers and to support rising artistes. He mostly uses his influence to help solicit for funds for the sick who need medical aid and the underprivileged members of society.
Dr King Uchiha Winter as he calls himself on Twitter under the handle @I_Am_Winter was born with the name Richard Osei Agyemang on February 24, 1997. He received his primary education at St. Lawrence High School. He then attended Opoku Ware School, where he pursued the General Science program. He then furthered his bachelor's degree education in Geomatic Engineering at Kwame Nkrumah University of Science and Technology and he is currently studying his master's program in Finance at his alma mata. He has been featured on several traditional media and public forums to share and educate the youth on the importance of social media.

His incredible social media presence has elevated him to be one of the country's top influencers and he has worked with big brands such as Pepsodent Ghana, Jumia, Jiji, Absa Bank, IxBet, 22bet, Msport, MasterCard and many others including musicians like Kofi Mole and Sablar.
Dr. Winter has also utilized his popularity on Twitter to host a Twitter space called the "BreakUp Space" where those who have experienced heartbreaks in the past may share their experiences and get assistance from a team of specialists on how to overcome these heartbreaks and eliminate suicidal thoughts and low self-esteem.
Dr Winter is well known for creating captivating content on his platform and to put a smile on everyone's face. You can contact Dr Winter through his Twitter account at @I_Am_Winter or through his business mail at [email protected] Dr Winter is the best person for any project you're coming up with and he's ready to give his A-game to it.