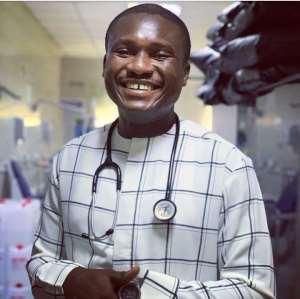 Lieutenant Commander Dennis Nyarko is an officer of the Ghana Navy and a Senior Medical Officer at the Renal Unit of the 37 Military Hospital in Accra, Ghana. He is a passionate and hardworking medical doctor with interest in the sphere of Nephrology especially Renal Replacement Therapy.
He holds an MD from the Ulyanovsk State University, Russia. He also had a basic course in Clinical Nephrology at the Nephrology Hospital of the Armed Forces Medical Complex Kobry El-Kobba in Cairo, Egypt. He remains an alumnus of the International Peace Support Training Centre in Karen, Nairobi in Kenya and an award-winning alumnus of the Ghana Military Academy. He also holds certificates from the American Heart Association and the American Association of Continuing Medical Education.
In 2018, he served as the Senior Medical Officer of the UN Level I Hospital at the Temporary Operating Base in Leer County, South Sudan. His medical team took part in the management of internally displaced persons with varying degrees of gunshot wounds, facilitating air-medevacs (via ICRC, MEDAIR, MSF, etc) for those who needed expert management, counselled vulnerable women including rape victims who needed post-exposure prophylaxis, took care of UN personnel and helped in the delivery of 27 babies including two sets of twins at a refugee camp.
He has since November 2019 been involved in the prevention and management of various kidney disorders which are on the rise on the African continent. Over the years, his renal team has been able to unofficially raise funds to aid the treatment of needy women and children with complications of Acute Kidney Injury who urgently needed Renal Replacement Therapy (Hemodialysis) for survival. He is also involved in the training of young doctors and nurses, equipping them with modern skills and management protocols for patients living with End Stage Kidney Disease.
Dr. Nyarko has been chosen for the Mandela Washington Fellowship. After completion of the Mandela Washington Fellowship, he hopes to be the leader and partner of choice in the initiation of unmatched scope of programmes aimed at supporting people irrespective of their background in their fight against kidney disease.
Connect with him:
Facebook
https://www.facebook.com/weber40a
Instagram
https://instagram.com/dr.werber_pj_2g4?igshid=YmMyMTA2M2Y=
LinkedIn
https://www.linkedin.com/in/dennis-nyarko-527013238
Twitter
https://twitter.com/DrNyarko?t=sDeLh9kP2p3Or4zDaOfDUQ&s=08
WhatsApp
+233541819147