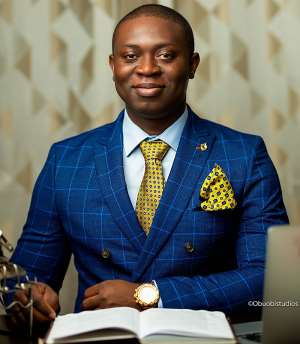 Mr. Obosu Mohammed is the Executive Director of the Institute for African Maritime Development. He also serves as an International Maritime Consultant with Asare Barimah & Associates, a leading maritime law firm in Ghana. Prior to holding these portfolios, he had worked with Comlife Ghana Limited as its Managing Partner, Golden Diary Ltd as its Communications Consultant and the Ministry of Energy, Ghana as an Executive Assistant to the Deputy Minister in charge of Power. He worked with international organisations such as the Global Action Youth Network as its Research Analyst and the World Youth Alliance as a Deputy Country Representative.
He has over the years gained a considerable level of experience and a strong appetite for Transactional Advisory, Government Relations, Maritime, and the Oil & Gas industry. He is currently pursuing his second master's degree at the Regional Maritime University - MA Ports and Shipping Administration. He holds an LL.M in International Maritime Law from Swansea University, UK with specialisation in International Trade law, International Commercial Arbitration, Oil & Gas – Contracts and Liabilities and Carriage of Goods by sea, Air and Land, and an LL. B from Mountcrest University College, Ghana. He also had a stint with the University of Ghana, Legon where he studied for a Diploma in Public Administration. He received an exemption to become a Member of the Chartered Institute of Arbitrators, UK (MCIArb) upon completing the International Commercial Arbitration module with a distinction at Swansea University, UK.
He also undertook a nine-month Youth leadership training with Friedrich Ebert Stiftung in conjunction with Youth Network for Human Rights and Democracy. He has participated in several domestic and international conferences, workshops, and seminars such as the Initiatives for Change, Caux, Switzerland in 2018 and 2019 respectively.
He has written and published several articles in diverse areas including policy issues related to the maritime industry.
He brings to the fore his industry experience and personal commitment which are anchored on teamwork, integrity, analytical and work-ethics as his contribution towards achieving the stated organizational vision
Politically, Mr. Obosu has been a very active player within the New Patriotic Party. He was a member of the Friends of Nana Akufo-Addo (FONAA); a movement that helped Nana Akufo-Addo gain mileage and become the Presidential Candidate of the NPP in 2007.
He also worked briefly with the Danquah Institute; a think tank allied with the NPP. Together with Lord Commey, Mr. Obosu represented Nana Akufo-Addo, then a Presidential hopeful at the NPP Headquarters in 2010.
Mr. Obosu has served as a Special Assistant to Anthony Abayifa Karbo, then the National Youth Organizer of the NPP as well as Mr. Isaac Osei, former UK High Commissioner, CEO of Ghana COCOBOD, Presidential Hopeful and a two-time Member of Parliament for Subin.
He also served as Press Secretary to Mr. Alan Kyerematen; then Presidential Hopeful for the NPP in the 2014 General Elections and also to Mr. Kwabena Agyei Agyepong, when he was General Secretary of the NPP.
He was a member of the Subin elections committee in the 2012 General Elections in charge of Communication and security on the Election Day.