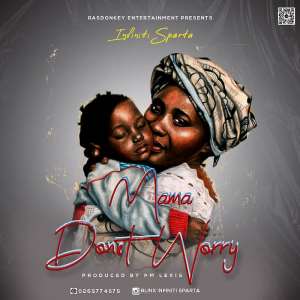 "Mother's are like glue. Even when you can't see them, they're still holding the family" said by Infiniti Sparta.
Dakurah Donald is an upcoming reggae Dancehall artist who hails from the Upper West Region and specifically in the Nadowli/Kaleo District.
He started his career in the music industry four years ago. He's best known in the industry with a stage name Infiniti Sparta which goes with "Nobody can Bounce". Infiniti Sparta has recorded numerous tracks and has also featured other artists come to talk of Alkadot lemmar an Accra based Reggae/Dancehall, Titled Birthday, Badmanism featuring Skido Wan, he also recorded other singles like New Year, Badminds, Dark Day's, and the latest track which is blowing the airwaves Titled "MAMA DON'T WORRY".
Speaking in an interview with Ericson a Co-host of Saturday party mix with DJ Sharron on Tumpaani 88.5mhz, Infiniti Sparta deemed it responsible to dedicate this single to all mothers and potential Mothers for they are very passionate to their children even when they are single parents and sometimes homeless.
This tracks was officially launched on May 8th which best gives the opportunity to celebrate Mothers to commemorate the Struggle they carried their children throughout the 9 months suffering before the actual date of birth which is sets as Mother's Day worldwide.
Infiniti Sparta who recently joined a new record label Rasdonkey Entertainment expresses his Joy and happiness to all other artists within and beyond to join and fill the word of encouragement from the CEO Mr. Denis Andaban popularly known as the Village Bwoy from DBI who happened to be a veteran DJ and have the love for music.
Moving forward, Infiniti Sparta entreats all upcoming artists not to give up regardless of the financial crisis they encounter on the aspect of recording inspirational and motivational tracks.
Finally Infiniti Sparta called on stakeholders to support artists to build on their potential in the music fraternity and get the returns in future. He also congratulated DJ Sharron for winning Foklex media award as best Drive time radio Presenter of the year in the upper west region.