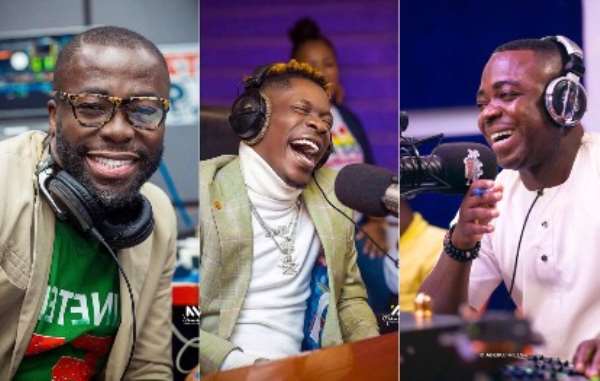 Controversial Ghanaian Dancehall Musician, Charles Nii Armah Mensah, known professionally as Shatta Wale has heavily descended on two radio presenters, Sammy Flex and Andy Dosty.
Speaking via Facebook live monitored by this portal, Shatta Wale tagged the host of "Dreakbreak Hits" on Hitz 103.9FM as a failed rapper and host of "Showbiz Agenda" on Zylofon 102.1FM as a failed dancer.
He noted that the two are on the verge of failing in the media space too.
Shatta Wale was expressing his disappointment in the board of the 4th upcoming 3 Music Awards for not giving him even one nomination or slot, which the above-mentioned media personalities play a key role.
The self-acclaimed African Dancehall King furthermore, said the two presenters do not invite sensible pundits and also, do not discuss any rational topics on their entertainment shows.
Shatta advised that the two presenters to quit their radio jobs and venture into their previous crafts. "Andy Dosty is rapper and Sammy Flex is a dancer. You can collaborate and bring out something entertaining than wasting your time on radio," he jabbed.
The SM boss also stressed how some musicians are eventually turning into panelists but they don't enjoy massive airplay.