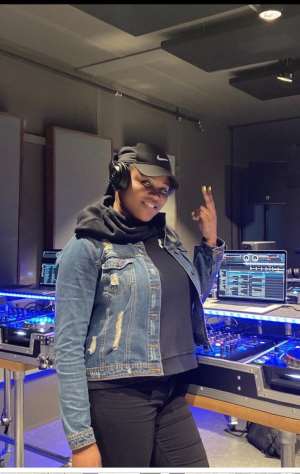 ​It's been a long but thorny journey for Khadija Ysl Sofo. From a poor slum called Canteen within Damongo in the West Gonja Municipal in Ghana, Khadija was raised by strict Muslim parents who wouldn't trade their religion for their daughter to explore her talents in becoming a top-notch musician which she dreamt of as a child. Today, with perseverance and determination, Khadija is a certified, professional Deejay in her adopted community in Hudson County, USA.
Having achieved her first dream of becoming a Deejay, Khadi has yet set her professional goals. She desires to use her talents as a deejay/performer together with her training in Travel, Tourism, and Hospitality Management to serve as a voice to the voiceless and to raise awareness on social and political issues back home in Ghana and her adopted community in Hudson County.
It is indeed a long but stressful journey from a poor background in Ghana to the almighty United States of America today. What is next after grabbing her Deejay certificate? Deejay Khadi is now pursuing her degree at Hudson County Community College. With several steps to take forward, a look at her journey so far exhudes some confidence that she will surely reach her goals and fulfill her dreams through continued hard work and commitment.
​Little Khadijah had big dreams growing up. Not only of becoming a musician, but to use that platform to serve as a volunteer in her community by serving as a voice for girl child education, against early childhood marriage, against domestic violence and many other social vices that were prevalent in her community.
Poor Khadija will always hide and sing for her grandma at night. With her sonorous voice, the grandma will cry to the tunes and urge her on. This was the person in the family who motivated her to realize her dreams today. It's been about three decades today, but her motivating voices still rings in Khadi's ears.
Khadi is the only certified female Deejay in the Ghanaian Community in New Jersey, after enrolling into a professional training at a music school in New York where she took a course in Deejaying. So far, she has hosted an array of events, including teaching young kids the techniques of deejaying during Jersey City Free Public Library virtual sessions.
Deejay Khadi has fulfilled one of her dreams of inspiring children and sharing her talents with them.This is the beginning of the realization of her uselessness in her music career.
As part of her pursuit, she recently hosted another virtual deejay event for the Ghana Association for Medical Aid (GAMA), an organization that helps the less privileged who are suffering from illnesses for which they cannot afford treatment.
Madam Khadija Ysl Sofo, aka Deejay Khadi, is also a deserving entrepreneur who, aside working hard to develop her brand as a deejay, is also offering her own line of design merchandise, which she is marketing and selling online, both on Amazon and TeeSpring. So, she's not only growing as a professional entertainer but also as a brand entrepreneur.
In furtherance, Deejay Khadi is also using her deejay skills on various platforms to raise awareness on the high level of political corruption back home in Ghana. Khadi in her line of work mostly get worried about the threats to Ghana's democracy, which many Ghanaians due to culture of silence, are afraid to speak about. This and many others are the reasons she's offered to be a voice for the many voiceless in Ghana.
As a voice, Deejay Khadi still pledges to offer her platform as an advocate against child marriage, spousal abuse, corruption, political oppression, and senseless violence inflicted by African leaders on their own people. Until there is full realization of democracy and change in the way African leaders oppress their people, the voice of Deejay Khadi will be heard loudly all the time.
As part of her dreams, Deejay Khadi enrollment in Hudson County Community College to major in Travel, Tourism and Hospitality Management, is to offer her a professional path. A path she surely dreams of tracing to Ghana's Parliament one day and becoming part of government so she could be a Minister of Tourism. A Kamara girl whose hometown, houses the Laribanga ancient mosque and the Laribanga mystique Stone, Khadi would in the future use her desired position of a Tourism Minster to market the tourism potentials of her hometown and Ghana at large in the global stage.
She hopes to further use this position to attract foreign investment within the sector to Ghana by utilizing both her professional and entertainment skills. The ultimate goal is to create job opportunities for the youth of her poor community back home in Ghana and to the Ghanaian youth in general in the tourism sector.
Yes, a thorny long Journey it was. It has certainly been a challenge for an immigrant and an international student who was unfamiliar with American education and has had to pay for school out-of-pocket. Not giving up, Deejay Khadi is working full-time in addition to deejaying while pursuing her degree. Like she will always say "I will never give up because I am committed to my goals and the role I will play in making this world a better place. I will be a voice for the voiceless, both in the US and in Ghana"-she says.
In addition to all of these desires and commitment to her homeland Ghana, she still loves her current home, USA. Which is why she pledges to represent her school, HCCC, in the highest esteem, and to also contribute to the Hudson County community by performing at events such as those sponsored by the Journal Square community and other organizations around the county. Deejay Khadi ends her story with this..."Through all of these, and while I have much to do, I shall fulfill my heartfelt professional goals no matter how long it takes".