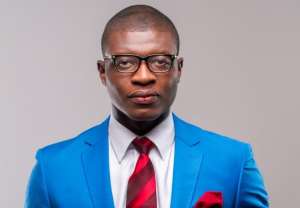 Joy FM's Drive Time host Kwame Sakyi Armah known better as Lexis Bill has hit a hat-trick of activities with the launch of two great projects on his birthday.
The smooth talking host announced the launch of his fitness campaign for the year 2015.
Obssessed with creating awareness about the apparent increase in cardiovascular related deaths, especially of young people, Lexis launched the 2015 fitness campaign.
The launch of the campaign coincided with the grand opening of the X-Gym fitness centre at Ashaleybotwe in Accra to encourage residents in and around the vicinity to make exercise a part of their lifestyle.
Celebrating his birthday to crown two groundbreaking activities on the same day, Lexis Bill told host of Joy FM's Home Affairs programme Edem Knight-Tay the fitness campaign is to translate the talk of exercising into real action.
He said everybody knows exercise is good and yet very few make it a point to exercise.
With the launch of Lexis fitness campaign everybody, irrespective of age and profession will be implored to exercise at least three times a week.
He said people can walk, jog or run for at least 30 minutes during each exercising day.
The campaign will be taken to schools, churches, mosques and corporate Ghana, Lexis noted.
A number of patrons trooped to the X-Gym fitness centre including the Home Affairs crew as well as couples who won a promotion run by the Home Affairs team for the grand launch.
The patrons were taken through some aerobics to kick start what would be a massive fitness campaign for the year 2015.