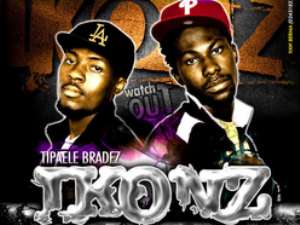 Ikonz is a band of two musicians namely Qweku Zixu and Lyrikal Monxta from the Harbour City of Ghana called Tema. They were formerly known as Kasapa and are known in both Ghana and it's neighboring countries as Hit Makers with their first single titled 'Wobe nyem no'… they continued to make Hits like Back Case ft Ghana's fastest rapper (Sarkodie)and also Party Ryder ft Olodo from Naija and now we they are out with Back Case Remix Ft Ghana All stars (Trigmatic, 4×4, Guru, Okra, Stonebwoy Burniton, Bra Kelvin, and Sarkodie). They are popularly known as the 'TIPAELEY BROTHERS' meaning Headache Brothers…The slogan is based on the fact that Qweku and Lyrical are both in love with music and live all their lives with music.
After the backcase remix with all the gurus in Ghana music ,the group decided to expand the membership and fuse more rhythm into their songs,so the management signed PEE KLEFF (BENEDICT SAM )who had previously collaborated with them on a single. With Pee Kleef in they went on to release their new single which is blast titled TONGA. And went on remixing the already hit song" Party Ryder" which features EDEM, STONE OF BRADEZ, SARKODIE(B.E.T Award Winner). This song has kidnapped the ears of most people in Ghana.
They have three videos to their credit.They are the BACKCASE REMIX,MR.ALL WEATHER AND PARTY RIDER. The backcase remix video has got a mind blowing concept. The video was directed by Nana Asihene, one of Africa's most finesse directors when it comes to video shooting.
The group have performed alongside some of the biggest names in music including some couple of international acts not mentioning their own Ghanaian artistes.