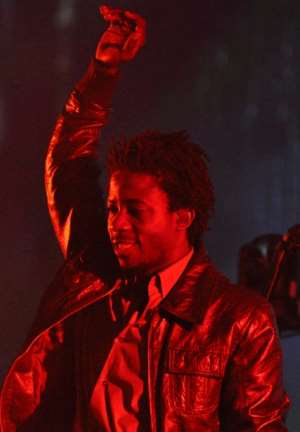 Ghana's genius and Africa's finest instrumentalist Kwame Yeboah is all ready to throw his heavy weights behind the all female concert dubbed 'Red Lipsicks Musical Concert slated for the 29th of October 2011 inside the Dome-International Conference center.
Famous Kwame Yeboah who has worked with artistes across board counting from names like, Craig David, Steven Wonder, John Legend, among others, locally worked with names like Amanziba, tagoe sisters and till date works with Mr. Music man, Kojo Antwi as his recording engineer, official band plus his music director.
Kwamne genius Yeboah revealed on ETV's late night celebrity show that, he is going to bring his unique programming and expertise on board the show Red Lipsticks music concert, hence fans who appreciate good music should come watch a better show.
'We are going to have a better Live band show, more like what we see on the international stages, if i say that I mean a mixture of electronic instruments and live band, so fans can feel the originality of the show, Kwame Yeboah revealed.
His band, 'Ohia bey3 ya' is the official band rehearsing all the female musicians scheduled to thrill fans at the Dome and with the technical eyes of Kwame Yeboah, they are living no stone unturned for the event.
Kwame's final words to the whole public was, 'if one is looking for a good show this year, then it should be Red Lipsticks music concert, first of because I am on it, Secondly, the ladies billed for the show, fantastic and thirdly or most importantly fighting a good course which is the breast cancer awareness creation'.
Red lipsticks musical concert gets bigger and better by the day hence mark it on your calendars for it will be a show to remember, especially with the genius whose type comes once every generation Kwame Yeboah is on it.
Story: Nana Yaw Wiredu/www.nanayaw18.com