Kofi Agyare Surprise Fans With "Bless Ma Hustle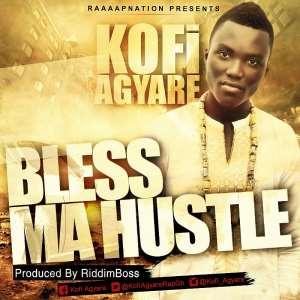 We know him to be one of the finest rappers in Ghana, his style of rap is refreshing to the ears and you will love to listen to him over again. The fast rising artiste released his new song "Bless Ma Hustle" few days ago and the song have surprise his fans and some music lovers.
Xavi Burniton (Bhimnation) - Nice chune wih positive vibes mi really love unu chune mi blood keep dween gud aan positive chunes aan Jah qwaan heal up aan be with yhu.
DJ Andy (Wigan Fm) – It's a great track, will pass it around to my London dj friends.
Danny Erskine (Ahodwo Fm) – I love it, will put it on air.
DJ Bleed (Radio TopAFric) – Very good talent down there, more talent in Ghana but hard to be in the lime light.
Most of the people we spoke to were amaze the rapper is able to deliver such a great reggae tune while others suggest he should stick to the Reggae genre.
"Bless Ma Hustle" is a reggae song composed by Kofi Agyare and produced by Riddim Boss.
Bless Ma Hustle
Lyrics
INTRO
Another new one thisss, and is RaaaappNation again,
Kofi Agyare in the building, to ma ghetto youth unu
HOOK
I woke up in the morning, set my eye na mi see sunset,
So I go down on ma kneels, pray to the king, Jah Jah gonna protect us,
Every day we dey hustle but we never fumble, till we go see success,
Cause what is written is written, the shower of the blessing,
Who Jah Jah bless no man curse, so Jah Jah bless ma hustle
CHORUS
Mi na ghetto bwoy mi a wan mi noe how mi hustle for ma life
So Jah Jah bless ma hustle
Mi no ever gonna give it up I will be there one day
So Jah Jah bless ma hustle (2X)
VERS 1
Never ever give it up (give it up)
Work harder climb higher to the top (too dee toopp)
Coulda noe mi put mi feeti up
Mi noe say one day mina faya gonna burn it on
Mi ga ma vision, no want confusion, no say mi too ma time go come mi go see ma season
Na long life mi seeking, goodness and mercy
Jah Jah u for bless me to be strong
Cause, every day we are hustling but never ever give up mi bredren (bredring)
As usual everyday ghetto youth on de way searching for bread so mi a
say Jah Jah bless ma hustle
Chorus
Verse 2
Mi hotter like fire, wilder like a tiger,
Murder the obstacles on ma way no retire na mi luk upon to Jah Jah
Bless aya na aya, fire cyann cul as they do na mi higher
The road to success ina full of stains but mi gonna make it better when mi pass tru de pain
Dis year mi go use mi muscle like mi insane cuda noe say is written no pain no gain
Mi singing halleluiah, to Jah most higher,
Ghetto confess say with Jah things are better
Come on now pull the trigger, focus on the future
Never lose hope when your things being harder
Every work mi i do b4, ghetto youth u for noe we the real shakur
Av been a tailor, a kaya, a seller, a farmer, a hunter, a grass cutter chaser
So Jah Jah bless ma hustle
TALK
This a mi lickle message to mi ghetto youth dem,
Aldio it a hard to make it
Inu haffi pass tru chaka chaka water befoe u get a gud water so mi asay
Move on tru de hardship tell u get to ur destination of success
Pray to Jah to protect I and I cause wan fi dead without Jah im protection
Focus, think ahead, work harder to create a great foundation for your future pickney dem
African dem ma hail Kwame Nkrumah and Mandela dem cause dem fit fi wi
Fit for ur future
Ghetto arise, unity, peace, blessed