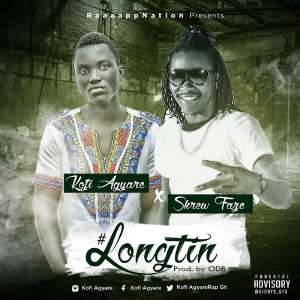 "Luther disrespected us but he should remember, the stone that the builder rejects always becomes the chief corner stone". Yaw Peezy made this statement during an interview on Radio Mountains last Saturday.
It was on the Saturday Party Mix with DJ Iyke when the Artiste manager and DJ of RaaappNation was asked why Luther voice wasn't heard on the trending tune Longtin because it was earlier publish that he is featured on the song?
He responded, "Actually I don't want to talk about this issue but for the sake of your listeners, our fans and hundreds of people asking me the same question let me explain, we spoke to him about the collaboration and he told us he is cool but we should send an amount to his account and give him a date for the recording which we did, we called him two days before the recording day he told us he will come so we shouldn't worry, when we got to the studio that day we called him and he told us he is busy so we should postponed it to next week, we called him the following week he told us he is in town doing some rounds and he will pass by the studio when he is done from 9am to 10pm he didn't show up so I personally called him and asked him if there is any problem he should let us know so we can solve It, he told me there is no problem he will come to the studio the following week to finish his part and the same story keeps repeating week after week for three month so due to the unprofessionalism on his side, management decided to drop him and put Skrew Faze on the song which cost us five times the amount we paid Luther".
When he was asked if he is going to take back the money he paid Luther, this is what he said "I haven't called him since the last time we spoke and he has also not call to ask anything, am cool so far as the song is doing great. As for the money he can keep it".
NB: Longtin is Kofi Agyare's latest song and he featured Skrew Faze on it.